2010 World Series of Poker: Don't Rain on My Parade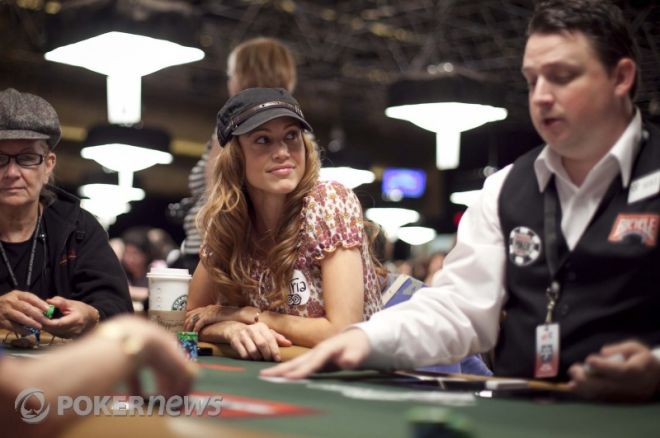 On Thursday evening, I bought in to a $125 single-table satellite at the Rio. Since it was the night before the Ladies' event, there were more women than usual in the room and four at my table alone. A fortyish man with a hint of gray at his temples was sitting in the eight seat, dressed in a sharp pinstripe blazer. Almost immediately after I arrived, he asked me a question.
"What would you think about a man playing the Ladies' Event as a statement against discrimination and sexism?" he said.
"I think it's a really bad idea."
Over the previous few hours, I had already heard rumblings in the hallways of the Rio and on Twitter about a group of male players who were planning to crash the Ladies' Event. Some women were upset about it. Others were encouraging the shenanigans, including, as I found out during my debate with the man in the eight seat, his own girlfriend, an amateur player and attorney. I thought back to last year when there were rumors that Phil Ivey might try to play the Ladies Event' to have a better shot at his multimillion dollar bracelet bets. Ivey, of course, did not play, but a few young men did try to register, but were ultimately dissuaded from entering.
What had changed? Why decide to protest this "injustice" now and in this manner?
For the record, I do not play in ladies' events. I enjoy open events far more and I'm comfortable at a poker table no matter what the gender makeup may be. As there is no physical component to the game beyond the ability to sit in a chair and stay alert for long stretches of time, there is no need for any sort of division along gender lines in poker. I wish ladies events didn't exist and that there was never a need for them in the first place.
But here's the thing. Ladies' events do exist. And a lot of women enjoy them. Who am I to go and ruin their good time? The entire concept of ladies' events is to draw more women to tournament poker and give them more confidence, not to drive them away. For many women's poker organizations like the LIPS tour and the High Heels Poker Tour, the WSOP Ladies' Event is their Super Bowl. For the fifth year in a row, more than 1,000 women bought in. For a good percentage of them, it's the centerpiece of the one weekend a year they can get away, spend time with fellow players, socialize, strategize, and compete against each other with some serious money on the line.
On this afternoon, a dozen or so attention-seeking men decided to be the cloud that rained on their parade. If they were looking for "value," they could have waited 24 hours for the next $1,000 donkament to start. If they were looking to make a statement, they went about it totally the wrong way, and if they were looking for publicity, well, they got it. Some of the men, like Shaun Deeb, attempted to backtrack from their decision to play by saying they had lost a prop bet and planned to donate any money they won to charity. The man in the eight seat tried to sell me the same excuse, claiming that if he won, he'd donate 100 percent of his winnings to breast cancer research. I asked him why he couldn't just play an open event and donate his winnings from that instead. He replied that it wouldn't make the point that playing the Ladies' Event could.
Guys, if you are really that upset that a Ladies' bracelet is awarded at the WSOP, there are far better ways to get your point across. Write about it. The Internet is a giant megaphone at your disposal. Lobby Harrah's management. Pros, talk about it in one of the dozens of interviews you'll do with various outlets this summer. Start an online petition and gather signatures. Do a video blog and put it on YouTube. Promote the cause on Twitter. Don't just show up and crash a party you weren't invited to hoping that by crashing it, the party will never be thrown again. All it does is make you look rude and self-centered. Because, really — what point does a man playing in a ladies' event really make?
It makes no point at all. All it does is cast a shadow over an event that many women in the poker community believe in and enjoy. It ruins a lot of women's good time. It also shows tremendous disrespect for the long history of the Ladies' Event and the women who have won it in the past — pioneers like Barbara Enright and Susie Isaacs. The dozen or so men who entered the Ladies Event today acted selfishly, immaturely, and you will have to pick me up off the floor if they do anything more to champion their supposed "cause" beyond their stunt today. Will a band of twentysomethings don gray wigs and walk with canes into the Seniors' Event on June 18 to make a statement about ageism? Did I miss all the protests at the Casino Employees' Event?
These men will also have to accept the consequences for their actions. Shaun Deeb is not only going to have to live with those photos of him in lipstick and a lavender tank top for the rest of his life, but he may also have to live with a WSOP ban.
"They're all scumbags. And we will pay special attention to who they are and that the kind of attention they're trying to get, they'll get," said Seth Palansky, WSOP director of communications. "The likelihood of them playing in a WSOP event in the future is in doubt and they should be aware of it as a result of their participation today."
If there's anyone who should decide whether or not women's events exist in poker it's women. And they made that decision by showing up yesterday, more than a thousand strong. I hope that a generation from now poker has evolved enough that ladies events have been phased out because so many women are playing that the mere concept of them is rendered absurd. I hope the WSOP eventually eliminates the "World Championship" designation from closed events. I hope some of the men who played yesterday learned something from their experience and eventually realize that what they did was hurtful to many involved.
But in the meantime, leave the choice whether or not to support ladies' events to us.
What are your thoughts on the topic? Let us know with a comment below, or by starting up a blog at My.PokerNews.com