The WSOP Main Event on ESPN: ElkY, Shulman, and the Bilzerian Brothers Take Center Stage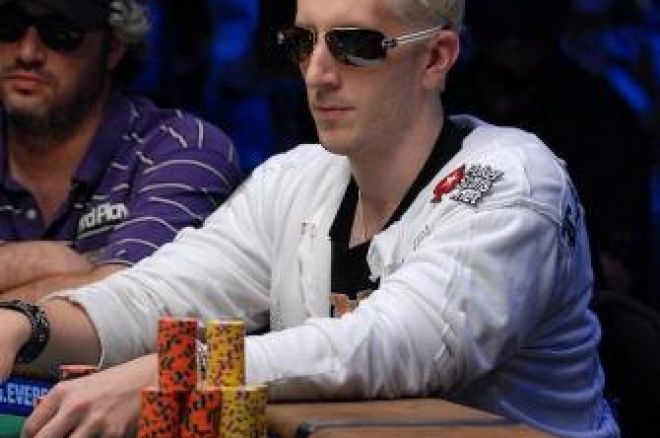 Four former world champions still remained in the 400-strong field that returned to play Day 4 of the 2009 World Series of Poker Main Event. Dan Harrington, Bobby Baldwin, Peter Eastgate and Joe Hachem remained in the hunt for a second shot at "The Big One" as this year's Main Event coverage reached its halfway point. Only two would remain by the end of Day 5, however, while players like Bertrand "ElkY" Grospellier, 2007 WSOP Player of the Year Tom Schneider, and Adam Bilzerian built their stacks hoping to make their first trip to the Main Event final table.
Cast of Characters: Bertrand "ElkY" Grospellier, Andy Black, and Jeff Shulman spent both hours on the main featured table. Dutch pro Rolf Slotboom joined them for a while before his elimination, while over on the secondary feature, defending champion Peter Eastgate remained the center of attention. In a strange twist of fate, brothers Dan and Adam Bilzerian ended up seated together after the random draw. We also caught sight of Day-4 chip leader Matt Affleck, Vitaly Lunkin, Prahlad Friedman, Andrew "Luckychewy" Lichtenberger, Antonio Esfandiari, his brother Pasha Esfandiari, Kenny Tran, Dennis Phillips, Benjamin Kang, Burt Boutin, actors Justin Henry and Lou Diamond Phillips, Nichoel Peppe, and of course Phil Ivey, who, in perhaps the episode's most oddball image, was seated next to a guy wearing a surgical mask.
Norman Chad's (Old) Shtick: Here we go again with "Kara Scott-Chad"...
"The Nuts": What would you give up to win the Main Event? Jennifer Harman would give up ice cream; Bill Gazes would give up poker altogether. Saying "It's all about the money," Doyle Brunson would give up the bracelet while Robert Williamson III would happily relinquish the cash for jewelry. And in perhaps the most literal form of self-sacrifice, Jean-Robert Bellande declared that he would cut off his pinky toe for a Main Event title.
Interesting tidbit: Dan Harrington has finished first, third, fourth, and sixth in the WSOP Main Event.
Enter the "Nine": Second in chips entering the final table, November Niner Eric Buchman made his first appearance on ESPN this week, folding his hand after Dan Harrington moved all-in on an A-Q-Q flop. Also earning his first bit of airtime this week was Jeff Shulman, who landed on the main featured table and managed to hold his own against Hurricane ElkY with tight, careful play.
How to look bad on TV, Part I: Chew a toothpick like Carter Swidler. Really, guys. It's not becoming.
How to look bad on TV, Part II: Celebrate your suckout like Carter Swidler. After Vitaly Lunkin opened for 22,000 with
, toothpick-boy three-bet 67,000 holding
. Lunkin made the call and they saw a
[5]
flop. Lunkin check-raised Swidler's 55,000 bet to 120,000. Swidler shoved and Lunkin called. Confident in his overpair and nut-flush draw, Lunkin was stunned to see Swidler's two small pair. The turn blanked with the
, as did the river with the
, and to add insult to injury, Swidler broke into a fist-pumping celebration while Lunkin sat stunned in silence.
Those Internet kids sure love to three-bet: In one of the week's best bluffs, Andrew "luckychewy" Lichtenberger three-bet all-in before the flop holding the
, putting Vitaly Lunkin to a decision for the rest of his chips with A-8. Lunkin tried to flip a coin to decide, but fittingly, it landed on its side, and he ultimately conceded the pot.
"Do I look like a man who is beaten by jacks?": In his interview segment, Adam Bilzerian discussed how he renounced his U.S. citizenship to live in St. Kitts and then wrote a book about it. He was in the States visiting his ill grandmother and only traveled to Las Vegas to play in the Main Event at his brother's urging. He's probably thankful for that encouragement now, as Day 5 saw him win a huge coinflip with A-K vs J-J to K.O. an opponent and move up to over 1 million in chips.
MVP- ElkY: Bertrand "ElkY" Grospellier took quite a beating on Day 5, losing more than half his stack but never his cool as he sat under the bright lights of the featured table. The most brutal hand of the day for him came when he had Scott Buller all-in with kings against his aces, but Buller managed to spike a king on the turn to double up. Grospellier reined in his hyper-aggressive style and set about rebuilding, his turning point coming when he got the rest of his chips in with pocket aces against Tyler Patterson's pocket tens. No bad beats this time and Grospellier doubled back up to the 1.3 million he had to start the day. For never giving up and mounting a huge comeback under pressure, "ElkY" gets our MVP honors.
Hand of the Week - Ivey's hero call: Facing a decision for most of his chips when tough Danish pro Mads Andersen pushed all-in on a
flop, Phil Ivey managed to piece together the hand and found a call with A-7 for middle pair. His read turned out to be dead-on, as Andersen held
for bottom pair. Ivey's hand held and he earned a crucial double-up while Andersen hit the rail.
Nice laydown: Carter Swidler opened for 21,000 holding
, and Prahlad Friedman flat-called from position with
. Swidler led out for 30,000 on the
flop, Friedman min-raised to 60,000, and Swidler decided to put an end to the hand right there, pushing all-in for 275,000. Friedman rather shrewdly talked himself through the decision, eliciting enough of a reaction from Swidler to lead him to a wise fold.
Notable eliminatons: Bobby Baldwin, Andy Black, Rolf Slotboom, Dan Harrington, Kara Scott.
Quote of the week: "I will wash your car if you put clubs out there!" - Antonio Esfandiari, promising the dealer a personal favor if he managed to give him a flush. Although the dealer couldn't make it happen that time, Esfandiari renewed his promise on a later hand, then found himself writing out an IOU to the dealer after he turned a flush with
against Becky Campbell's pocket nines.
The World Series of Poker Main Event airs at a new time next Tuesday; 9 p.m. Eastern. Check your local listings. And don't forget — the WSOP-Europe Main Event is in the money and heating up. Check out our Live Reporting page for up-to-the minute dispatches from the floor of London's Empire Casino.