The WSOP on ESPN: Ivey Dominates Feature Table as Bubble Bursts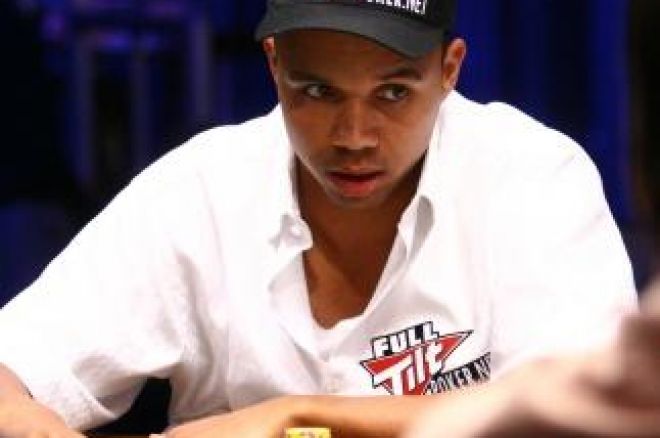 In years past, the excitement and tension surrounding the money bubble took up about 10 minutes of airtime in the 12 or so hours of television that ESPN dedicated to the WSOP Main Event. However, this time around, with the coverage expanded to 26 hours, the bubble got its own episode — and rightly deserved.
Perhaps the most electric few hours inside the Amazon Room during the series, the bubble is where emotions come out, tempers flare, and the true professionals shine as they rob blind those players who are just trying to squeak into the money. With the cameras focused on Phil Ivey and the handful of remaining poker superstars in the room like Bertrand "ElkY" Grospellier, Joe Hachem, and Phil Hellmuth, 789 players were whittled to the 648 money finishers during the course of the first hour; and in the second, the march toward the final table truly began, including some of the first appearances by the "November Nine" in this year's storyline.
Cast of Characters: Phil Ivey landed on the feature table for the duration of Day 4 while Peter Eastgate, Joe Hachem, Burt Boutin, and Bob Feduniak occupied the secondary. Elsewhere in the field, the cameras found chip leader Bertrand "ElkY" Grospellier, Phil Hellmuth, brothers Adam & Dan Bilzerian, Kara Scott, Surinder Sunar, Academy Award-nominated actor Justin Henry, and former Amazing Race contestant Lake Garner, along with actor Lou Diamond Phillips, who was seated alongside two-time bracelet winner J.C. Tran.
Interesting Tidbits: On Day 4, six past champions remained in the field, contending for their second Main Event title: Peter Eastgate, Joe Hachem, Bobby Baldwin, Phil Hellmuth, Chris Ferguson, and Dan Harrington.
Norman Chad's New Schtick: "Watching a top predator eating in the wild is so rare to capture on camera. The Ivey species usually consumes its prey under the cloak of darkness, outside of Bobby's Room near 'The Big Game.' Fascinating!"
Blink and you'll miss it: Lou Diamond Phillips' uncanny Scotty Nguyen impression.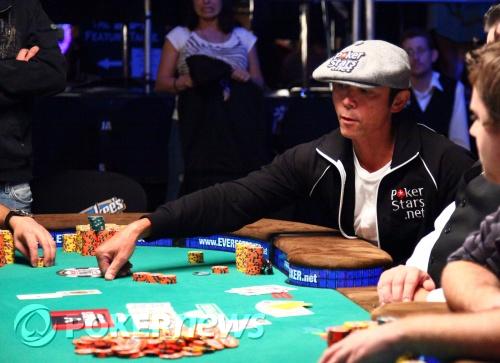 "The Nuts": A slew of pros including "Miami" John Cernuto, Erick Lindgren, Rafe Furst, Joe Sebok and Daniel Negreanu shared their thoughts on the tournament bubble and the people who finish there. Negreanu actually held a good deal of admiration for bubble boys.
"The guy who goes out in a blaze of glory — he should be applauded. That's a guy who's going to make it someday," Negreanu said.
This year, it was Kia Hamadani who earned that dubious honor, though it came not so much in a blaze of glory as much as it was all-in from the ante for his last 500 chip with 3-4 offsuit against 9-2 offsuit.
Enter the "Nine": The second hour of this week's broadcast featured the first on-camera appearance from November Niner Kevin Schaffel, as he eliminated Mike Carlson one off the money bubble.
Hand of the Week — Hachem's Hunch Pays Off: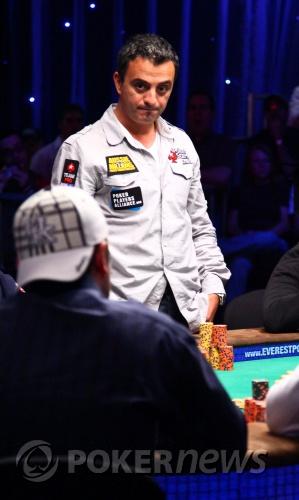 Joe Hachem decided to defend his big blind holding the
after Nick Brancato opened for an 18,000 raise with
. The flop came down
and Brancato bet at it with his open-ended straight draw, Hachem looking him up with bottom pair. The turn came the
and Brancato fired again, this time for 30,000, but he couldn't shake Hachem, who sensed something was amiss and made the call. Brancato fired a third bullet, betting 60,000 when the
hit the river. Going with his gut, Hachem made what ended up being a great call, taking the pot with fives and threes.
Worst Beat: After Denise Molloy moved all-in with pocket tens and got a call from John Monnette with pocket aces, both players hit a set when the flop came down
. Molloy managed to find the last ten in the deck on the river to make quads and double up on a one-outer before proceeding to hug everyone within arms' reach.
Notable eliminations: Greg "FBT" Mueller, Maria "Maridu" Mayrinck, Bob Feduniak and Day 1 chip leader Troy Weber all busted outside the money, while Chris Ferguson (561st) and Phil Hellmuth (436th) earned cash finishes.
MVP — Phil Ivey (again): Phil Ivey earns our MVP honors for the second week in a row for, well, being Phil Ivey. This week, Ivey gave a master class in value betting, extracting the maximum out of Bernhard Perner when his 7-8 flopped trips, turned a boat, and rivered quads against pocket deuces. When Ben Wu flopped top pair with his K-Q, it seemed as though Ivey had a perfect read on the strength of his opponent's hand as he bet out with his pocket aces on every street, leading Wu to call off his entire stack. Some opponents were even found mumbling to themselves, like Andy Bellin who quipped "I knew I never should have dropped out of grad school" as Ivey knocked him out near the bubble. It's a beautiful thing to have the opportunity to see this many hands from one of poker's greats on the game's biggest stage, and Phil Ivey is certainly not disappointing fans in that department.
Quote of the Week: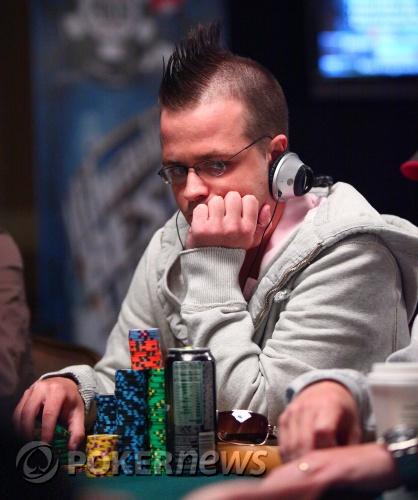 "You deserve that because of your hairdo"- Brian Shapiro after hitting a runner-runner straight against Kevin Saul's set of kings. Tournament Director Jack Effel gave him a one-hand penalty for the insult.
The World Series of Poker Main Event airs Tuesday nights at 8 p.m. EST on ESPN. Check your local listings. For up-to-the minute news, don't forget to follow us on Twitter.