2010 World Series of Poker Day 35: Welch Wins Event #51, Chan Looking for His First Bracelet, Juanda Bubbles and More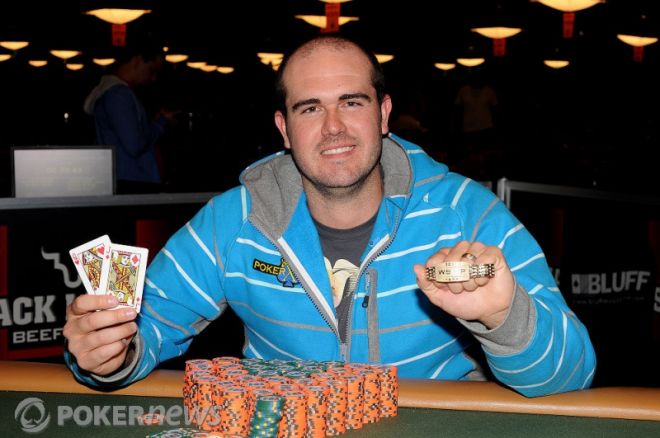 Ryan Welch became the 51st bracelet winner of the summer when he took down Event #51, Terrence Chan has advanced to the final table in the limit hold'em shootout, and after bubbling $25,000 event, John Juanda went straight to work in the Pot-Limit Omaha World Championship.
Event #51: $3,000 Triple Chance No-Limit Hold'em
Event #51 belonged to Ryan Welch who bested 964 players over three days of play to win his first bracelet and over half a million in prize money.
After the elimination of Guillaume Darcourt at the hands of Jon Eaton, the heads-up match began with Eaton ahead of Welch. The latter stole the lead when he rivered a full house queens-full-of-sixes, and from there Eaton was never able to regain his footing. His stack slowly shrank until, on a board of
, Welch moved all-in for over 3 million, which had Eaton covered. It seemed as though Eaton knew exactly what his opponent had because he could be seen mouthing the words "queen-jack," but for reasons only known to him, he made the decision to call. Indeed, Welch was holding queen-jack for the king-high straight — and the tournament was over.
For his efforts Eaton picked up $344,833 and his third 2010 WSOP cash. The win marked Welch's second cash of the summer, and it was by far his largest ever.
Our WSOP live reporting team was there covering all the action.
Event #52: $25,000 No-Limit Hold'em Six Handed
Bryn Kenney, Frank Kassela, Abe Mosseri, Daniel Negreanu, Jason Somerville, Isaac Haxton, Justin Bonomo, Eugene Katchalov and Carlos Mortensen make up half the field remaining in Event #52, making it one of the most stacked final groups we have seen in the WSOP.
Only a handful of players that could have made Day 3 even more interesting, and one of them came ever so close but ended up busting on the bubble instead. John Juanda made his exit as the bubble boy when he ran his
in Brian Hodhod's
on a board of
. But this is Juanda we are talking about, so when we say "made his exit," we mean he went and sat down in Event #55: $10,000 Pot-Limit Omaha World Championship.
With the elimination of Juanda in that particular spot, Kassela took over the lead in the Player-of-the-Year Race and, as to be expected, he was quite ecstatic.
The final 18 players will return Friday afternoon and play down to a winner. No matter who wins, the final day of this tournament will be interesting.
Be sure to follow every flop, turn, and river, with PokerNews' Live Reporting of the 2010 World Series of Poker.
Event #53: $1,500 Limit Hold'em Shootout
The field has been whittled down to a mere eight players in Event #53. The second day of play began with eight, eight-handed tables. Terrence Chan, Jonathan Little, Joseph McGowan, Michael Schneider, Brian Tate, Ben Yu, Brendan Taylor and Sijbrand Maal all won their second table in a row and will advance to the final round.
Most likely, all eyes will be on Chan, a player known as one of the best limit players around, but who has yet to win a WSOP bracelet. Chan made Day 3 after severely crippling Matthew Kelly in the heads-up match with a turned jacks-full-of-threes full-house, which left Kelly with only a single chip. The next hand did Kelly in when Chan won again with threes, although this time it was just a single pair.
Schneider was able to advance to the final table after sending Theo Tran packing with a queen-high flush and Little ousted his final opponent, Claudio Rinaldi, holding a king for the high card on an ace-high board.
The final eight will begin a whole new round of shootout play on Friday and our WSOP live update team will be there to bring you the action as it happens.
Event #54: $1,000 No-Limit Hold'em
Day 1a of Event #54 played out just like Day 1a of any other $1,000 no-limit hold'em tournament — bust-outs were rapid, quirky celebrations took place, and big names and no-names mixed for hand after hand after hand.
Tom Dwan and Eric Baldwin were sent home during the first level of play, followed by Faraz Jaka, Bryan Devonshire, and Dennis Phillips. They weren't the only players to make early exits, not by a long shot. Our crew did some calculating and determined that more than four players were busted per minute.
The overall mood of the tournament seemed to be lighthearted one. One player excitedly raised his hands while yelling "yes, yes yes" to celebrate a winning hand, which caused nearly the entire room to erupt in kindhearted imitation. Nikolay Evdakov was moved to a table of unknowns at one point, and as he unloaded his heaping chip stack onto the table, a new opponent jokingly told him "take it easy there professional; we're all amateurs here."
James Dempsey finished Day 1a with a massive lead over the field. When he returns for Day 2, he will come back to a stack of 144,100, which happens to be about 66,000 more than Tommaso Briotti, who has the second-largest stack.
Join us on our WSOP live reporting pages for all the action that is sure to happen when a new wave of players comes in to play Day 1b Friday afternoon.
Event #55: $10,000 Pot-Limit Omaha World Championship
At this point in the summer, it is really no surprise that a world championship event brings out world-class players, and Day 1 of Event #55 was no exception. About 350 players ponied up $10,000 and sat down to go for the gold. After eight levels of play, only 171 were still seated. The triple-chance structure of the game caused play to be slow early on, and bust-outs didn't really begin until after the dinner break when all the rebuy chips were used up.
Some players were able to chip up and gain healthy leads to give them an advantage going into Day 2. Antonio Paino will return to the largest stack in play, 240,000 to be exact, while Fabrice Soulier, Noah Boeken, Annette Obrestad and Tom "Durrrr" Dwan will all return to stacks over 100,000. Other players lost most of their chips but were able to hang and skate into Day 2. Alexander Kravchenko was down, holding the smallest stack in play at 5,760 but not out and will be back for another day. Joining Kravchenko at the bottom of the list are John Juanda, David Benefield and Robert Williamson III, all with stacks under 20,000. But, as the tired and possibly overused saying goes, all you need to play poker is a chip and a chair.
The players will return Friday at 3 p.m. and as the blinds increase and the money nears, action is sure to pick up.
PokerNews' WSOP live reporting team will be there covering it all.
On Tap
Event #56: $2,500 No Limit Hold'em will begin at 5 p.m. Friday.
Follow along with all the action over at our WSOP live reporting pages.