2010 World Series of Poker: What Happened to the Final Table?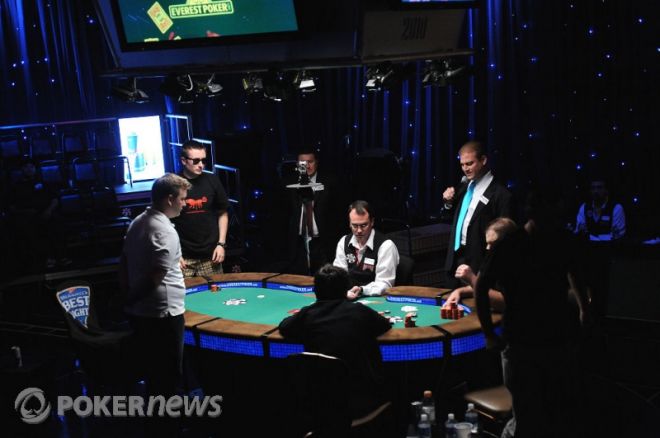 While watching this year's coverage of the World Series of Poker on PokerNews, many of you have undoubtedly noticed that instead of reaching a final table at the end of Day 2 of most events, often, play is halted with two, three or even four tables remaining. This causes the final day of play to start sometimes with more than 25 players and not find a winner until the wee hours of morning the next day. While this is not something that Harrah's planned, the pattern of playing Day 3 from more than a final table to a winner is something that should be revisited in the coming years.
Nothing is more prestigious than making a WSOP final table. It's something most players only dream of, and it is an achievement worth celebrating. In the past, Day 2 would stop when play reached a final table, and players would come back the next day to the fanfare of knowing they would play the final table down to a winner. This year, Day 3 play begins in the afternoon with a few tables remaining and is paused for a few moments while players move to the final table. Yes, there is the same final table introductions, and the action is announced, but lets face it, so much is lost by playing these long Day 3s.
First of all, players don't have any time to fully reflect on the achievement that is a final table. They can't go home and tell their friends and family they've made a WSOP final table, or have a celebratory breakfast or lunch before the final table begins. It was commonplace for players to fly family or friends in to Vegas to watch them play, and now, sure, you can fly them in with 20 players left, but there is a great possibility you won't even make the final table. What a bummer that would be!
Also, players don't have the time to shop or plan an outfit for the final table. This may not seem like a big deal, but if you look back, most players dressed up a bit more for final tables in the past. They'd put on a suit, wear a jacket or tie, and in general just look sharper than they would have if they were in their standard attire, which let's face it, usually consists of a t-shirt or hoodie and jeans. In one of the rare events this year in which a final table was reached in the scheduled time, Gavin Smith came to play wearing a nice suit with a great hat, and it helped make the moment feel as special as it really was. Unfortunately, many players have not gotten that liberty this year.
The break between Day 2 and the final table also gave players the opportunity to scope out their opponents and build a final-table strategy. Over the course of Day 2, players develop a history with one another, and with a full night's break in between Day 2 and the final table, one can look at that history and develop a plan to counter-attack the player, deceive the player, or make a concerted effort to keep up with what's been working so far. While the extra time to strategize is definitely not necessary, it does make for a much more interesting dynamic.
Speaking of sleep, I think one of the biggest detractions to playing such a long Day 3 is fatigue. We mentioned needing the extra time to strategize, shop and plan for friends and family to come check you out, but having to play for so many hours leading up to a bracelet is just too much. These final days are starting around 3 p.m and sometimes finishing at 5 or 6 in the morning. This leads to possible mistakes by players and could create a much less entertaining table for the fans. These players are trying to win a WSOP gold bracelet, and some of them can barely keep their eyes open. Add in a good night's rest in between and we've got a whole new ball game with fresh energized players all ready to go the distance to play for the most coveted prize in poker.
Reports from Harrah's staff is that while the structures remained the same from last year, when play would very regularly reach a final table on Day 2, the number of entrants has increased across the board this year. This has led to the extra long Day 2s, and Day 3s coming back with sometimes 20 or 30 players. Hopefully, the WSOP and Jack Effel will look into this problem and remedy it before the 2011 WSOP. I think it's safe to say we'd all like to see the final tables played on their own day.
Speaking of final tables, the $25,000 no-limit hold'em six-max tournament is down to 18, and they will actually manage to play down to a final table on Friday. Be sure to follow all the coverage right here at PokerNews or on our brand new iPhone app.