FTOPS XVII In Full Swing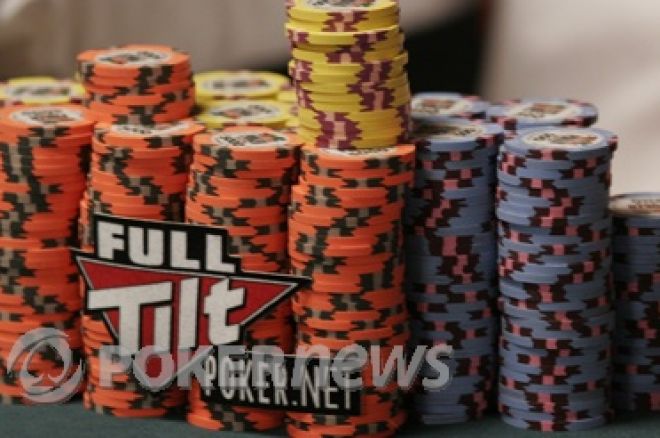 The Full Tilt Online Poker Series returned last week with its 17th installment. Twenty-two tournaments are in the books and over $10 million in prize pool money has been awarded thus far. The biggest individual prizes to date have gone to "yahoo33," winning Event #16 for $301,400, and "andinista" for a win in Event #13 worth $209,606.83.
Other notables who have secured first-place finishes include Brent "Broberts85" Roberts, Brandon Adams, Geoff "GeoffRas22" Rasmussen, Jason "jdpc27" Wheeler, and Aaron "Aguskb" Gustavson. All of the events and winners are listed below, along with who's hot, who's not, and what to look out for.
FTOPS XVI Winners
Event #1: Brent "Broberts85" Roberts - $164,357.80
Event #2: nolez7 - $50,850
Event #3: Mike "chapmoney" Chappus - $68,040
Event #4: BacoPride - $41,931.59
Event #5: FlopeDeNuts - $131,308.64
Event #6: Geoff "GeoffRas22" Rasmussen - $94,776.40
Event #7: EasyPots - $23,085.19
Event #8: Jason "jdpc27" Wheeler - $85,613.50
Event #9: Andrew "SkillVille" Weisner - $110,669.03
Event #10: Aaron "Aguskb" Gustavson - $81,205.20
Event #11: FM2T - $141,776
Event #12: Mark "xqsays" Radoja - $89,088
Event #13: andinista - $209,606.83
Event #14: Brandon Adams - $39,790
Event #15: chessaszhole1 - $60,375
Event #16: yahoo33 - $301,400
Event #17: KILOHAILI - $46,120.20
Event #18: Getty "gettym" Mattingsley - $94,999.91
Event #19: Jeremy "JBurleson" Burleson - $76,545
Event #20: crazyjjm - $33,295.80
Event #21: Dk4884 - $75,988.04
Event #22: Kyle "KJulius10" Julius - $159.243.21
FTOPS XVII Leaderboard
1. Jason "jdpc27" Wheeler - 358
2. Aaron "Aguskb" Gustavson - 334
3. EasyPots - 332
4. Geoff "GeoffRas22" Rasmussen - 306
5. Andrew "Browndog19" Brown - 300
6. bruc-lee - 292
7. Nick "agriffrod" Mitchell - 270
7. Mark "xqsays" Radoja" - 270
Running Hot
Jason "jdpc27" Wheeler's four cashes and two final table appearances have vaulted him to the top of the official FTOPS XVII leaderboard. He won Event #8 ($500+$35 Pot-Limit Omaha Six-Max) for $85,613.50 and added a fifth-place finish in Event #17 ($200+$16 Half Pot-Limit Hold'em, Half Pot-Limit Omaha Six-Max) worth $11,723.60.
Mark "xqsays" Radoja and Jared "Smokinokun" Okun are two players who tend to shine during the FTOPS. With four and five final tables made respectively before FTOPS XVII (including one gold jersey each), they were already forces to be reckoned with. After navigating a field of 1,022 to face each other heads-up in the championship match of Event #12 ($500+$35 No-Limit Hold'em Heads-Up), they have further added to their FTOPS successes. Radoja defeated Okun for gold jersey #2 and also pocketed $89,088.
Running Cold
David "Bussa Buss" Baker made three final tables en route to his finishing atop the FTOPS XVI leaderboard. He followed that up with two more final tables at the 2010 World Series of Poker, including his first bracelet. FTOPS XVII, though, has not been so kind to Baker. Despite entering all 22 events, he has yet to cash.
What and Who to Watch For
As usual, the most lucrative tournaments on the FTOPS docket are the Two-Day Event and the Main Event. The Two-Day Event is back to a six-max affair with a $2,000+$100 buy-in and a guaranteed $2 million prize pool. The Main Event is the same as FTOPS XVI. The buy-in is $600+$40 with a guaranteed prize pool of $3 million.
Formerly playing under the name "POCKET FIVE," John Racener (now a Red Pro) has accomplished a good deal in past FTOPS. Not only does he lead all players with seven final tables made, he has made a final table in each of the last five FTOPS, the longest such streak. We expect Racener to keep the streak alive with a final table made in one of the last nine events.
It's not too late. Sign up for a Full Tilt Poker account today to get in on the action and as always, follow us on Twitter for up-to-the-minute news.