In the Green Room with John Elway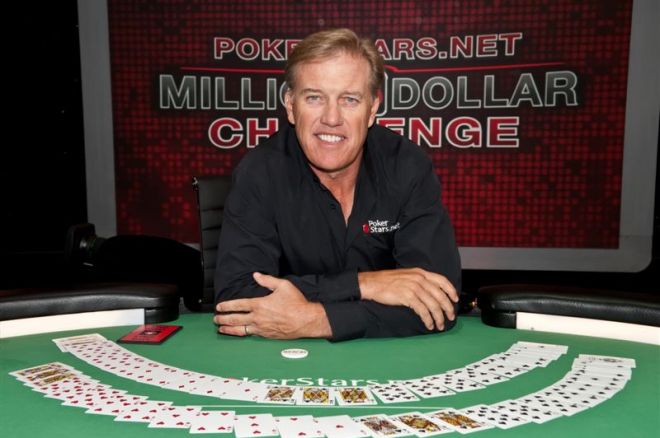 A few weeks ago, the PokerStars.net Million Dollar Challenge was in Las Vegas filming new episodes for its upcoming season. We went down to the South Point Hotel and Casino to check out the set and chat with some of the competitors. While we were there, we caught up with former Denver Broncos quarterback and Pro Football Hall of Famer John Elway to talk about how he prepared for the show and more.
What did you do to prepare for the show and taking on your opponents?
Nothing. I've played cards before, so I played a little bit on my phone, just a little bit of practice. I've never played a whole lot of heads up but I've played a lot of cards, so therefore just using my past experience.
What would you say is your biggest strength at the table?
Patience, but it's hard when the blinds get big as fast as they get, so you can't be too patient. You've got to pick and choose, so it's tough to be too patient as I said when the blinds get as fast as they get.
Tell us what you think your biggest weakness is at the table.
I know there's a weakness, I guess I'm not good enough to know what my weakness is. I would say at times I could be more aggressive than I am. Maybe at times I'm a little bit too passive.
If you could bluff one poker player, who would it be?
Daniel Negreanu, because he's good and he'd be fun to get to bluff on. His reaction would be fun to have.
We know Gary Payton enlisted the help of a pro for a little coaching for the show, did you get any pro coaching?
I did not. I knew the rules enough and have played enough. I got an app on my phone and played a little bit of heads up on my phone. I figured I had enough knowledge of the game of poker that I could compete.
Do you play poker more for fun or to compete?
I play more for fun. I don't play a lot of poker tournaments. I mainly play at home with my buddies. We usually play cash games and we don't get too out of line.
Do you think we'll be seeing you playing in the World Series of Poker any time soon?
That might be on the bucket list. It would be fun. I've heard a lot of friends of mine have come out and done that, so that's definitely going to be on the bucket list, so hopefully someday I get that done.
Is there anything you can take that you've learned on the football field to the poker table?
Other than being competitive, the thing I like about poker is I don't get hit and I can't get hurt by it. That's what I like about poker. I think just being competitive and the will to win, that makes you compete, and I think that to be good at anything you've got to be a competitor, so the competitiveness is probably the thing that goes from football to poker.
Do you think that you'll be more nervous on set or were you more nervous on the field?
I was more nervous on the football field. As I said, you can get hurt on the football field, and I wasn't too worried about getting hurt here. I've enjoyed it. It has been a great experience and a lot of fun.
Is there more pressure to play well since your friends back home will be watching?
Yea, but then you also don't want to be the dream wrecker either. You have people coming in that are playing for a lot of money and some of them really need it. You have mixed emotions here because of the fact that these people would have the chance for a million dollars. I won the first game I played and felt a little bit bad because it sounded like she needed the money and it was a great thrill for her to be here so there are mixed emotions.
Which is worse, fumbling a snap or a failed bluff attempt?
I would say there was more on the line when I fumbled the snaps, so therefore the fumbled snap. As long as you don't get too deep in on the bluff attempt, it cant hurt you too bad.
In the coming weeks, we'll have a behind-the-scenes look at the PokerStars.net Million Dollar Challenge and a interview with Sara Underwood, so stay tuned to PokerNews for that, and remember to follow us on Twitter for up-to-the-minute news.