The PokerStars.net Big Game: Week 2 in Review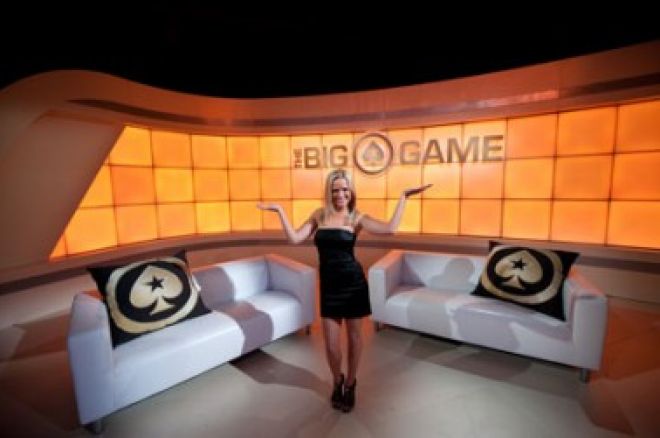 If last week's "Loose Cannon" Ernest Wiggins was off the charts when it came to wit and personality, this week's guest on the PokerStars.net Big Game did the same when it came to pure poker skill. 29 year-old Will Davis hasn't held a "regular job" since 2004, when he began earning enough on the felt to leave the 9 to 5 grind behind. It quickly became apparent to Davis' opponents that they weren't dealing with a typical amateur here, but rather an experienced cash game grinder who plays up to 20 tables simultaneously online, and has already logged over a million hands this year. Another special guest joined the table this week— multimillionaire Internet entrepreneur Jason Calacanis who served almost as a second loose cannon at the table in the eyes of blood-smelling sharks Doyle Brunson, Abe Mosseri, David Williams and Daniel Negrenau.
Your 30-second format refresher course: 150 hands. $200/$400 blinds with a $100 ante paid entirely by the player on the button. Loose cannon is staked $100,000 by PokerStars and keeps whatever he makes over his initial buy-in. Pot-limit hold'em pre-flop. No-limit hold'em post-flop.
The scouting report: Calacanis arrived at the Big Game toting an iPad loaded with YouTube videos of every hand each of his opponents had ever played on television.
Awwww!: Recently married, Davis told the table that if he wins, he plans on finally taking his wife on a long-awaited honeymoon. However, what she'd love even more is vacationing on Daniel Negreanu's dime! Evidently the missus isn't exactly a Negreanu fan and thinks he talks too much at the table, preferring to watch stoic players like Phil Ivey.
Davis folds to Doyle: This was the first hand where we went "Hmmm. I think this Davis kid can play!" Sometimes it's not always about winning a big pot, it's about making a great fold and that's what Davis showed here. Calacanis opened for $1,200 with pocket deuces, Brunson raised to $4,800 with pocket queens, and Davis made it $14,400 to go with pocket jacks. Calacanis mucked and Brunson declared himself all-in before Negreanu reminded him that it is pot-limit before the flop and the amount he could raise was limited to $46,400. After a long tank, Davis made the right fold and surrendered his jacks.
First misfire for the cannon: It's almost unfair to call it that, since Davis ended up running the second-nuts into the nuts! Williams was dealt
and raised to $1,200, Davis called with
, and Brunson called with
. Brunson checked the
flop over to Williams who bet $3,000. Davis called and Brunson folded. The
on the turn made both players flushes, Williams the nut flush and Davis a king-high flush. Williams put out a $7,000 value bet and Davis called. The river was another spade, the
, and Williams bets $20,000. Davis seemed to know he was beat as he made the call, and lost $31,000 on the hand.
"Coulda been worse. Could have been your actual money," offered Negreanu by way of consolation.
Later in the episode, Davis was able to get some of those chips back, value betting his
against Mosseri, who flopped a flush draw and folded on the river.
Dorks unite!: Just like Team PokerStars Pro Bertrand "ElkY" Grospellier, Davis was a StarCraft player, which goes a long way toward explaining his massive multitabling skills. He hadn't, however, played Magic the Gathering, David Williams' other card game of choice.
"Any proper dork plays Magic. I play it every day. We all still play at Panorama," said Williams, referring to the Las Vegas high-rise he lives in, along with dozens of fellow poker pros. Regulars in the Panorama Towers Magic game include Isaac Haxton, Justin Bonomo, and Scott Seiver.
Monsterpotten!: Mosseri opened for $1,200 with
, Calacanis called with
and Brunson called from the big blind with
. The
flop hit everyone in the face-- Mosseri flopped a flush draw, Brunson hit top two pair and Calacanis flopped middle seat. The action was checked to Mosseri, who bet $3,000. Calacanis raised to $13,000 and Brunson reraised to $83,000. Mosseri called Brunson's all-in, putting the action on a thoroughly tortured Calacanis.
"This is ridiculous if I lay this down," he said. Calacanis opened up his hand… AND FOLDED!
"You had me crushed!" Brunson said as he and Mosseri tabled their hole cards.
Mosseri and Brunson decided to run it twice. The first run brought the
and the
, Mosseri rivering his flush. Brunson took the second run, turning the
to make him a full house. Calacanis let out a sigh of relief, as he would have lost both times.
Joe Stapleton quote of the week: "Calacanis is shuffling chips like he's drinking Adderall-flavored coffee."
Davis doubles through Doyle: Mosseri opened for $1,200 with
, Brunson called on the button with
and Davis reraised to $5,600 from the big blind with
. Brunson called and they went heads-up to a
flop. Davis led out for $8,000, Brunson raised to $60,000 and Davis called all-in for $49,600. Davis' overpair was a 3-2 favorite over Brunson's pair and straight draw.
"Put a spade out there!" Davis said.
"Make it the deuce of spades and you can have it," said Brunson with a smile.
Boom! The
hit the turn, but it gave Brunson more outs with a flush draw. The river, however was the
giving Davis the double-up. His stack was back up to $112,400 and for the first time, he was sitting with a profit.
Calacanis sells Negreanu on a call: Calacanis opened for $1,200 with
, Negreanu called from the small blind with
and Brunson called with
in the big blind. On the
flop, Negreanu led out for $2,500, Brunson folded and Calacanis called. The turn was the
, making Negreanu the nut straight and Calacanis a set. Negreanu bet $7,000 and Calacanis insta-called. The river was the
, making Calacanis a full house. Negreanu bet $20,000 and Calacanis raised to $55,000. Calacanis was able to use his powers of persuasion to talk Negreanu into a call and he took down a pot worth over $133,000.
The Big Game's biggest pot: Davis straddled for $800, Negreanu raised to $2,500 with
, Williams made a crafty flat-call from the big blind with
and Davis called with
. The flop was
. The action was checked to Negreanu, who bet $5,500. Williams raised to $15,500, Davis folded and Negreanu called. The
on the turn made Negreanu two pair, snapping off Williams' kings. Lucky for him, Williams bet into Negreanu, making it $27,000 to go. Negreanu shipped his remaining $110,900 in the middle and Willaims called. They ran the river twice, Williams missing both times when the
and the
fell. Negreanu took down the pot worth more than $261,000.
Cannon fizzles: By the final 30 hands of the game, Davis was still in a $24,000 hole and knew he had to gamble it up if he had any hope of doubling his stack. So that's what he was doing in this pot with ten-four.
Negreanu opened for $1,500 with
, Williams made yet another crafty flat-call with
, Davis called with
, Mosseri called with
and Calacanis came in from the big blind with
. They saw a huge action flop--
. Williams hit top set and just in time, Davis flopped a flush. The action was checked to Calacanis who bet $4,000 drawing dead. Negreanu called, Williams called and Davis shoved. Calacanis folded and with the action on him, Negreanu sized up his opponents' stacks. Williams had $26,000 and Davis had$78,800. Negreanu tanked for a while with his flush draw before making the call. Williams called as well, making it a $100,200 side pot, and a $98,200 main pot.
The
on the turn spelled heartbreak for the loose cannon as Negreanu made his flush. The river was the
and Davis made a very gracious exit, taking his beat like a pro. Williams ended up exiting the game on that hand as well, and his seat was filled by Andrew "good2cu" Robl.
Week 2 Final Results: Daniel Negreanu (+$134,800, Doyle Brunson (+$79,000), Abe Mosseri (+$40,100), Andrew Robl (+$11,300), Jason Calacanis (-$65,200), David Williams (-$100,000), Will Davis (-$100,000).
Think you'd be a great loose cannon? Qualifying tournaments to the Big Game are running every day on PokerStars.