Televised Poker to Return to Atlantic City During Taj's U.S. Poker Championship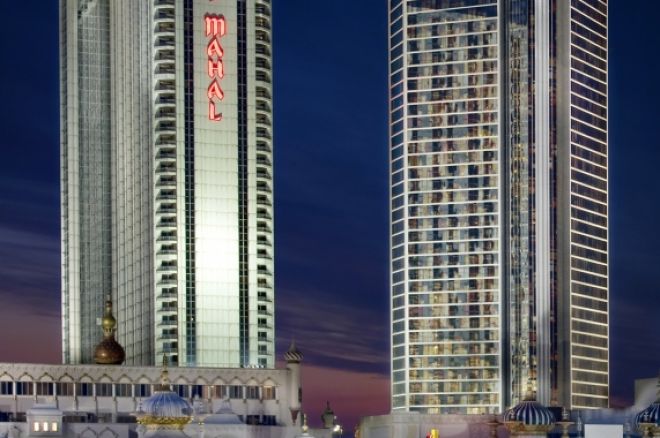 In what may be a good sign for poker, televised tournament action will return to Atlantic City because of a deal brokered between the Trump Taj Mahal and the Spike Network. After a year-long hiatus without TV coverage, the Taj's United States Poker Championship will once again see the light of day thanks to a media group from Las Vegas, Compass Entertainment. LLC, which brought the two together.
Beginning Nov. 2, 2009, and running through Nov. 24, the USPC will offer a variety of events including a special $2,5000 pot-limit Omaha Championship tournament that will be televised. The series will conclude Nov. 20 with the televised $5,0000 No Limit Hold'em Championship event. The USPC also offers a variety of tournaments to please a variety of poker players including seven-card stud, limit hold'em, Omaha hi-lo 8, seven-card stud hi-lo 8, and pot-limit Omaha, as well as a number of no-limit hold'em tournaments.
According to Taj director of poker operations Tom Gitto, the USPC's return to the air is a good thing for poker in Atlantic City. "It's hugely exciting to have the USPC back on national TV. We knew that in order to ensure that the USPC would be more attractive to poker players, we would need a solid TV deal. The entire Trump organization is firmly committed to doing something special each year to make the USPC sizzle, so this year we've added a $2,500 buy-in pot-limit Omaha Championship Event, which will be televised as well. The Taj is also organizing high-stakes cash games on Sunday, November 15 and Sunday November 22. The public is invited to come down to Atlantic City and catch all the action in person. National television exposure is critical to the players. Where else can such a leap of fame and prosperity take place virtually instantaneously, but in a nationally televised poker tournament," Gitto said.
Considering that the USPC has had a number of top players turn out for previous events including Phil Ivey, Phil Hellmuth, John Hennigan, Men Nguyen, Erik Seidel, Hoyt Corkins, John Phan, Kathy Liebert and Chris Ferguson, the tournament's return to television should bring the return of a number of the game's top players, which should generate a sizable prize pool. There should be plenty for television audiences to talk about considering that past USPC events have featured top-flight final tables with players such as Daniel Negreanu, Matthew Glantz, Victor Ramdin, Sventlana Gromenkova, Adam Gerber, Gavin Smith, Shane Schleger, Mike Leah, Dale Pinchot, Michael DeMichele, John Juanda, Steve Brecher, Toto Leonidas, Mickey Appleman and Alex Jacob.
According to Taj casino manager Frank Leone, the new television deal should renew interest in the tournament series for years to come. "We look forward to a long and successful TV partnership with the Compass Entertainment organization. They have the capability to capture the excitement of the USPC in a fresh and exciting way, differentiating this marquee event from other televised poker tournaments," Leone said in a recent press release.
Past USPC winners and their first-place prize include:
1996: Ken Flaton - $500,000
1998: Ray Lamoureaux - $148,000
1999: Daniel Negreanu - $210,000
2000: G. Richard Tatlaovich - $318,000
2001: Men Nguyen - $228,000
2002: John Hennigan - $216,000
2003: Toto Leonidas - $388,080
2004: John Aglialoro - $691,096
2005: James Caporuscio - $831,532
2006: Alex Jacob - $878,500
2007: Adam Gerber - $606,095
2008: Robert Ford - $221,936
Follow us on Twitter for up-to-the-minute news, and also become our fan on Facebook.