PokerStars' NAPT Looks for Success in a Crowded Market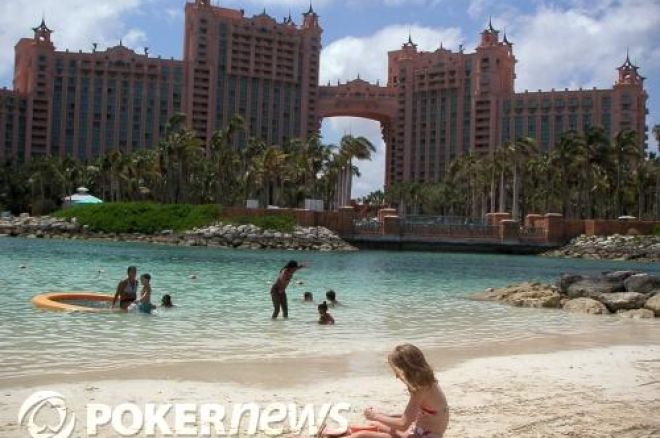 Rumors of a North American Poker Tour to accompany PokerStars' European, Asia-Pacific, and Latin American Poker Tours had been circulating through the industry for years and by the end of 2009, most of us had given up hope of seeing this plan come to fruition. The market is overcrowded, the economy is in the tank, and the UIGEA still leaves online sites handcuffed when it comes to marketing their brands in the U.S.
Nevertheless, in a press conference coinciding with the kickoff of the 2010 PokerStars Carribean Adventure, Stars pulled the trigger and in a surprise move, announced creation of the NAPT. Three stops were already in place (the PCA counting as the first) as was a deal for the always excellent 441 Productions to film the events. Although the identity of the "first-tier broadcast partner" has not yet been revealed, the show's hostess was. Move over Shana Hiatt because Joanna Krupa is about to give you a run for your money when it comes to poker television's most beloved leading lady.
All of this sounds great on paper but is there really room for yet another poker tour on the calendar, especially on this continent? What of the World Series of Poker Circuit or the World Poker Tour? Aren't their numbers falling too?
For one, the NAPT is cut from a very different mold than both of those tours. PokerStars' land-based poker tours are primarily "destination" tournaments. Winning a seat to an EPT, LAPT or APPT event isn't just about hopping on a plane to play an event. It's about exploring the game in a new country or culture and staying at a fantastic property while you're at it.
The WSOP-Circuit is, if anything, the anti-destination tournament series. Who wants to spend hard-earned vacation days on a trip to Council Bluffs, Iowa? For many, the World Poker Tour feels more like the Bellagio Poker Tour. Even though the WPT expanded a great deal this year overseas with stops in Cyprus, Marrakech, Slovakia and Venice, four of its 12 U.S. events still play out at Las Vegas' Bellagio Hotel & Casino.
Another advantage the NAPT has over the World Poker Tour is the size of its event buy-ins. NAPT tournaments carry a $5,000 buy-in while WPT events are $10,000 or even $15,000. The NAPT's smaller price tag will be a great incentive for casual players and fledgling pros to take a shot at a major title. The $10,000 buy-in is a huge amount to spend on a single tournament, but a $5,000 event with U.S. television coverage? It's a bargain at half the price. Believe it or not, the chance to play on TV is still a huge draw, especially when it comes to luring second-tier pros and celebrities.
Online satellites will be another major component of the NAPT's success. Something that has been missing from the WPT and the WSOP-C in recent years is a steady flow of online satellite winners to fill the seats and soften the field. Once the UIGEA took effect, U.S.-facing sites ran very few satellites to WPT or WSOP-C tournaments, primarily because they could not directly buy their satellite winners into the tournaments themselves.
To overcome the buy-in problem, the sites had to deposit entry fees into players' online accounts and allow them to do with them what they would. To no one's surprise, many of those $10,000 seats were simply cashed. With smaller buy-ins on the NAPT, coupled with more appealing destinations, players might be more willing to actually travel to and enter the actual tournament.
With two key elements to success already in place — a major broadcast deal and the revenue from running online satellites — PokerStars is poised to reap both financial gain and the continued expansion of its brand when it comes to the NAPT. The tour's first two stops at Las Vegas' Venetian and Connecticut's Mohegan Sun are only the beginning. Several more events are supposed to be added to the Season 1 schedule, and there are many possibilities out there when it comes to potential locations, especially north of the U.S.-Canada border. Vancouver's River Rock Casino (host of the B.C. Poker Championships) is certainly a possibility, as is Ontario's Niagra Fallsview Casino.
Emergence of the NAPT should also rekindle the competition between PokerStars and fellow online gaming giant Party Poker, which purchased the World Poker Tour in August 2009. A lot will depend on what goes on in the halls of the U.S. Congress as lobbying to overturn the UIGEA continues. Also, it remains to be seen how exactly Party will use its new platform to market its brand, especially when its doors are still closed to U.S. customers.
Will the WSOP-C survive? Will the WPT thrive again under its new ownership? Or will the NAPT come right up the middle like a rookie running back outperforming seasoned veterans? One thing is certain: the next 12 months will serve as a key test for all three major American poker tours to see whether or not they can coexist together.
NAPT- Venetian satellites are already running on PokerStars with buy-ins starting as low as $2.22 or 100 Frequent Player Points. The prize packages carry a $7,000 value, including the $5,000 tournament entry fee, $1,110 in spending money and accommodations at the Venetian. Get on the grind and sign up for an account today.