Wicked Thoughts: Ten Minutes with Wicked Chops Poker's Steve "Chops" Preiss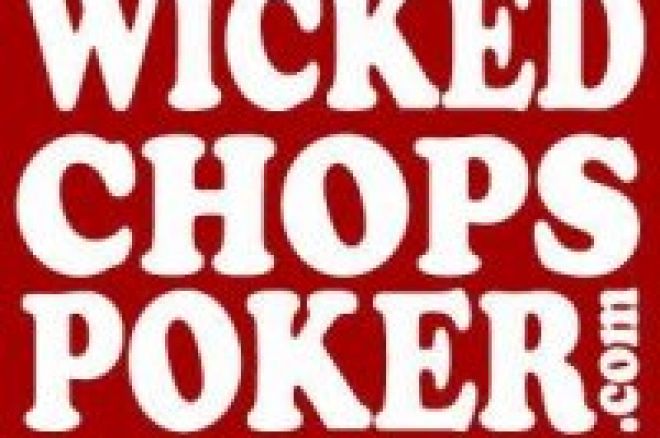 Although we like to think we know everything poker-related here at PokerNews, we know it is important to keep our fingers on the pulse of the poker media. If anybody has a unique of the industry, it's the boys from Wicked Chops Poker, and we were lucky enough to snag 10 minutes with Steve "Chops" Preiss to discuss the current state of affairs.
What are your thoughts about Jeffrey Pollack leaving the World Series of Poker?
It is definitely a loss for the poker community. Pollack, in particular, has been a really good friend to the poker media and to poker players as a whole. If you look at the response to his decision to leave, the reaction across the board is that everyone is pretty much bummed out about it. I'm sure he'll do fine. He's got a really good track record, if you look at his resume, having launched the Sports Journal, worked with the NBA, NASCAR and now the WSOP. Whatever he moves on to will be a good thing. I hope he'll still remain within the poker industry.
Who will replace him?
As far as finding a replacement goes, I don't think there is going to be one. Pollack doesn't think so and the people at the WSOP don't either. There has been a lot of talk about Ty Stewart or Mitch Gerber taking over, but from everything I understand, there will not be a new commissioner. It looks like they are going to spread the duties and responsibilities Jeffrey had amongst the rest of the staff and move forward that way.
Will the WSOP suffer because there won't be a primary figure head?
From the media and the players' perspective, not having that one go-to person and having someone that is ultimately accountable hurts, but I think that if they keep the things Jeffery, Ty and Seth have put into place over the last few years, the WSOP will continue to progress in a positive fashion.
What are your thoughts about the big games on Full Tilt and do you think the IRS will ever start paying attention to the millions of dollars changing hands on a regular basis?
Keep in mind that not all of the crazy action is coming from U.S. players. Obviously, you have Tom "durrrr" Dwan and Phil Ivey, but Patrik Antonius and Isildur1 are not U.S. residents, so I don't think the IRS is going to be a big issue for these guys at the moment. If there is a carve-out for online poker in the new legislation, and if the industry becomes regulated and taxed, then I think the IRS will be more of a factor. I think these games are good for the game in that they get people watching the action and excited about playing. The more things poker can do to get the community in general excited, the better off we are.
Do you think the big games online pull money away from the live big games?
It doesn't seem to. When people are in town (Las Vegas), they play. When the Five Diamond is going on at Bellagio, there is a ton of live action. It's not as consistent as it was when Chip Reese was around five to seven years ago, but it still takes place. Obviously one of the reasons for the lack of live big games is the economy.
Will PartyGaming's acquisition of the World Poker Tour save the brand?
I think Party's decision to come in and scoop them up was the best thing that could happen to the WPT. From what I've heard, the people at the WPT have a pretty sweet financial arrangement because of the potential revenue from a WPT skin on Party. I think the WPT became oversaturated over the last few years and their numbers have gotten smaller. Again, it's obvious that the economy is playing a big role here. Party will enable them to create a good feeder system that will let players satellite into WPT events. This should help increase the size of the prize pools and that will attract more players. It will definitely help save the broadcast portion of the company. I don't know how many seasons they could have squeaked out without Party's support. I think Party was due to come in and take over a tour if they wanted to stay relevant because group's like Harrah's and PokerStars already had their own events, so it is a win-win for both companies.
Are there too many tours right now?
I've always felt that for poker to make its next big step, there needed to be a consolidation of tours or something that would be more like the PGA golf tour. You have multiple circuits that players can play in, but for tracking the game it makes sense to have one central tour. People are able to follow that more easily. In order for poker to take its next step into the mainstream, I think something like that needs to happen. I've been saying this since we started Wicked four years ago.
What poker topic are you and the Wicked boys talking about these days?
It was the December 1 deadline and what was going to happen with the UIGEA, but we spoke with several lobbyists and people who had vested interests in seeing poker succeed, and everyone agreed that the delay was going to happen and that legislation such as a carve out would happen. That was big, and I still think it is going to hang over the heads of the poker community until June 1, 2010. I'm hoping that the positive legislation continues. I think the carve-out for poker will be a big topic of discussion for 2010.
I'm curious to see how the WSOP will fare with Mitch running the show and how not having Pollack as commissioner will affect Harrah's and the WSOP brand. Absence will affect the Series. I want to see what changes will take place in 2010. I don't necessarily think they are going to take a step back by any means, but we'll have to see. I think this is going to be a big story.
We're also talking about Party's WPT pick-up and wondering if the tour will become more prestigious with a feeder system bringing in players. It has lost some of its luster in the past two years thanks to dwindling numbers. It will be good to see the WPT come back to previous prestige levels like it was five years ago.
Be sure you are following us on Twitter for up-to-the-minute news.