2 Months. 2 Million: A Preview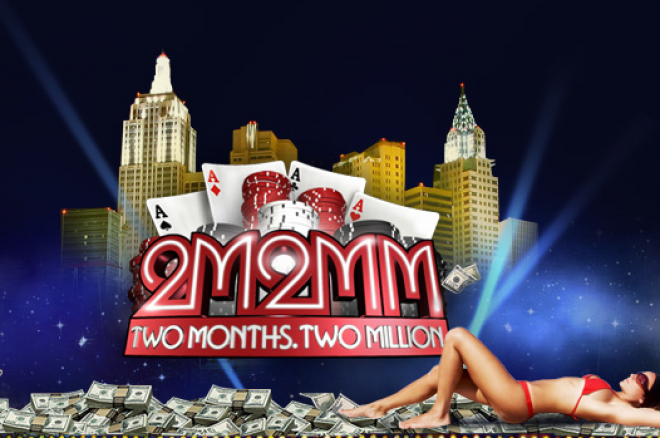 The summer of 2009 has already brought poker fans more than their fair share of new TV programming, with the prime-time kickoff of NBC's Face the Ace, fresh episodes of ESPN's World Series of Poker coverage, and the premiere of Playboy TV's Sam's Game. Now, the G4 network is taking this mini-Renaissance of televised poker a step further. Take the traditional reality television concept of "four guys picked to live in a house," mix in some hard-core poker action, season it with a healthy dose of prop betting and Vegas hijinks and you'll have 2 Months. 2 Million., a ten-episode reality series premiering this Sunday, August 16th at 9pm EST.
2 Months. 2 Million. follows four top professional online poker players as they attempt to earn a collective $2,000,000 inside of a two-month period. In the premiere, the four move into a 10,000 square foot Las Vegas mansion, complete with a screening room transformed into an online poker "war room" outfitted with 50" monitor setups for each player. There's also a "tilt room" stocked with baseball bats, hockey sticks, and a few creative items to wail on (watermelons, heads of lettuce, etc.) should the urge arise.
Residing together in the house are three New Yorkers — Dani "Ansky" Stern, 22, Emil "whitelime" Patel, 25, and Jay "Krantz" Rosenkrantz, 25 — and one lone Texan, 26-year old Brian "Flawless_Victory" Roberts. All of them play out of their own bankrolls on this quest to $2 million, be it online, in live cash games, or at WSOP events. Though there's plenty of poker on the show, the four also have their fair share of adventures around Las Vegas as they engage in prop bets (one guy ends up playing the harp for tourists on the Strip), have a pool party with a few Playboy Playmates, and run up bar tabs worth more than your car.
Though each of these players have already enjoyed millions in profits on the felt, will the time crunch ratchet up the pressure to perform? Will all the temptations of the Vegas lifestyle prove to be a costly distraction? And who will be the first to whack open a watermelon in the tilt room after their aces are snapped off on the river? Check your local listings and tune in to G4 Sunday night at 9pm EST to find out.
Let us know what you think of the show in our forums, or by leaving us a comment below. You can try to make your own $2 million by signing up for an online poker account here.
*photo via G4TV.com*