Near Miss for Andy Bloch in FTOPS Event #5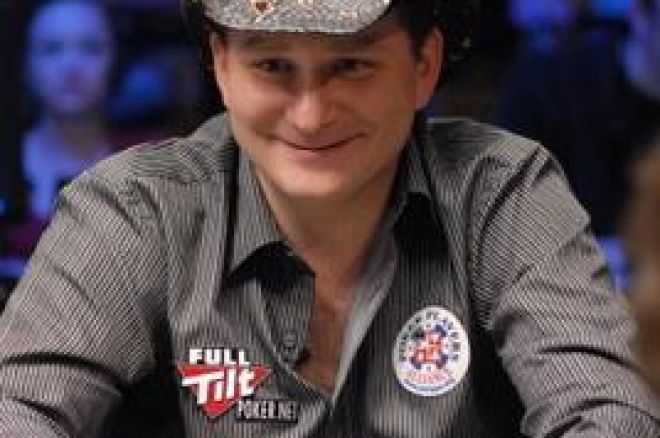 The thirteenth Full Tilt Online Poker Series (FTOPS) continued on Friday with two more events. Among all of the notable finishes, one in particular stands out. Team Full Tilt member Andy Bloch took second place in event #5, a $200+16 stud tournament, for $17,081.60. On the final hand, at a 20:1 chip disadvantage, Bloch made a stand with (
)
and managed to make a pair of queens. His opponent, Xsporean, began the hand with (
)
. The rest of Xsporean's board ran out
and Xsporean made fours and threes to win the hand and take down the tournament.
Bloch is certainly no stranger to runner-up showings. Most recently, Andy finished second to Nenad Medic in the Pot Limit Hold'em World Championship at the 2008 World Series of Poker. Just prior to that, he took second place in the 2008 NBC National Heads Up Championship after coming up short against Chris Ferguson in the finals. Finally, and perhaps his most memorable runner-up performance, he finished 2nd, to the late Chip Reese, in the $50,000 H.O.R.S.E. event at the 2006 WSOP.
In an interview with PokerNews just before the 2009 WSOP, Bloch spoke about his second-place finishes in the WSOP and missing out on his first bracelet.
"People wouldn't talk about me being one of the best players without a bracelet. But you know, a lot of my peers, a lot of poker pros, they are kind of surprised when they hear that I don't have a bracelet yet. So, in some sense, it's not like I need to win it to gain the respect of my peers, because in a lot of ways that's showing that they have a lot of respect for my game already if they think that I must already have a bracelet. It would be a great thing [to win one] and my goal for the World Series is to win a bracelet. But if I get second in a big event, I'd be pretty happy, too."
Bloch didn't make any final tables this year, but he did cash in three events. While that first-place finish still eludes him, as long as he can pull out the solid second-place paydays, Bloch will be a force to be reckoned with on the poker scene, live and online.
FTOPS XIII – Event #5 - Stud
Buy-in: $200+16
Prize Pool: $108,800
Entrants: 544
1. Xsporean - $25,785.60
2. Andy Bloch - $17,081.60
3. I Intent - $11,968
4. electron78 - $7,398.40
5. Austin "The Quietwinner" McCormick - $4,569.60
6. bobboufl11 - $3,155.20
7. fishhawker - $2,393.60
8. PPLL99 - $1,632
FTOPS XIII – Event #4 – NLH 1 Rebuy +1 Add-On
Buy-in: $200+16
Prize Pool: $679,400
Entrants: 1,415 (1,024 Rebuys, 958 Add-Ons)
1. Jon "TwistedEcho" Heath - $102,382.28
2. YesImaHick - $103,811.37
3. Craig "ELMO_MASK" Boyd - $100,895.15
4. kautabjo - $54,352
5. OJ Limpsin - $40,764
6. Frank "Gator93" Hernandez - $29,214.20
7. Josh "professor plum" Prager - $19,023.20
8. KaPanY3 - $13,588
9. My Brim Low - $9,511.60
There is still plenty of time to win an FTOPS event. Sign up for Full Tilt here.