2010 World Series of Poker Europe: James Bord Captures WSOPE Main Event Title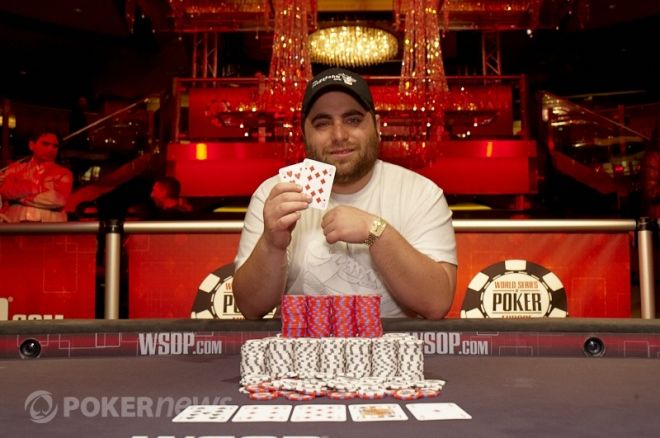 The final table commenced with nine players all eager to take down the 2010 World Series of Poker Europe Main Event, one which was filled at its outset with more stars of the game both live and online than a small galaxy. At the start of the event, 346 players took their seats at tables scattered throughout the Casino at the Empire, but only one table made it to the final day of play, and everyone on it had a poker track record to be envied and a genuine shot at the top prize and the bracelet.
In pole position was the popular Dan Fleyshman, who had nosed in front of erstwhile chip leader Ronald Lee so that the two of them led the pack with just under 2 million chips, while it was EPT finalist Marc Inizan who brought up the rear with a still playable 349,000. The structure certainly allowed for a good deal of play, and judging by the epic final tables this tournament has spawned in recent years, the 12 hours it took to come to a conclusion was fairly rapid. The early stages oscillated between big moves (mainly perpetrated by Ronald Lee) and small pots taken down without a hit of a showdown, until a double up for French behatted sensation Nicolas Levi (racing tens against Roland de Wolfe's ace-king) changed the dynamic for the first of many times. De Wolfe was to fare badly in all-in preflop situations, later losing again against Levi with a dominated ace to make him the longest-lasting short stack before his elimination in fourth place.
Long before this stage was reached, however, it was Marc Inizan and Brian Powell who both found themselves all in preflop with the same hand – pocket eights – against Ronald Lee's ace-king. A spiked king propelled the chip leader's stack near the stratosphere and busted both of them, Inizan in ninth and Powell in eighth. The pace of play from this moment on, in terms of hands per hour, never slowed. Barring big decisions, every player seemed to want to eke every last minute of play out of this most serious of final tables, and there were quickly-formulated three and four-bets galore which won sizable pots for all of them at one time or another.
Nicolas Levi had cat-like lives, it appeared – he often made the last bet preflop but he was inevitably called; he raced his king-queen against Lee's pocket fives for a second double through and then stayed fairly quiet as the two top stacks, Dan Fleyshman and Ronald Lee faced off repeatedly. It was Danny Steinberg, however, who dealt the first major blow to the start of day leader's stack, all in preflop with kings against Fleyshman's ace-queen. An all-ten flop brought amusing outs for Fleyshman, but he failed to hit and had to resign himself to playing a stack with fewer big blinds from now on (817,000). When the level rose to 20k/40k, it signaled the end of Fleyshman's bid for WSOPE gold as he made a preflop move against the continually aggressive Lee with ten-jack suited, but Lee's king-five held up to bust him in seventh place for £118,643.
It was around now that players started to sit up and take note of the Italian online high-stakes player Fabrizio Baldassari, who seemed to pick his spots to raise and three-bet preflop impeccably. No one had a glimpse of his cards for what seemed like a whole level, during which his stack rose to a top-three position and stayed there. Meanwhile James Bord, whose fans were later to become something of a sensation, had his first double up, racing jacks against Nicolas Levi's ace-queen. He held, and began his ascent to eventual victory.
Finishing sixth wasDanny Steinberg, who had fallen to just over a million in chips, but who took a gamble on his ace-jack when Ronald Lee set him in with pocket fours. The pair held and his bid for a top spot ended with the not insubstantial payday of £156,530. Lee's on-their-backs form continued as he busted Nicolas Levi in fifth, his king-queen spiking on the turn to bust Levi and bring the tournament four-handed. Roland de Wolfe, who'd nursed half a million chips for a good while, finally found a caller for one of his open-spot shoves in Fabrizio Baldassari, whose ace-eight stayed ahead of his king-queen to send the triple crown holder to the rail.
From this point until the dinner break, it was the Ronald Lee show, with his aggression in every position three-handed bumping his stack over the 6 million mark, more than double that of Baldassari in second place. Although James Bord was in last position now, when he returned from the break it was a different story. Whatever he'd had for dinner, upped him to a higher gear, and after a first double up all in with a rag ace vs. Lee's king-queen, there was no stopping him. He was involved in several major confrontations, and came out ahead every time. Lee was still in front, however, until his ace-king was outdrawn by Baldassari's ace-four, all in preflop, and he subsequently paid off the Italian's flopped set for another million-plus pot.
With a new chip leader in town, Lee's foot didn't leave the accelerator, but he folded to a preflop four-bet shove from Baldassari soon thereafter leaving himself in a dangerous position chip wise. Now at the bottom of the pile, it was his turn to race preflop, his fives up against James Bord's ace-king. A couple of kings later, and the once big stack had been divided between Bord and Baldassari, and the divided rail were vehemently cheering each of them.
With the bracelet and cash on display, the heads-up remained fast-paced and veered both ways, but Baldassari's attempt to end it quickly failed when his queen-eight didn't hit against Bord's ace-king (all in preflop). Bord's fans started singing, "Walking in a Bordy wonderland!" in a less than sober fashion as pot after pot started to go his way. Finally it was pair vs. pair which finished Baldassari off – his fives against Bord's tens. No upsets, and the Englishman, bouncing alongside his supporters, had taken the bracelet the WSOPE Main Event title, and £830,401. Baldassari and Bord shook hands, and magnanimous in defeat, the former took his half million pounds and congratulated the latter. The final bracelet in this World Series of Poker Europe was awarded to a near-speechless Bord, and the Empire casino sounded like a riot had just broken out in it. The British form this year has been superlative, and Bord joins the ranks of players with the most coveted prize in poker. An excellently run series comes to an end with a thrilling final battle – until next year, PokerNews.com signs out.
Final Table Results
| Place | Player | Prize |
| --- | --- | --- |
| 1 | James Bord | £830,401 
 |
| 2 | Fabrizio Baldassari | £513,049 
 |
| 3 | Ronald Lee | £376,829 
 |
| 4 | Roland De Wolfe | £278,945 
 |
| 5 | Nicolas Levi | £208,119 
 |
| 6 | Daniel Steinberg | £156,530 
 |
| 7 | Dan Fleyshman | £118,643 
 |
| 8 | Brian Powell | £90,617
 |
| 9 | Marc Inizan | £69,754 |
The WSOPE Live Updates are brought to you by Full Tilt Poker, who not only give new players a 100% up to $600 Sign Up Bonus they also hold a monthly $100,000 First Deposit Freeroll for new members!