2010 WSOPE Main Event Day 3: Into the Money and Beyond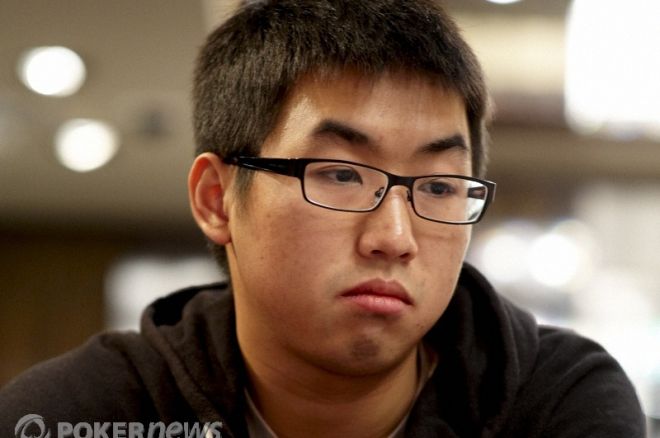 Every one of the 66 players returning for the third day at the 2010 World Series of Poker Europe Main Event knew that just 36 of them would show a profit for their two days of non-stop poker, but the experience and standard of everyone remaining meant that this hardly felt like it dictated the pace of the action, even around the bubble itself. Starting with a huge stack, like Day 2 chip leader Viktor Blom did, was no guarantee of remaining in the upper echelons when the chips were once again ready to be bagged and tagged on Sunday night. The field saw players who'd had long stints at the top of the leaderboard like James Mitchell and John Dolan hit the rail over the course of the day (the former cashing, however) while vigorous ascents were made up the rankings by players like Marc Inizan, Jani Sointula and Dan Fleyshman, who both sail on to Day 4 to make a run at the final table.
Rewind to the bubble, and already many players like JP Kelly, Dan Shak, Nam Le and Steven van Zadelhoff had headed out of the tournament without a £21,206 minimum cash. There would be no third-in-a-row final table for Daniel Negreanu, and the two remaining female players, Barbara Martinez and Almira Scripchenko, also fell shy of the money. Huck Seed ran kings into aces, and then the final player to leave in the unpaid category was young Canadian Rudy Blondeau who ran ace-queen into aces preflop, bumping Brian Powell's stack up a bit higher in the process (he's still in with 264,000).
At the dinner break, Andrew Pantling held a two-to-one chip lead over almost everyone else, but wasn't to hold on to the lead. Tablemates were saying he was "running like God," picking up just-better hands when other players found good ones (like when he eliminated Markus Golser with the best overpair, ace-ace, vs. Golser's inferior nines on an eight-high turn) and heading over the million chip mark when Fabrizio Baldassari lost a big pot to his flopped set. He ends the day under that mark again, but not by a wide margin (821,000).
Seconds after the restart and it was time to pause once again, this time for the redraw at 27 players, as Michael Benvenuti exited in 28th place. It was time for everyone to face new opposition (or a mixture of the familiar and the new) in new formations – Phil Ivey ended back on prior chip leader Bojan Gledovic's right but no longer were Victor Blom and Roland de Wolfe neighbors, or Arnaud Mattern and huge leader Andrew Pantling on either side of the dealer. Moving around didn't seem to be a concern for today's zero-to-hero success story, Ronald Lee. He had to survive a race for his tournament life early on (his ace-king vs. James Mitchell's pocket jacks) and from then on seemed to come out on the right side of most major encounters he had. He busted Rob Akery and John Eames – the latter made the money finishing 27th just as the prize went up to £26,400. He ended the day a whisker above David Peters and over 100,000 chips in front of Pantling.
Meanwhile, other top-spot threateners include Daniel Steinberg (768,000), who seemed to be playing a hand every time any reporter glanced at his table, and had his share of good fortune at the right moments. A cool deck saw him send off David Baker outside the money when the opponent-described "maniac" happened upon aces when Baker had queens and sent him to the rail. He was also responsible for the final elimination of the night – also with aces, although they weren't his in this hand. Barry Greenstein got it all in preflop with aces against Steinberg's tens, but a ten on the flop was enough to earn him a copy of Ace on the River with an inscription apparently letting his disapproving grandparents know he's a good poker player.
David Peters currently sits in second place with 829,000 behind Lee's 947,000, and had a lucrative last level, winning a couple of six-figure pots including one against Dan Fleyshman which dropped him down from the top-ten spot he'd held earlier. At the other end of the spectrum, but by no means out of the equation are Sointula, Greg Mueller and de Wolfe, all with under 200,000 but all capable of a journey like Ronald Lee's today. They will return tomorrow to play down to a final table where the money really starts to jump. There's £830,410 for first place and over half a million pounds for second, plus the universally-coveted WSOP Main Event title and gold bracelet to fight over. Action recommences at noon London time, and our intrepid Live Reporting team will be on hand to catch the bustouts as they happen.
In the meantime, you can catch up on Day 3's action and see the full chip counts here. And don't forget to follow us on Twitter and become our friend on Facebook if you enjoy being awesome.
The WSOPE Live Updates are brought to you by Full Tilt Poker, who not only give new players a 100% up to $600 Sign Up Bonus they also hold a monthly $100,000 First Deposit Freeroll for new members!