2010 WSOPE Event #3, Day 3: Shelley Halts Kelly's Title Defense Run and Wins First Bracelet!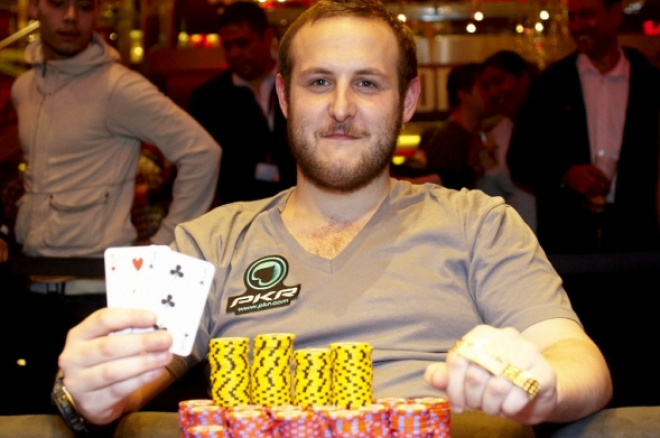 All eyes were on JP Kelly as he returned to the final table on Tuesday afternoon in London for Event #3: £1,075 No-Limit Hold'em of the 2010 World Series of Poker Europe. Yes, Kelly was in contention to win his third bracelet, a prize that was up for grabs for all eight of his opponents, as well, but Kelly had much more on the line.
You see, last year Kelly won this very same event. He successfully maneuvered his way back to the final table in his title defense, but would he be able to close it out? If the answer turned out to be yes, Kelly would become the first player since Phil Hellmuth to win the same Hold'em bracelet event in back-to-back years. On top of that, Kelly would become the first player with two WSOP Europe bracelets. As if that wasn't enough of a story, Kelly was also in line to smash Phil Ivey's record as the youngest player to win three gold bracelets.
The final table started off rather normal, as Kelly picked off one of the short-stacks early on. Nicky Katz was sent to the rail first on the day after his top pair failed to hold up against Kelly's double gutshot. Right from the get go things looked like it just may be Kelly's day to shine.
After a little while went by without anyone being eliminated, Scott Shelley doubled in amazing fashion. After Karim Jomeen raised the button, Shelley three-bet shoved from the small blind, but Jomeen was holding two aces and had Shelley in bad shape. Fortunately for Shelley, his
got there after spiking trips on the turn and crushed Jomeen to just a few thousand chips. Jomeen was then eliminated shortly thereafter in eighth place.
It wasn't long after that before we saw Kelly double after flopping a set of eights against Jack Lyman. Lyman's flush draw failed to get there and he handed Kelly the chip lead. This is when things really started to look good for Kelly. As if he was really going to do it after all.
The players took a one-hour dinner break and upon returning, four players were sent packing within the hour. Lyman hit the rail in seventh, Mehdi Senhaji lost a flip to go out in sixth, start-of-the-day chip leader Kaveh Payman busted in fifth and then Paul Pitchford exited in fourth. The stage was then set for a three-handed battle between the defending champion Kelly, Shelley and Jeppe Bisgaard.
Kelly took the chip lead rather early in three-handed play before he eliminated Bisgaard in third place to get heads up with Shelley. Bisgaard limp-shoved the button over a raise from Kelly out of the small blind. Kelly called it off and was dominating Bisgaard's
with his
. Kelly was able to dodge a flush draw that Bisgaard picked up and was left with a chip lead of about 300,000 over his heads-up opponent Shelley.
At the beginning of the match, things went back and forth between the two until the first big pot came up. Shelley was able to rake in the largest pot of heads-up play after he picked off a bluff from Kelly while holding two kings. It wasn't as easy a call as one would imagine. The final board read
and Shelley held pocket kings without a heart. Winning that pot put Shelley at over a 2:1 chip advantage, making things looking not so good for Kelly.
Just as things weren't looking so good for Kelly though, he was able to pull back into the lead thanks to a big double up holding
versus Shelley's
. Kelly was able to fade Shelley's outs and retook the chip lead as once again the momentum changed sides in the match.
Just when Kelly doubled up and seemed to have everything going his way once again, Shelley buckled down and began pressuring Kelly in some big pots. Soon, Shelley was back in the lead and then the final hand came up.
After Shelley raised from the button, Kelly moved all-in. Shelley met him with a call and tabled a pair of threes. Kelly held the
and off to the races they went with a bracelet waiting at the finish line. The flop rolled out
and the noise from Shelley's fans was deafening as they roared when they saw Shelley had hit a powerful set of threes. Runner-runner wasn't in the cards this time around after the
fell on the turn to leave Kelly drawing dead. The river card was the
and it officially ended the match.
Just a few days ago, Shelley was just another poker player with a dream in the field of 582 entrants. He successfully maneuvered his way to the final table and from there got lucky when he needed to and played great when it really mattered.
When Shelley got heads up with the defending champion JP Kelly, the room was literally cut in half between the two sets of railbirds. Almost everyone was anxiously waiting to see if Kelly could do the unthinkable: smash Phil Ivey's record of youngest player to win three bracelets, become the first player with two WSOP Europe bracelets and be the first player to win the same bracelet event in back-to-back years in Hold'em since Phil Hellmuth did it in the 1990s. Well, that was a great story and all, but it's going to have to wait until another time for the media to be able to put it in print.
Kelly didn't go home empty handed though; he won a nice payday worth £82,854. Shelley took home the better of the lot with £133,857 going in his pocket and the coveted WSOP gold bracelet for his wrist. For Kelly, he was well aware of the records he was trying to break and the history he was trying to rewrite. He's now left with the bitter taste of defeat in his mouth after coming oh so close.
| Place | Player | Prize |
| --- | --- | --- |
| 1 | Scott Shelley | £133,857 |
| 2 | JP Kelly | £82,854 |
| 3 | Jeppe Bisgaard | £55,063 |
| 4 | Paul Pitchford | £40,862 |
| 5 | Kaveh Payman | £30,666 |
| 6 | Mehdi Senhaji | £23,239 |
| 7 | Jack Lyman | £17,768 |
| 8 | Karim Jomeen | £13,694 |
| 9 | Nicky Katz | £10,633 |
Just because Event #3 is in the books doesn't mean there isn't plenty more action to come from the WSOP Europe. The PokerNews Live Reporting Team is on the floor in London and there to provide you with all the live coverage so be sure to stay tuned for all of that!
These live updates are brought to you by Full Tilt Poker, who have just announced qualifiers for the Full Tilt Poker Series Espana Grand Final at Gran Casino de Barcelona. You can win your seat to this €3,200 event for as little as $5 only at Full Tilt.