2010 WSOPE Event #3, Day 2: JP Kelly Goes For Record-Breaking Gold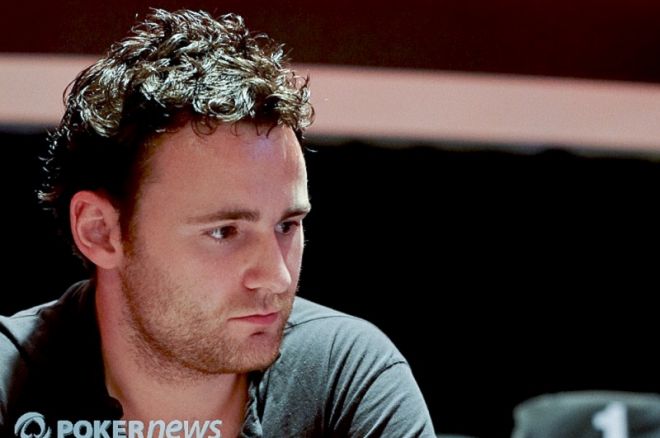 Monday was moving day in World Series of Poker Europe Event #3, the wallet-friendly £1,000 No-Limit Hold'em event. Just 80 players remained from a starting field of 582, and a pleasing mix of notables, semi-notables, and outright amateurs were back inside the casino today to play from nine tables down to just nine players. That requisite whittling of the field was finally fulfilled around 2:00 a.m, and Kaveh Payman is the man with the most chips in his bag at the end of the day. His 434,000 chips give him a 65,000-chip cushion over his nearest chaser, and he'll be setting the pace when the players reconvene tomorrow.
Seat 1: Karim Jomeem - 109,000
Seat 2: Scott Shelley - 148,000
Seat 3: Nicky Katz - 150,000
Seat 4: Paul Ian Pitchford - 77,000
Seat 5: Jeppe Brisgaard - 171,000
Seat 6: Mehdi Senhaji - 369,000
Seat 7: Kaveh Payman - 434,000
Seat 8: JP Kelly - 242,000
Seat 9: Jack Lyman - 55,000
In much the same way as its Las Vegas counterpart, the WSOPE maintains a strong and extroverted international style with players coming from far and wide just to play in these specific tournaments. There are five gold bracelets in town, you know. What the American version of the Series lacks to some extent, however, is a sort of a hometown crowd and a real national identity intertwined into the game. Sure, the Americans are always well represented on the WSOP podium and on the walls and halls of the Amazon Room. As the Series has grown, however, a player's home country has become less of a talking point at the WSOP as enormous, internationally diverse fields all don the same Ed Hardy shirts and become an incarnation of the ID number on their Total Rewards card.
There is no shortage of that neighborly nationalism here in London, however, and the Brits have made it perfectly clear that they intend to keep a few of those bracelets right here in the UK. They've got a good shot at this one; two-thirds of the final table carry British passports. There are six Brits still left standing, but one of them is head and shoulders (and curly hair) above the rest of his neighbours.
Meet JP Kelly, a face the mainstream poker world is still becoming acquainted with. Already well known in these parts, Kelly is the defending champion of this event, and he currently has the British poker scene abuzz as he's made it deep again one year later. Kelly's arrival on the map came just before that last title, however, when the 23-year-old picked up bracelet number one in a $1,500 Pot-Limit Hold'em event in Las Vegas. Three months later, he got one for the other wrist at the WSOPE, making him only the second man (behind Jesper Hougaard) to win a gold bracelet on both sides of the pond. That was the 2009 version of this £1,000 No-Limit Hold'em event, and he's well in contention to defend that title in 2010, as remarkable as that may be.
Not impressed yet? There's plenty more. Kelly will be 24 years, 7 months, 11 days old on Tuesday when the final table is held. If he can win the bracelet, he'll be the youngest player ever to achieve three WSOP titles. Phil Ivey? He's the current record holder, indeed, but he was practically an old man compared to Kelly when he won his third at 26 years, 3 months, 2 days. That's a pretty impressive record to challenge if you're JP Kelly. A win on Tuesday would also make him one of only five players to ever defend a Hold'em bracelet with a win in the same event the following year:
Doyle Brunson: $10,000 Main Event 1976, 1977
Stu Ungar: $10,000 Main Event 1980, 1981
Johnny Chan: $10,000 Main Event 1987, 1988
Phil Hellmuth: $5,000 Limit Hold'em 1992, 1993
Clearly, with nine players left, there's still a lot of work to be done, and it's hard to guage exactly what it would mean on a grand scale, too. But it may well be that Britain has another young superstar to latch onto once again, and Kelly's emergence in the poker world is beginning to stretch far beyond his country's borders. He could be on the verge of setting some truly impressive and potentially very long-standing records, and it's not inconceivable to think he'll be a household name in poker (see: James Akenhead) before too long.
Oh, right, Day 2! Kelly chipped up early in the day by scooping up all of November Niner Matthew Jarvis' chips in two consecutive pots. From thereon, though, it was a bit of a grind for a couple hours as he dealt with some rather difficult play at his midday table. Working with about 15 big blinds, Kelly finally found his double up with pocket nines against Mehdi Senhaji's sevens. No funny stuff on board pushed Kelly over 100,000 for the first time in the tournament, and he had chips to play around with again. Xiang Tan learned that the hard way when Kelly shoved in for 45,000 effective from the small blind with
. Tan quickly called off his ten bigs with pocket fives, and Kelly turned a spade flush to push him up to 160,000 chips with 16 players remaining. The next little step was 185,000, that boost coming as he took all of Leonard Truche's remaining chips with
against
. The
flop was pretty much all she wrote for the end-of-Day-1c chip leader, out the door in 14th place. From there, Kelly shot straight to 269,000 chips just a short time later. Stephen Broomfield thought he liked his
, but Kelly found
and a board full of blanks to send his opponent out in 12th place.
It was pretty much cruise control from there, and Kelly bagged up 242,000 chips at the end of play to put him in 3rd place overall, eight spots away from what would be a win for the record books.
Despite our dwelling on one player, there were, in fact, some other notables in the field on Day 2. Monday was Andrew "LuckyChewy" Lichtenberger's birthday, but his gift from the poker gods was running kings smack into aces a few places shy of the money. Dominik Nitsche, Scott Fischman, and Toby Lewis outlasted him by a small margin, but not enough to squeak out a paycheck. The last 54 players get paid for this event, and Manig Loeser, Tommy Vedes, Allen Kessler, and Kyle "kwob20" Bowker were among the small cashers who also earned an early night out in Leicester Square. Stephen "stevie444" Chidwick, Anton Wigg, and Keith "The Camel" Hawkins made significantly deep runs as well, but they too were sent packing without a ticket to the final table.
Speaking of the final table, you won't want to miss this one. The action kicks off at 2:00 p.m. local time, and it figures to be a rowdy and potentially record-setting night of poker inside the Empire as JP Kelly looks to make some serious headlines on his home turf. Our Live Reporting team has a ringside seat for all of the action, and you can follow along with Kelly's quest for number three as the story unfolds live.
There are lots of ways to be our friend: Twitter, Facebook, bringing delicious baked goods to the Empire, etc.