PokerStars.net EPT Vienna Day 4: Negreanu Leads Final Table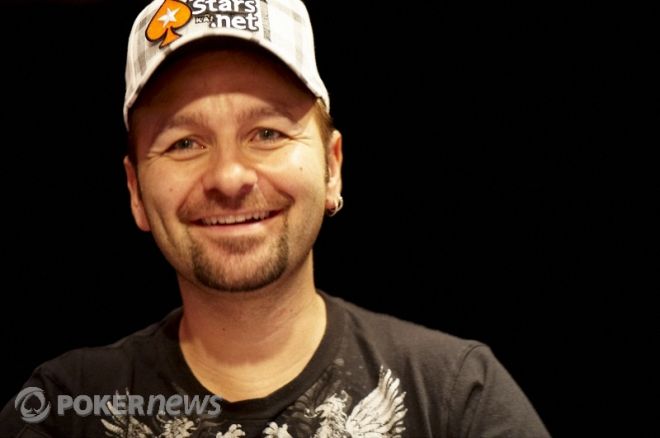 Comfortably inside the money at the PokerStars.net European Poker Tour Vienna, 24 players returned for their fourth session at the tables in Vienna's Kursalon, guaranteed a return on their €5,000 investment but looking to turn a deep run into a title shot and a €700,000 payday. A ballroom-filler of a field – 587 players in total, generating a prize pool of €2,935,000 – sat down to play 30,000 stacks nearly a week ago and now just three tables remained.
Two players started the day head and shoulders above the pack, Germany's Konstantinos Nanos and PokerStars Team Pro Daniel Negreanu. Just five big blinds separated these players with around two million chips apiece. Both initial Day 4 leaders had had plenty of time to get used to the rarefied air at the top of the standings, Negreanu having started the previous day with the chip lead and Nanos having ended Day 2 in 11th place. Their vice-like grip on the big stacks was to hold all the way to the end-of-day whistle, and both will take their place at the eight-handed final table tomorrow afternoon.
Joining them will be Michael Eiler of Germany, whose name might not yet be known on the live European circuit but whose ability is unquestionable. His ascent to the mid-day chip lead was fairly smooth and his style apparently fearless (plus having previously won the Sunday Million under the name "MAE9690" he's no stranger to high stakes tournament poker). He tackled tablemate Negreanu repeatedly in and out of position, getting the better of him until a confrontation nine-handed sent the biggest pot of the tournament over to the Canadian. Negreanu's turned set of sevens gave him a three million chip boost at Eiler's expense and leaves him entering the final day well out in front with 5,070,000, while Eiler is in third place with 2,160,000. Between them remains Nanos, but even his 3,635,000 stack is trailing by a considerable margin.
Well before the finalists were ready to bag and tag, Antonio Buonanno kept the rail on its toes with the greatest fluctuation in stack of any of the Day 4 players, starting off in eighth place but soon doubling Balazs Botond and dropping to two big blinds. He doubled himself back into genuine contention (it took three successful on-their-backs attempts to do it) and outlasted seven other players before falling in 17th place.
While Buonanno was riding the early afternoon tournament rollercoaster, it looked like Surinder Sunar had just taken the elevator, racing ace-king against pocket tens then quickly receiving another pair vs. pair full double courtesy of Giacomo Maisto (who went on to finish in 20th place). His smooth rise was abruptly halted, however, when he decided to turn up the pressure by shoving with six-three offsuit in the small blind; shorter stacked Anestis Pantazidis found the call with queen-jack suited and spiked a jack to set Sunar right back where he started. He was later eliminated just before Buonanno, winning €16,000.
The final sixteen players were divided clearly between haves and have-nots, and the hands that developed reflected the different tactics employed. Matthew Lotze and Bruno Launais tackled their tables' big stacks, while Nanos and Negreanu kept a constant in-position pressure up without usually committing when confronted. The "short stack preflop all-in three-bet" was the preferred move of both Luca Cainelli and Morten Erlandsen, and it served them well. The former joins the final table line-up, while the latter could have done so had his aces held preflop against Negreanu's sevens. As it was, Erlandsen finished in 10th place, winning €44,000 but looking disappointed not to have broken his live cash record by even more (his online exploits as "Pokergirl1" are already widely acknowledged).
Speaking of live tournament winnings, it is of course Daniel Negreanu's total lifetime earnings standing poised to break the record currently held by Phil Ivey if he were to lift the trophy here in Vienna. He would also win the exclusive triple crown, joining Roland de Wolfe and Gavin Griffin in having bested the entire field in EPT, WPT and WSOP bracelet events.
Standing between him and the trophy are seven other players feeling no extra pressures other than those naturally accompanying a televised, fiercely contested EPT final table. Besides those already mentioned, Bruno Launais, Andreas Wiese, Matthias Lotze and PokerStars Team Pro Martin Hruby will return tomorrow at 12 p.m. local time. These four bring back the shorter stacks but as demonstrated today, all are capable of challenging the leaders and have outlasted 579 of their peers to reach this point.
The line-up and seat draw for the 2010 EPT Vienna final table:
Seat 1: Luca Cainelli - 1,935,000

Seat 2: Daniel Negreanu - 5,070,000

Seat 3: Matthias Lotze - 1,210,000

Seat 4: Andreas Wiese - 730,000

Seat 5: Martin Hruby - 975,000
Seat 6: Konstantinos Nanos - 3,635,000

Seat 7: Michael Eiler - 2,160,000

Seat 8: Bruno Launais - 1,785,000
Stay tuned to the Live Reporting pages here on PokerNews for all the action from the felt!