PokerStars.net EPT Vienna Day 1b: Laurence Houghton Tops the Lot After Both Start Days at EPT Vienna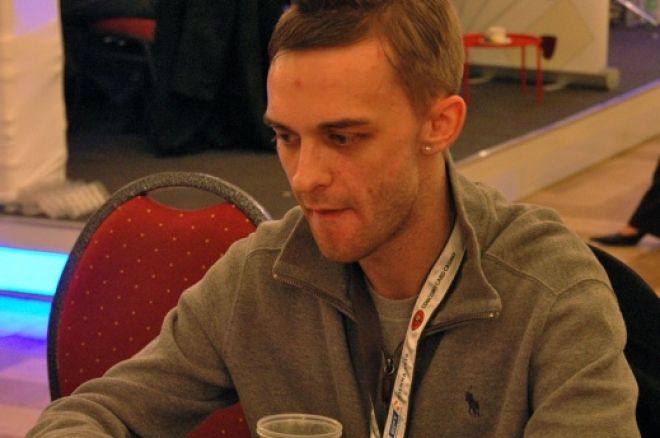 The second flight at Pokerstars.net European Poker Tour Vienna filled both ballrooms at the Kursalon in the city center, as a convoy of poker's heavy hitters joined with scores of qualifiers and online players completing the full field begun by yesterday's flock. The tables had to start off ten-handed, with the transition to nine-handed only coming after enough of the 353 who took their seats at noon had left them empty once again. Among those who left an empty seat, John Juanda, whose sudden early departure, according to a series of tweets, was due to a remarkable set-over-set confrontation where though his was the higher, he was rivered by quads.
Bertrand "ElkY" Grospellier also made an early exit. He started off at the same table as Daniel Negreanu, Ramzi Jelassi and Laurence Houghton – just one of many interesting line-ups found throughout the room. Like the tournament was boiling them to increase their flavor, the Dutch Team Pokerstars Pros condensed over time, until Pieter de Korver, Noah Boeken and Marcel Luske ended the day sharing a table and fighting over pots with Salvatore Bonavena and Thor Drexel. Elsewhere, the reigning champion (from 2005) Pascal Perrault is still in the running, albeit with a smaller than average stack. Joining him in the shortish-but-still-there category are both Pokerstars SportStars Boris Becker and Fatima Moreira de Melo. The latter built a good stack very early and carried it pretty much unchanged through to the end of the day until it became no longer exceptional but still definitely playable tomorrow.
As expected from a larger field, the big stacks on completion of the day were more numerous, but none really eclipsed the top counts from Tuesday – Sergii Baranov and Ramon Cserei with 183,300 and 168,200 respectively. Leading the pack of 1b survivors is Laurence Houghton, aka "Rivermanl," (190,000) who ended the day with a solid run to the top as though he was strapped to a rocket.
It wasn't always this way. In the early to mid levels, another set of players were almost entirely dominating the counts. Daniel Drescher, for example, dropped over the course of the day from top to bottom middle, while several stacks that looked like they'd hit the rocks early were still going strong nine hours later. In the latter category was Daniel Negreanu who dropped to 12,000 quickly and spent much of the early evening appearing asleep, but finished the day with 54,200. Successful grinding was also accomplished by Luca Pagano, who holds (and periodically rebreaks) the record for largest number of EPT cashes but despite numerous final table appearances has yet to hold aloft a trophy. Tom Dwan should probably win the "personal assistant" award for going to the wrong Concord Card Casino and turning up six hours late to find a third of his chip stack blinded off, while "Climber of the Day" goes to runner-up Szymon Pieszczoch who ended the day with 183,300.
Trophies and their potential lifters are still, however, a good way off – the full field has yet to combine and will do so starting at midday local time. In all, 587 total players stumped up the €5,000 for this tournament, and 278 will reconvene, redraw, and refocus while attempting to get to Day 3 and within hailing distance of the glittering cash prizes.
Live coverage on Pokernews.com starts when the cards hit the air and remember to follow us on Twitter for up-to-the-minute news.