WSOP-C Horseshoe Hammond Regional Championship Day 3: Patgorski and Sands Head Final Table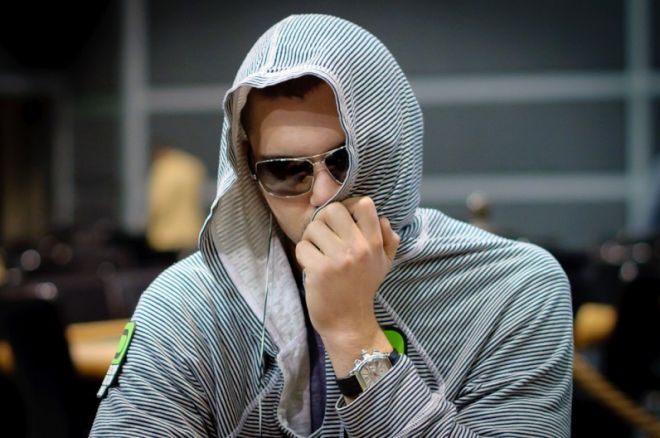 The final 24 players returned to the Horseshoe Hammond in Indiana on Wednesday to battle it out on Day 3 of the $10,000 World Series of Poker Circuit Horseshoe Hammond Regional Championship. It took about six hours, but the televised final table of nine was reached, setting the stage for Thursday. After staying out of the way early, Gabe Patgorski catapulted to the head of the counts again and will be the chip leader at the final table, ending Wednesday's play with 2,263,000. His closest competitor is Dave "Doc" Sands with 1,360,000.
Patgorski began the day quietly, but when the tournament was down to two tables, he began to assert himself. With 13 players left, he eliminated David Adkison to comfortably cross the million-chip mark. After David Paredes raised to 22,000 from under the gun, Adkison made it 70,000 to go from the cutoff. Patgorski four-bet from the small blind to 140,000, and Paredes folded, but Adkison popped it to 250,000. Patgorski announced that he was all-in and Adkison called for the remainder of his stack, which was about an additional 150,000. Patgorski's
had Adkison's
in terrible shape and the board did nothing to save Adkison's tournament life.
About an hour and a half later, Patgorski busted Paredes to break the two million chip barrier. He raised to 28,000 from the cutoff seat and found calls from Paredes on the button, Curt Kohlberg in the small blind, and Bernard Lee in the big blind. The four men went off to a flop of
and the blinds checked. Patgorski continued out with a bet of 57,000 and Paredes was the lone caller. The
hit the turn and Patgorski fired 155,000. Paredes called again, leading to the
river card. Patgorski sat still for about two minutes before announcing all-in. Paredes squirmed a bit, making the call after about another minute. Patgorski tabled
, besting Paredes'
to vault to nearly triple the next stack.
Also having a terrific day was Dave Sands. The online superstar is looking for his first monster live score and is in excellent shape to get it. With 19 players remaining, Sands and David "Bakes" Baker got into a raising war preflop, leading to Sands' tournament life being on the line with
against Baker's pocket tens. Two kings hit the flop, and Sands won the race to cross 500,000. From that point on, Sands was in full aggression mode, constantly putting pressure on the rest of his table with three bets and four bets.
When play was down to the final table bubble, Sands' ruthlessness really stood out. He began ten-handed play with about 670,000 in chips and after busting a short-stacked Steve Zolotow, had 1,360,000. Before that, though, he and chip leader Gabe Patgorski tangled in a huge pot. The blinds and antes were at the 8,000/16,000/2,000 level when Sands defended his big blind after a Patgorski raise of 40,000 from the cutoff. The flop fell
and Sands put in a check-raise of 84,000 after Patgorski's bet of 22,000. Aggressive in his own right, Patgorski popped it to 135,000 (too small for a legal raise, but it got through). That did not stop Sands, making it 239,000. Patgorski put an end to the raising with a call, but was faced with a tough decision when Sands jammed for about 560,000 after the
turn card hit. A quick fold from Patgorski boosted Sands' stack to over 1.2 million. A few minutes later, Sands'
bested Steve Zolotow's
to end Day 3.
Also at the final table are Shannon Shorr, Curt Kohlberg, Bernard Lee, and Brandon Adams. Among those that returned to action on Wednesday that did not make it to the final table were Justin Smith, Adam "Roothlus" Levy, Keven "Stamdogg" Stammen, Chris Klodnicki, and Shawn Busse.
The seating assignments and chip counts for the final table are as follows.
Seat 1: Bernard Lee - 401,000
Seat 2: Dave "Doc" Sands - 1,360,000
Seat 3: James Anderson - 345,000
Seat 4: Anthony Hartmann - 194,000
Seat 5: Shannon Shorr - 905,000
Seat 6: Mark Owens - 270,000
Seat 7: Curt Kohlberg - 863,000
Seat 8: Gabe Patgorski - 2,263,000
Seat 9: Brandon Adams - 155,000
Play resumes at 2 p.m. local time on Wednesday with the remaining nine players playing down to a champion. Our Live Reporting team has a front-row seat for all the action, and you can read the full level-long updates right here.
Speaking of following things, if you follow us on Twitter and like us on Facebook, you'll be our friend in more ways than one!