WSOP-C Horseshoe Hammond Regional Championship Day 1: Julius Leads a Pro-Heavy Field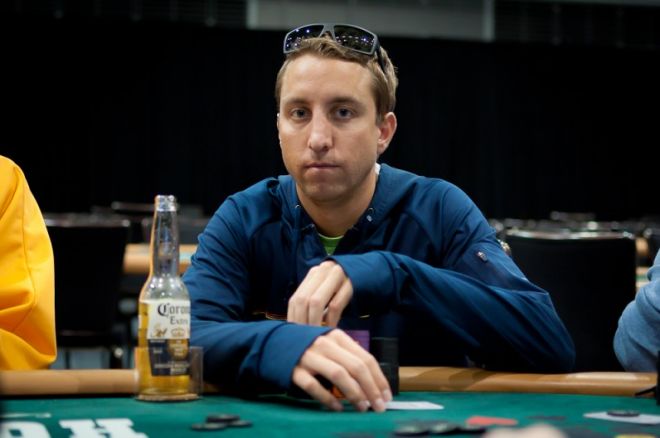 Monday was the day the World Series of Poker Circuit has been waiting for as the first of the four spankin' new Regional Championships kicked off in Hammond, Indiana. Numbers have been up significantly through the first part of the Circuit schedule, and this event did not waver from that trend. The promise of national television coverage and a spot in the million-dollar WSOP National Championship drew a healthy 226 players to the outskirts of Chicago, each with $10,000 and a dream of collecting the final gold bracelet of the 2010-11 season. That's nearly as many as the 248 who entered the $5,000 Main Event last year. This year's prize pool in excess of $2 million represents another huge increase over last year's numbers.
After the opening ten levels, Ryan "RJules12" Julius had bagged up the most chips, stuffing 265,000 in to lead the way to Day 2. Julius ground his way up toward the top of the board all day and was already chip leader when he became involved in the biggest pot of the day. With the blinds at 300/600/75 (Level 9), Julius and another big-stack scrapped in a preflop battle that left his opponent all-in and around a 450bb pot piled in the middle of the table. It was Julius'
up against
, naturally. Both players found their third-of-a-kind on the
flop, reducing the pocket kings' outs to one. The turn and river were both deuces — the
and
— and that cooler of a knockout skyrocketed Julius all the way to 280,000 chips — a lead he did not relinquish.
The gap he opened has him well out in the clear to begin Day 2, but winning won't come easily in this event. The field was nothing short of stellar for this debut Regional Championship. Whomever the eventual champion is will certainly have earned it. Jonathan Tamayo is the nearest challenger to Julius' stack right now, and his big boost came in a most unlikely fashion near the end of play. Tamayo five-bet shoved his
into an opponent's
with shrugs all around. Three clubs on the flop changed everything, though, and a fourth one on the river gave the surprise four-flush to Tamayo. Both men had exactly 94,300 chips to begin the hand, so Tamayo will return tomorrow with a second-place stack of 186,300.
Others near the top include Bernard Lee, who smashed Mike Leah's aces for a big knockout and a big pot); Shannon Shorr, who cracked Mike Pesek's pocket queens with
for more than 100,000 chips on the last hand of the night; and Vanessa Selbst, who was seemingly involved in every pot all day long. The list of notables who will return on Tuesday includes Dave Sands, Chad Brown, James Carroll, Justin Smith, and Jason Mercier.
Kurt Jewell won his first gold ring and a seat in the Regional Championship by taking down the 872-runner Main Event just before 5:00 a.m. Monday. He was back inside The Venue just a few hours later for his freeroll shot at going back-to-back. That effort has started off rather well for Jewell, who found himself in contention at night's end.
While some players were surging, a great crowd of notables were hitting the rail. More than 100 players lost their tournament spots on Day 1, including the likes of Jeff Madsen, Kyle Bowker, McLean Karr, Craig Bergeron, Allen Bari, Matt Glantz, Matt Brady, Tom Marchese, Peter Jetten, and 2010 WSOP Player of the Year leader Frank Kassela. Sorel Mizzi lasted a bit longer before going under, as well, and was followed out by Gavin Smith, Yevgeniy Timoshenko, Andrew Brown, David Williams, Jonathan Aguiar, Ty Reiman, and Darryll Fish. We told you it was a stacked field.
Day 1 bagged up before 1:00 a.m., and somewhere around 110 players survived long enough to be awarded a chip bag. Day 2 will commence at the poker-friendly hour of 1:00 p.m. on Tuesday as players are rewarded with a little extra sleep. Our Live Reporting team has a front row seat for all of the fun, and you can read the full level-long updates right here for the next three days.
Speaking of following things, if you follow us on Twitter and like us on Facebook, you'll be our friend in more ways than one!