World Series of Poker Circuit Hammond Day 1: Kasputis Undisputed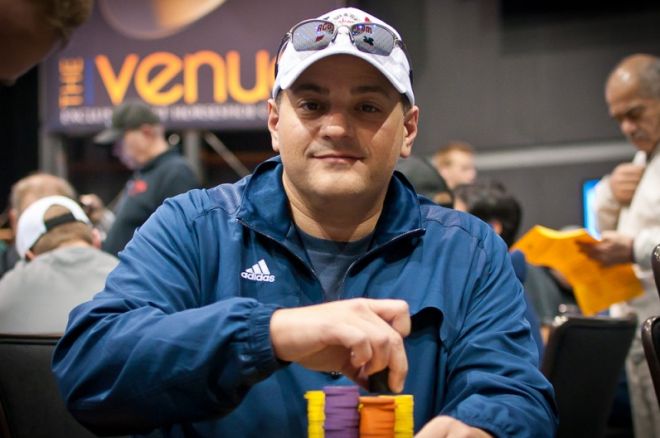 The World Series of Poker Circuit numbers are enjoying healthy growth this season, and the eyes of the American poker world have settled on Hammond, Indiana this week for the third stop of the 14-leg tour. A week ago, Event #1 broke the record for the largest Circuit event ever, and its 1,611-player-strong field set the bar high for the rest of the events. As the Main Event approached on Friday, there was chatter of reaching 600, maybe 700 runners for this $1,500 buy-in. The counter ticked past the 600 mark just a few minutes after play began, though, and there was still a hundreds-deep line at the registration desk. We passed 700 quickly too, then 800 within a couple levels as well. Finally, registration was closed with an astounding 872 runners being given their seat cards, smashing the previous record for largest Circuit Main Event (which stood at just 538). They've generated a prize pool of well over $1.2 million with nearly a quarter-million of that going to the eventual champion.
After the first 16 levels of the event, it appears to be Jim Kasputis who has the clearest shot at taking home that top prize. He came from nowhere at the end of the night to bag up 360,000 chips, the biggest stack in sight.
Apart from Kasputis, there are still a good crowd of familiar faces left in the field. Allen Bari was the chip leader on and off all day long, and his finishing count of 235,100 puts him within strking distance tomorrow. Aaron "NDGrinder" Steury can do better than that, racking up more than 275,000 chips before night's end. Ravi Raghavan and Dean Hamrick both bagged up comfortably, as did Adam "Roothlus" Levy and David Baker. A bit further down the board we find Bryan Devonshire, Matt Brady, and a smattering of other notables.
The number of Day 1 survivors, though, is just a fraction of that 872 who started. The board showed 162 players left at the end of the night, the rest gone to bad beats, bad decisions, or a combination of the two. Among the first to exit today were Tom Marchese, Dan O'Brien, and Matt Stout. Faraz Jaka was the early chip leader, jumping up to 70,000 almost immediately. He was out within just a couple levels, though, followed to the bar by Jason DeWitt, Mike Leah, Kyle Bowker, Eddy Sabat, and Craig Bergeron. Jason Mercier lasted a bit longer before he too succumbed, and Mohsin Charania, Frank Kassela, Ty Reiman, and Jonathan Aguiar all followed his lead through the double doors that fittingly read "Out."
The lucky survivors have a date with Day 2 on Saturday, and they're scheduled for a 1:00 p.m start time in Indiana. The plan is to play ten levels, and they'll switch from 40 minutes apiece to full hour-long levels. The PokerNews Live Reporting team is on-site all week, and they'll be back inside the ropes to deliver you all of the action as it happens.
If you missed any of the action today, have a glance back through the blog. And if you'd follow us on Twitter and like us on Facebook, we'd sure enjoy that too!