The Nightly Turbo: World's Largest Chip Stack, ESPN Poker Pick'em, and More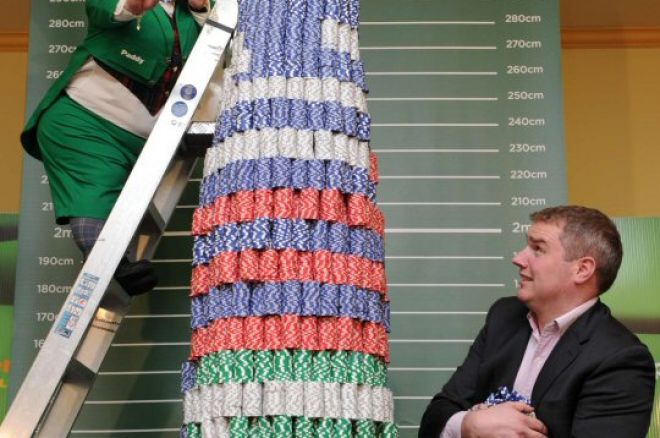 The weekend is almost here! If we're excited about it, we know you are. Not to waste any time today, we're going to get right to it and tell you about the world's largest chip stack, how to get in on out PokerNews ESPN Poker Pick'em for the 2010 World Series of Poker Main Event Final Table, and more.
In Case You Missed It
The World Poker Tour Festa al Lago ended Wednesday night with Randal Flowers taking home his second WPT title. Check out the recap to find out how it all went down.
The PokerStars European Poker Tour is headed to Vienna. Lynn Gilmartin brings you her guide to the city in her latest installment of Around the World With.
There are plenty of big tournaments happening online through the week. If you're looking for the results from some of the biggest ones, you might want to check out the Midweek Briefing.
The World Series of Poker schedule hasn't always been what it is today. Some events have been added, and some have been dropped entirely. History in Spades: Defunct Bracelet Events from the WSOP can give you a little history lesson on some of those events.
There are plenty of poker players who are also sports bettors. So when the World High Stakes Golf Championships rolled into Las Vegas, it's no wonder most of your faves hit the links. Kristy Arnett caught up with some of them at Bear's Best golf course to find out who's got the best game and some of their crazy golf stories for this edition of the Sin City Series.
Stack'em, Stack'em, Stack'em to the Top
We bet you just had flashbacks to Julie Schneider cheering on her husband at the 2009 World Series of Poker. Don't worry, as far as we know, you won't have to hear that right now. There was, however, some stacking going on in Dublin. This week, the Paddy Power Poker Team earned their place in the Guinness Book of World Records by constructing the world's biggest poker chip stack.
The stack stands 3 meters tall and is 50cm wide. Five people worked for over 72 hours using 75,000 individual poker chips to complete the stack.
"We had our fair share of wobbles along the way and one complete collapse but we held our nerve and it was definitely worth it for the honour of a Guinness World Record. The giant stack is yet another reason to get down to the Burlington Hotel in Dublin for the Irish Winter Festival this weekend," said a spokesperson from Paddy Power.
Read the press release for more.
Make Your Picks
November is just around the corner and you know what that means. We'll find out who the 2010 World Series of Poker champion is. We here at PokerNews have created our own ESPN Poker Pick'em group. We're a little competitive around here so each of us is pretty sure we're going to win, but there can only be one winner.
If you don't know how this works, there are 20 questions you'll have to answer, plus two tiebreaker questions. Then just watch the Final Table coverage on ESPN November 9 at 9:00 p.m. EST. You only have until November 6 at 3:00 p.m. EST to lock in your picks, so get to it!
Do you think you have what it takes to beat the PokerNews Team? Sign up for the Team PokerNews Poker Pick'em and show us what you've got.
Hotel California
If you didn't already know that the PokerStars North American Poker Tour is headed to Los Angeles, Calif., in November, you do now. The $5,000 Main Event begins on November 12 and runs through November 17 at the Bicycle Casino. You're probably thinking about attending this event, in which case you're probably now thinking, "Where am I going to stay?"
Well, we've got your answer. PokerStars has arranged special hotel rates for everyone attending the tournaments on the North American Poker Tour.
You can check out NAPTHotels.com for more information on the rates and how to get them, and if you're looking to qualify for NAPT LA, then you should probably sign up for a PokerStars account already.
The Nice List
The PokerPAC, the political action committee of the Poker Players Alliance has released the list of 2010 midterm Congressional candidates that it endorses for the upcoming November elections. Barney Frank (D-MA), Jim McDermott (D-WA), Harry Reid (D-NV), Dina Titus (D-NV), and Adam Schiff (D-CA) are among the candidates on the list.
"Through the efforts of the Poker Players Alliance and its members, more and more of our elected officials in Congress are seeing the value of establishing a safe, regulated market for online poker. This year's election is critical to ensuring that candidates are elected who support the rights of poker players and who choose to take action to protect American consumers," PokerPAC chairmen former Senator Alfonse D'Amato and former Congressman Toby Moffett said. "PokerPAC is proud to endorse these candidates who have been advocates for poker players and this great game we all love."
The endorsements were based on whether a candidate demonstrated their support of poker through votes on online poker legislation, cosponsorship of bills, congressional letters of support, and public statements.
To have a look at the entire list, head on over to CasinoCityTimes.com.
WSOP Circuit Hammond
The PokerNews Team is off to Indiana for the third stop on the2010-2011 World Series of Poker Circuit, the WSOP Circuit Regional Championship Horseshoe Hammond. The $1,600 Main Event begins Friday and is a three-day event and the first-place finisher will earn the coveted gold ring, first-place prize money, and a seat in the $10,000 Regional Championship event.
The four-day televised $10,000 Regional Championship event begins on Monday. The final nine will all win entry into the $1 Million WSOPC National Championship.
This is sure to be an exciting few days for the PokerNews Team and everyone following along with the live reporting coverage, so stay tuned.
Day 1 Tournament Tips
If you're headed to Hammond for the WSOP Circuit event, or Vienna for the PokerStars European Poker Tour, then you'll be playing a Day 1 in the tournament — there are no byes. Take a look at this video from Day 1 of the World Poker Tour Festa al Lago and file away these tips from the pros so you can make it to Day 2 and beyond.
Follow us on Twitter for up-to-the-minute news and be sure to add us on Facebook.
*Leading photo courtesy of Paddy Power Poker.