Around the World with Lynn Gilmartin: Vienna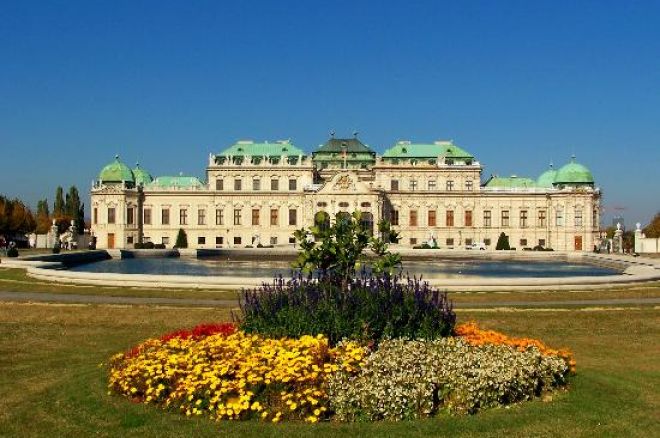 The PokerStars.net European Poker Tour is making a well-overdue return to Vienna, Austria, after a six-year break. The city of Sachertorte, carriage rides and Mozart will host the five-day €5,300 Main Event in October, guaranteeing a €500,000 first-place prize.
If you love Italian Renaissance, then the Kursalon Palace, the EPT host venue in City Park that dates back to 1857 will absolutely blow you away. With the likes of Beethoven, Schubert, Mozart, and Johann Strauss having called Vienna home, this city has been labeled the cultural capital of Europe.
The Important Stuff

Language: German
Currency: Euro
International Dialing Code: +43
Time zone: Central European Time (CET)
Weather: Cold!
Day 1a of the Main Event is a public holiday in Vienna, so all banks and stores will be closed and there will be limited public transport – this means plan ahead!
Getting There and Around
Vienna-Schwechat Airport has direct flights from just about every European capital, including budget flights with Easyjet, and some nonstop flights from the U.S. on United. I just love it when an airport has a train line connected to it, and Vienna has just that. The City Airport Train (CAT) leaves every 30 minutes, and for just €9 you can get to the city in just 16 minutes. If you'd rather go direct, then a taxi will take you to your hotel in approximately 25 minutes for about €30 to €40.
The sight of a well-dressed businessman peddling two wheels to work is not an out-of-ordinary sight in most European cities, and Vienna is no exception. The Citybike Wien is the most scenic option for travel in Vienna after doing it all on foot. If you're going a little farther, then the buses, trams and metro all use the same, reasonably priced tickets and are all extremely reliable. Taxis are clean and easy to flag down on the street, but if you want to call one yourself, try 31330, 40100, or 60160.
You can reach the Kursalon Palace via public transport at the following stops:
Subway:

U4 Stadtpark
U3 Stubentor
Tram:

Tram lines 1 or 2, stop Weihburggasse
Tram lines 71 or D, stop Schwarzenbergplatz
Food and Drink
Vienna is known for the Wiener Schnitzel, which you will find in almost every restaurant that serves local cuisine. Basically it's flat, bread-crumbed piece veal (although it's more commonly found these days with pork or chicken) that's fried in butter. Other Viennese specialties include Tafelspitz, which is a lean, boiled beef that's traditionally served with fried mashed potatoes (Geröstete Erdäpfel), and Apfelkren, a mixture of horseradish, cream and apple.
You'll find plenty of street stands selling traditional hot chestnuts and potato fritters for a quick snack, or cheese-injected käsekrainer sausage stuffed into a baguette-style bun. If pizzas and kebabs are more you're thing for late-night-munchies, you'll be glad to know they're becoming the most popular snack food in Vienna. I stumbled across this handy blog suggesting five cheap eats in Vienna. On the other end of the scale, if you're looking for a splurge while trying local cuisine, try Steirereck , which has been voted as one of the best restaurants in town, overlooking the Danube in Stadtpark, right by the tournament venue.
Vienna is one of the few remaining capital cities in the world with its own vineyards. If you want to try some of the local wine, you'll find it in small Viennese pubs known as Heuriger. A "Beisl" is a typical small Austrian pub, and they're scattered throughout Vienna where you can taste the local brew or imported beers.
It's believed that we can thank the Viennese for inventing the process of filtering coffee, and with that you'll stumble across cafes all over Vienna for the caffeine addicts. Try a mélange, a distinctive Viennese coffee drink served with a small glass of water.
The Sights
For the culture and history junky, Vienna is your haven with more than 100 art museums to explore. Wandering through the winding, cobbled lanes of Vienna on foot is a must to discover the ancient architecture, gardens, and intriguing people. There are plenty of free sights to see; simply taking in amazing views of outside the likes of Hofbug Palace will satisfy most, and the Hapsburg Palace grounds are big enough to get lost in, even rivaling Paris' Versailles. You can take a tour of Schönbrunn Palace, centered in the picture below, for around €10, or if you really want to explore museums, head to "museum quarter" for plenty of nearby choices.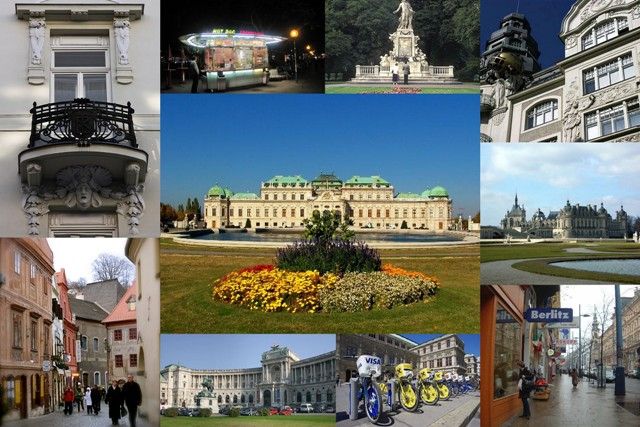 If you're lucky enough to be joining the PokerNews Live Reporting Team in this wonderful Austrian city, I wish you the best of luck, and I'm definitely jealous that I won't be going after doing all this research on such an amazing city! Gloria Balding will be bringing you the videos direct from the tournament floor, so as always, stay tuned to the PokerNews video page.
Be sure to follow us on Twitter for up-to-the-minute news.