The PokerNews Jet Set: Deauville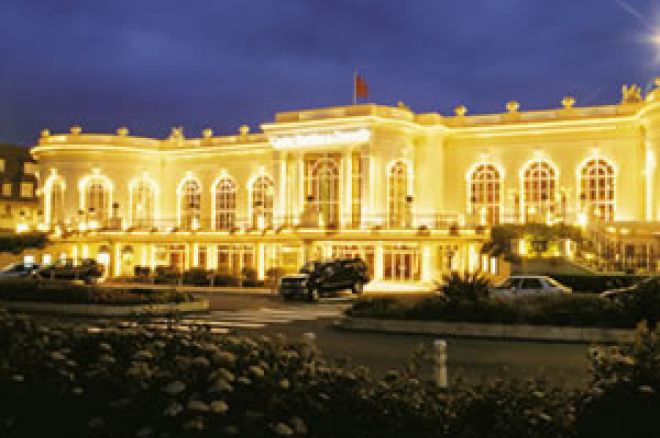 Northern France in January — it isn't exactly Aruba or the Bahamas, but it is the home of one of the European Poker Tour's softer and larger fields. While the summer months find Deauville's beaches packed with well-to-do tourists and celebrities in town for the annual film festival, winter is naturally quieter and chillier and the visiting hordes of poker players are content to stay indoors and sample the live side action or even grind it out online. In 2009, 645 players descended on the EPT Deauville, the first-place prize swelling to over €850,000. For those of you lucky enough to be headed that way this week, here are our suggestions for making the most of your stay in Normandy.
Getting acclimated
The center of your universe during the EPT Deauville will be the Casino Barriere de Deauville. Constructed in the classic Belle Epoque style, you might remember this architectural gem from the film Gigi. In addition to the poker room, there are blackjack, roulette, and craps tables to tempt your inner degenerate and three restaurants to tempt your palate.
The Euro is used in France; current exchange rates value €1 at $1.43. If you didn't change your dollars at the airport, you can change them at the casino or in most local hotels, although the rate might be a bit inflated in the latter two.
Places to hang your hat
If it's convenience and comfort you're after, look no further than the Royal Barriere or the Normandy Barriere. Only a block from the casino, both properties boast plush old-world European décor and offer their guests wi-fi, a fitness center and room service. Double rooms run around €230 and include breakfast, which is available until noon.
On a budget? Check out Le Closerie. It's not nearly as fancy but is a comfortable place to stay and only a 5 to 6 block walk from the casino. Rooms run about €110 and come with free wi-fi.
The local cuisine
Le Drakkar is an unpretentious brasserie perfect for a relaxing meal with friends. Located directly across the street from the casino, it is frequented by celebrities during the Deauville Film Festival. Expect beautifully prepared but reasonably priced traditional bistro fare including excellent seafood and an extensive wine list. Go ahead. Try the foie gras. You're in France.
For the best pizza in town, head over to La Santa Lucia. Even if you're close to busto, this inexpensive eatery won't dent your bankroll. Located on Avenue de la Republique, it is walking distance from the casino and the staff is not only very accommodating when it comes to large groups, but will handle credit-card roulette duties with aplomb.
If you have a bit more time on your hands, grab a cab to the neighboring town of Trouville and hit up Le Central. If you haven't had mussels and frites, well, you haven't really lived and this is a perfect place to taste this classic French dish.
Nightlife
The casino has its very own nightclub, the posh Les Regines, which functions as a center for drinking and debauchery during the tournament. Be forewarned, though — the cocktail prices will drain your wallet faster than a roll of the dice.
For those looking to do some serious clubbing, hop in a cab and hit up Les Planches. You'll dance your heart out in this cavernous Euro-disco with plenty of "untz untz" filling the air from the thundering house music.
Can't-miss sightseeing
If you happen to bust out early or have an extra day to stay in Normandy, rent a car and pay a visit to the D-Day Beaches. The cluster of beaches (Utah, Omaha, Gold, Juno, and Sword) is located about 65 miles west of Deauville, a bit more than an hour's drive. There are dozens of museums and memorials in the area, commemorating those who sacrificed their lives on June 6, 1944. Guided tours are also available and accommodate English speakers.
Are you ready to take your game on the road? Sign up for an account on PokerStars where EPT, LAPT, and NAPT satellites are running daily.