The PokerNews Jet Set: Copenhagen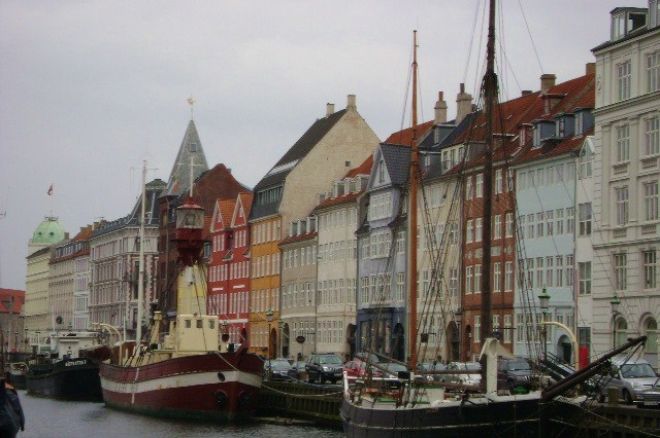 Pack your parkas, tournament players — it's going to be a cold one. February probably isn't the ideal time to visit a city located on the same latitude line as Moscow and the southern tip of Alaska, but the promise of a hefty prize pool and a field of loose-aggressive Scandis drew a record field for last season's PokerStars.com EPT Copenhagen. A clean, quiet, and unmistakably gorgeous city, Copenhagen's central district is compact and walkable, the red roofs of its centuries-old buildings glowing against the perpetually overcast skies. If you're headed to the Danish capital and don't know where to start, don't fret — we have you covered.
Meet the Kroner
Your Euros are no good in Copenhagen. Denmark's official currency is the Kroner, and those of you used to dollars, pounds and Euros will be doing quite a bit of division on the fly during your stay. According to today's exchange rate on Xe.com, one dollar equals 5.4 kroners, one euro equals 7.4 kroners, and one British pound is good for 8.5 kroners. Currency exchange transactions can be completed at the airport, at a local bank (beware, they close at 4 p.m.), or at the casino.
Places to hang your hat
The most convenient hotel option for tournament players is at the venue itself. The Casino Copenhagen is located inside the Radisson Blu Scandinavia Hotel. On a clear day, you can see Sweden from your room in this 26-story high-rise, which caters primarily to business travelers. The rooms are warm, inviting and huge by European standards, all of them outfitted with flat-screen televisions, high-speed internet access, in-room safes and the all-important minibar. During the Nordic Open, the plush lobby bar turns into the de facto gathering place for tournament players. Just don't be surprised when you're charged 60 kroners for a pint of Carlsberg.
If you're looking to keep costs down on this trip, a room at The Square will run you about half the price of a room at the Radisson, at around €100 per night. Located directly across the street from the central town square, Radhuspladsen, The Square boasts some seriously hip décor (think red leather and cow-print couches). The rooms are tiny, but comfortable and it's only a ten-minute walk down Hans Christian Andersen Boulevard from the casino.
The local cuisine
There are not a lot of food options in the immediate area around the Casino Copenhagen with the exception of a few coffee shops near the Langebro Bridge. Frankly, if you asked five poker players or tournament reporters who have experienced the EPT Copenhagen, four of them would tell you that they primarily dined on McDonald's and Burger King during their stay. Most American palates are ill-prepared for the onslaught of smoked fish and pickled things that are staples in Danish cuisine. However, in a city with ten Michelin-starred restaurants, there are plenty of options beyond fast food.
If you're looking to celebrate your final table appearance or just indulge in some serious gourmet cuisine, grab a cab to nearby Christianshavn and check out Noma. Chef Rene Redzepi designs exquisite modern Nordic dishes built around local produce and fresh seafood like sea urchin, truffles, and salmon. Just be prepared for the price tag — a seven-course tasting menu will set you back 995 kroners.
If Italian food is more up your alley, make a reservation at the Michelin-starred Era Ora, also located in Christianshavn. Their handmade pastas and scrumptious veal tenderloin will melt in your mouth — just make sure you don't lose credit card roulette at the end of the meal!
Lower-cost options can be found on the other side of the Langebro Bridge closer to Radhuspladsen. Alberto K is a local favorite, serving up moderately priced Italian cuisine along with killer views from the 20th floor of the Radisson SAS Royal Hotel. Try the venison filet and make sure to explore the extensive wine list. If you're dining out with a group, consider grabbing a taxi to Indian Taj. Known as the best Indian restaurant in Copenhagen, the Taj is excellent for large parties and it won't break the bank. Don't leave without trying the butter chicken or the lamb tikka.
Can't-miss sightseeing
Almost every tourist in Copenhagen wants to see the Little Mermaid and finding her is quite easy. Hail a cab, get in, and ask the driver to take you there — he's used to the request. After you've snapped your requisite photo of the statue, explore Churchillparken and cross the bridge over to the Kastellet, a citadel built by King Frederick III in the 1600s. Continue walking south and if you're athletically inclined, consider a stop at Kongens Nytorv for a little outdoor ice skating. Finish up with a pint or a glass of wine at one of the pubs lining the colorful Nyhavn Canal (pictured above). If you want to engage in a bit of retail therapy, head for the Strøget, Copenhagen's primary shopping district.
Are you ready to take your game on the road? EPT, LAPT, and NAPT satellites are running daily on PokerStars.