European Poker Tour Deauville Day 3: Down to Twenty-Four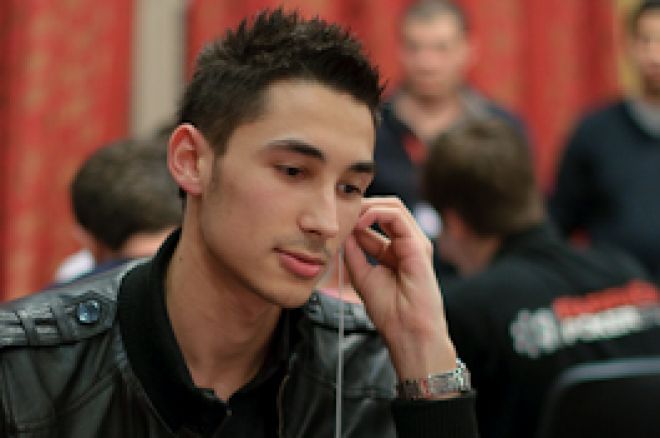 There were 133 runners left in the PokerStars.net European Poker Tour Deauville Main Event Saturday when the field reconvened this morning at the Casino Barrière, and with the plan being to play down to 24, the day was going to be a long, long one.
Only 104 places paid out, so a fair few folks were destined to go home with nothing to show for their troubles. Among those who would receive only metaphorical wooden spoons were Tristan Clemencon, Team PokerStars Pro Jude Ainsworth and Juha Helppi.
The field was reduced to 105 after two levels, and the unlucky bubble boy was one Daniel Millar. Already crippled, he got his last chips in with A-3 against Peter Eastgate's rather lackluster 8-4, but Eastgate spiked a four and Millar went home with nothing.
Payouts for the 104 happy people who made it that far were not the only good prizes up for grabs today. The PokerStars "Job 2 Stars" promotion (which promised the last man standing of the promotion's qualifiers a €100,000 salary and €200,000 in tournament entries) was won by Thomas Bichon. Bichon, who took down the WPT Cyprus last year, did not cash in the Main Event, but nevertheless looks set to have a great year in his new "job." Must be nice.
With the bubble burst, the exits came thick and fast. Davidi Kitai, Luca Pagano, and Andrew Teng all busted out fairly swiftly. Dario Minieri, who'd been spotted earlier in the day attempting (and, we think, failing) to buy out of his last-longer bet with Eastgate, eventually succumbed in 49th place. The mind boggles at what sort of sum the two of them could have had riding on it.
Nicolas Levi, who had led the pack going into the day, suffered a series of disasters to send him home in the last level of the day. A similar fate had also befallen fellow countryman and fellow overnight-big-stack Ludovic Lacay earlier in the evening. On the whole, it was not an amazingly good day for France.
Andras Nemeth acquired the chip lead by busting Minieri, and he held on to the top spot for roughly an hour before bluffing half of it off to Romanian Teodor Caraba. Caraba clearly knew what to do with a big stack, and used this gift to stampede into the lead. By the end of the night, he was heading the pack on 3,220,000.
The idea was to play until the end of level 22 or down to 24 players, whichever came first. But wIth the 25th-place exit of Stephan Fuchs on the very last hand of the day, the two criteria coincided exactly, and the players will be coming back tomorrow spread across the final three tables. Among the famous faces still in the running are Mike "Timex" McDonald, Peter Eastgate, Craig "HU4ROLLZ" Bergeron, Bertrand "ElkY" Grospellier, Freddy Deeb, Alexia Portal and Bruno Fitoussi. That's a pretty big-name final 24 by any standard.
Join us back here at PokerNews.com tomorrow from noon GMT+1 when we will be playing right down to a final table. It's going to be good.
You should really think about following us on Twitter. And while you're at it, become our friend on Facebook, too. All the cool kids are doing it!