Around the World with Lynn Gilmartin: London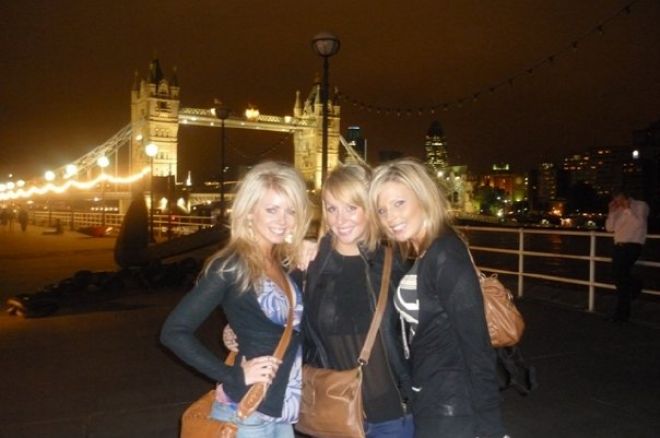 This month, hundreds of poker-playing peeps will be gathering in The Big Smoke for many reasons: the World Poker Tour which just wrapped up, Poker in the Park last weekend, World Series of Poker Europe coming up next week and PokerStars.com European Poker Tour London later in the month. Basically, a whole lot of poker.
It's hard not to love London, one of the biggest cities in the world. I've been there a few times, and got so excited when I was a kid seeing all the streets I knew so well from my days playing Monopoly. We've all seen pictures of the world-famous landmarks and read about the Royal Family, but if you haven't yet had the chance to actually visit London, and you're going to find yourself walking around Leicester Square shortly, then read on!
The Necessities

Weather: average 68°F (20°C)
International Dialing Code: +44
Currency: The ever-so-expensive Pound; USD$1 = GBP£0.64
Getting There and Around
If you've done any European travel in your time, then you've most definitely experienced the nightmare that is Heathrow. That airport is so insanely huge that you'll just want to get out of there as quick as possible. There's a convenient train that takes you from the airport straight into town. Perfect for a budget, or if you're in a big group trying to stick together. Otherwise a taxi should only take about 20-30 minutes.
The Tube, an underground train system, will be your best friend when getting around London. No matter where you are, there will be a station nearby with a train arriving within just a few minutes.
If you're feeling outdoorsy, then pick up one of the 6,000 hire bikes that have been recently installed across the city, with over 400 docking stations within central London. This is the newest, easiest, cheapest and greenest way to get around town. Besides walking, obviously.
The Casino at the Empire
Located smack bang in the middle of London, The Casino at the Empire is a dark, intimate casino that is once again hosting this year's World Series of Poker Europe. It's open 24-hours a day and the bars don't close until 6 a.m. so there's plenty of post-play drinks to be had.
The casino is situated in Leicester Square, in London's West End – surrounded with restaurants, bars and comedy clubs so you don't have to go far for some entertainment. Just ensure you pick wisely if you see a comedy show – unfortunately I ended up walking out of one in Leicester Square last year, if only I could remember what the place was called! Within West End you'll find some awesome bars around Soho, and Oxford Street has more shopping than you could imagine, and plenty of tattoo and body piercing shops if you get spontaneous like I did and decide to stick a metal rod through your nose as your London souvenir.
Hilton London Metropole Hotel
If you're kicking on later in the month for the European Poker Tour, then you'll find yourself at the Hilton London Metropole each day, in the Paddington area directly across from the Edgeware Road underground station. You may find yourself using that station quite a bit to head out, unless you're a lover of Middle Eastern food as there's plenty surrounding the hotel such as Tarboush 2 on Edgeware Road which has been highly recommended for some authentic Lebanese food. The Hilton also has its own Asian Restaurant, Nippon Tuk, on the 24th floor for a nice view.
A walk through Hyde Park will take you to Knightsbridge, home to Harrods – the most extravagant department store I've ever seen. If you're in the mood of a chilled afternoon and the weather is nice then grab some snacks and bottles of Magners and sit by the lake in Hyde Park. There's a free date idea if you happen to meet a pretty Brit.
So Much to Explore!
There are plenty of tour operators to show you all that London Town has to offer, but I did most of it on my own two feet. It is a huge city, but the main attractions are a lot closer to each other than you think, and if not, there will be a Tube station nearby, or you can pick up one of the hire bikes I mentioned earlier. If you do love a bit of history then having a tour guide paint all the barbaric details of each spot is pretty intense, so I'd recommend you jump on a Big Bus Tour. Otherwise, get yourself a map and some good walking shoes. If you start from Leicester Square, head through Piccadilly Circus toward Buckingham Palace. Once you've had your eye-opening dose of the gigantic royal residence, head through St James's Park toward the water for even more mammoth-ness along the River Thames like Big Ben, London Eye, Houses of Parliament and Tower Bridge a little further down.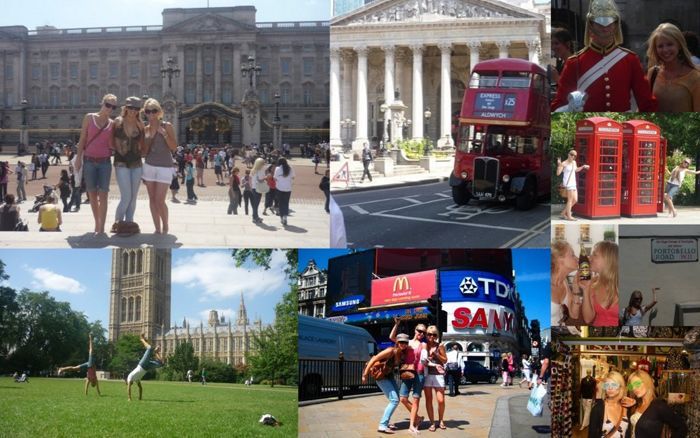 From September11 through 12, the Thames Festival will decorate the waterfront from Westminster Bridge to Tower Bridge with a carnival and exhibitions all weekend long, finished off on Sunday night with fireworks and performers on floats along the river, so heading that direction is a must if you're there this weekend.
If you love a good market then you must head to Portobello Road in Notting Hill – it's my absolute favorite. Or for something more alternative Camden Market is a great spot to pick up some black and metal.
Another favorite spot I stumbled across last year, was Carnaby London. It's a dainty little shopping and nightlife district just around the corner from Leicester Square with more than 150 shops, restaurants, cafes, bars and nightclubs. This may not sound like your thing, but once again, a little cosmopolitan cafe on Carnaby Street is another brilliant date idea for whoever that lucky lady may be. Do yourself a favor, look it up.
Wine and Dine
Every time I've been to London I've just wandered the streets to find places to go, that's the beauty of such a bustling city, there's something around every corner. The only time I didn't do this, was when I splurged on the most amazing Thai food at Nahm in Knightsbridge, the first Michelin-starred Thai Restaurant in Europe. With an Aussie chef cooking my favorite cuisine, I just couldn't resist! If you love Thai and don't want spend that much, then try Busaba, there are a few around town, with one right by Leicester Square, where you'll get some great dishes for less than £10.
If you like Italian, then head to Spaghetti House just around the corner from The Casino at the Empire in Leicester Square. Or how about sitting in the shadow of Tower Bridge while eating lunch? Or for an amazing view at night like my friends and I had in the picture above, catch the Tube to Tower Hill station, walk toward the river and pick any bar or restaurant along Shad Thames (yes, that's the street name). I had some great Italian food at Cantina del Ponte in a perfect spot outside by the water. Don't forget to head that way this weekend for the Thames Festival I mentioned earlier.
Lastly, Good Luck!
I won't be joining you in London for the next crazy month of poker as I will be covering the PokerStars.net APPT Auckland and PokerStars.net LAPT Grand Final in Argentina, so I wish you all the very best of luck and thanks for reading!
Check out all of PokerNews' Live Reporting coverage this month, and as always, follow us on Twitter for up-to-the-minute news.