Around the World with Lynn Gilmartin: Rosario, Argentina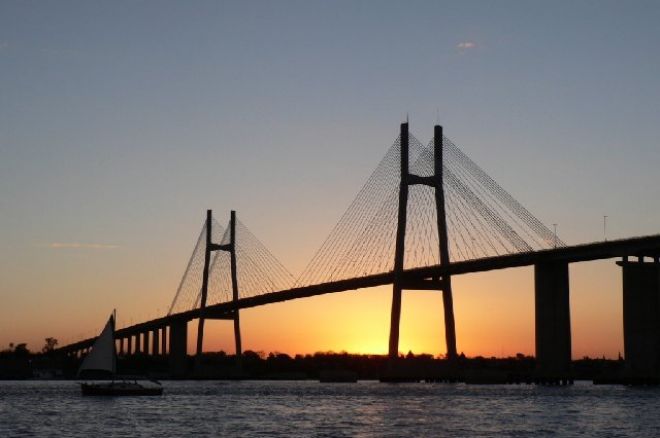 In just a few days, I will be airborne for Rosario, Argentina for the grand finale of the Latin American Poker Tour's third season. Am I excited? Hell yes! I've done a little reading on what to expect, and I'm here to share what I found with you.
Rosario is a cultural city full of museums, theatres, and structures all rich in history. This is no small town – it has 1.2 million residents – but it still manages to escape the busy "international flavor" of Argentina's capital city – Buenos Aires.
Getting There and Around
Rosario is 300km (187 miles) northwest of Buenos Aires. Taking a 50-minute flight with Aerolineas Argentinas is the easiest option, but it only leaves once a day at 9:15 p.m. Travel by road takes around three hours. Unless you want to hire a car, taking a bus would be the next best option. The last resort is a six-hour train ride, but I've been warned against it as they're in pretty bad shape and not much cheaper than the bus, so don't try it.
Busto?
Let's face it, if you're joining us for the Latin American Poker Tour Main Event, all but 24 of you will have at least a couple of unplanned days up your sleeves. Here are a few suggestions on exploring the gorgeous city.
The weather is starting to warm up, so it's time for water sports. Taking a kayak on the Paraná River is the perfect escape from any bustling city. The beach lining the river's edge, known as La Florida, is the perfect place to find a bar or restaurant and enjoy the day or night with a view of the island across the river.
Hire a bike and give yourself a personal tour of the iconic buildings, monuments and historic neighborhoods on your two wheels. There is so much to see in Rosario, including the National Flag Memorial, a structure that looks like a ship sailing to the future, representing the exact area where the Argentine flag was raised for the first time.
Can you shake it? Move it? Use it? Groove it?
This place is perfectly suited for the party-loving poker player. It sucks when you finally wind down after your long grind only to discover that the city is asleep. Rosario, however, is known for its nightlife. The clubs don't heat up until 2 a.m., and they continue into the sunlit hours of the morning. Rosario is also known as the "Salsa Capital of Argentina," so it's time to learn a thing or two.
The best news of this entire article? The women of Rosario are not only considered the most beautiful in Argentina, but there is a significantly disproportionate ratio of women to men. Meaning there are so many more women around. A little different to the usual scenery within any given poker room. Take it easy fellas.
Latin American Poker Tour
The Latin American Poker Tour Grand Final will be held at City Center Rosario, the biggest casino in all of South America with over 2,000 slot machines and 80 table games. The $4,700 + $300 buy-in Main Event commences on September 23rd 2010. With guaranteed fierce emotions at the table, five-star accommodation at Pullman, shopping, and a bowling alley, what more would you need?
See you in a few days at the beautiful Rosario, Argentina!
If you can't make it to Argentina, follow all the reports from the felt on the PokerNews Live Reporting page, and remember, follow us on Twitter for up-to-the-minute news.