Around the World With Lynn Gilmartin: Florianopolis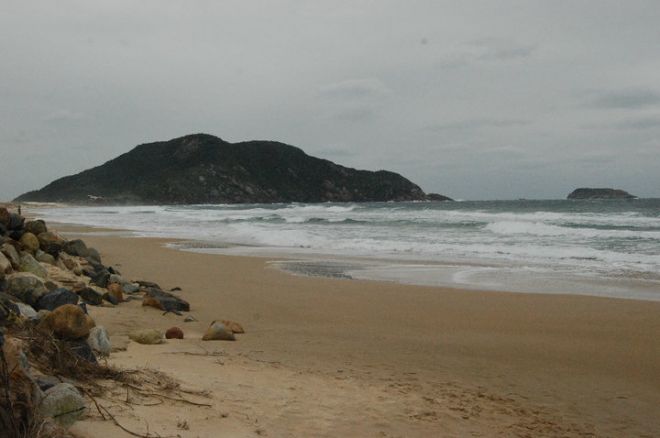 I've been in the wonderful land of Brazil for more than three days now for the PokerStars.net LAPT Florianopolis. Writing the PokerNews Jet Set guide got me pretty pumped to get here, and all expectations have certainly been met so far, except for the weather!
Jesus Loves Me, I Hope
We got off to a rough start with some delayed flights that left us stranded in Rio de Janeiro for a day. It certainly wasn't the worst that could happen, as it allowed me to tick off another city on my map of "been-there-done-that!" Our goal was to check out Jesus. We didn't quite know where to go and with all five of us not speaking a lick of Portuguese, we simply pointed to "centro" on our trusty map and off we went. We were successfully dropped in town, not-so-coincidentally directly in front of a restaurant with "American Bar" plastered across the wall.
Jesus was hiding his face behind a giant cloud curtain, so after a typical pay-per-kilo feast and a mosey around the city, we decided to get closer to catch a glimpse of the iconic Christ statue. Still no love. We jumped in another taxi to the airport feeling a little rejected.
Olá Floripa!
After more than 24 hours in transit, we finally made it to Florianopolis, known as Floripa by the locals. I had anticipated winter weather, but who thinks to bring boots and coats to South America? Not a naïve Australian. With one pair of jeans and seven summer dresses, I'm in big trouble this week with 10 degrees Celsius weather and pouring rain.
Our first project at any stop is to film all the city sights for our opening video. Getting motivated to brave the cold was tough, but it ended up a really enjoyable day. We're staying at Costão do Santinho, one of the best beachside resorts in Floripa, which sits within a giant forest. On every corner you turn is another pool overlooking the beach, and all accommodation is set within individual villas. We took a hike through the mountain on Santinho beach, finding a small lagoon and sand dunes peeking through the mass of bamboo. Next up was Lagoa da Conceição where the team enjoyed a beer by the water. Check out the finished product:
How Do You Say…?
You can always rely on the language barrier to add a little entertainment to travel adventures. I like to use Google's translator tool to allow me to tweet to my Portuguese friends. I decided to tweet my frustrations at how much I suck at speaking the language. Little did I know that the term suck may translate directly, but the use is reserved only for describing a certain related sexual activity. Much to the entertainment of Andre Akkari, Felipe Ramos, Maridu Mayrink and hundreds of other Brazilians, I just tweeted what seemed to be a fulfillment of some wildest dreams. An influx of @mentions and new Brazilian followers came through, along with tears of laughter at dinner that night as Akkari proceeded to show every Portuguese-speaker in the restaurant.
PokerNews vs PokerStars
A spontaneous after-dinner-soccer match is standard in this region of the world. Armed with the video cameras, the PokerNews team and Team PokerStars Pros Joe Cada, Andre Akkari and Gualter Salles went on a mission to find the football field. Brazil defeated USA ― no surprise there. The video will go up in the next couple of days so check it out on PokerNews.com. The next challenge will be Sarah Grant and me in a Latina dance-off against Team PokerStars Pros Maridu Mayrinck and Veronica Dabul. Again, no surprises there who will come out on top! Stay tuned.
Oh Yeah, Poker!
Of course, the reason we're all here is for the fourth stop on the PokerStars.net Latin American Poker Tour's third season. All of the Latin American PokerStars Team Pros are in town, along with Joe Cada and Victor Ramdin to mix it up, PartyPoker's Felipe Ramos, and hundreds of lucky online qualifiers who make the field nice and juicy. All eyes will be on Argentinean Team PokerStars Pro Nacho Barbero – not only did he set LAPT history by being the first Team PokerStars Pro to win an LAPT Main Event in Punta del Este, but he then smashed that record by backing it up with a second LAPT Main Event title immediately after, in Lima. Can he do it a third time? Anything's possible!
Stay tuned for next week's installment of Around the World with Lynn Gilmartin, and remember to follow us on Twitter for up-to-the-minute news.