The Nightly Turbo: Pitbull Poker Closes Down, Laliberté Blasts Off and Brunson Has had it With Hellmuth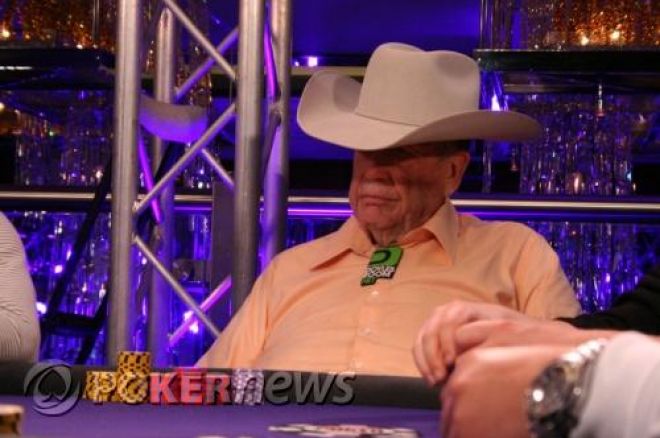 Looking to get your fill of poker news for the day? Well you've come to the right place. We have our finger on the pulse of all things poker and we're bringing it to you nicely packaged so you can get your news and get back to your game quickly.
In Case You Missed It
Day 3 of the World Series of Poker Europe continued yesterday with Matt Hawrilenko ending the day as chip leader. Get the full recap here and for continuing coverage of the WSOPE, follow our live updates of the event here.
Vegas lost one of its legends this weekend when Bob Stupak succumbed to leukemia after a long battle. PokerNews looks back at Stupak's life and accomplishments, which included changing the Vegas skyline forever.
Bertrand "ElkY" Grospellier claimed our WSOP on ESPN MVP this week, and once again Phil Ivey was in the mix with a hero-call that proves he is one of the world's best. If you were silly enough to not watch last night's coverage, we've got you covered with a full rundown of both episodes.
The PokerNews Cup at the Crown Casino is under way. Curious as to how it's going? We've got the scoop.
PokerStars EPT High Rollin'
The PokerStars European Poker Tour London Poker Festival kicked off today with the £20,000 high-roller event. The event saw 75 players pony up the cash to participate, including Team PokerStars Pros Joe Hachem, Barry Greenstein, Bertrand "ElkY" Grossperllier, Dennis Phillips, Greg Raymer, Chris Moneymaker, Vanessa Rousso and Season 4 EPT London winner Vicky Coren. Team Full Tilt Pros Phil Ivey, Chris Ferguson and last year's runner-up John Juanda also hit the felt hoping to walk away a few pounds richer.
Surging to a massive chip lead was Adolfo Vaeza of Uruguay. Vaeza has anywhere between $67,000 and $92,000 in live tournament earnings depending on which site you look at, so it's safe to say the £542,000 first prize would be his largest to date. Apparently, bankroll management is not overly important to him.
Full updates of the high-roller event can be found at PokerStarsBlog.com and when the EPT London main event kicks off later this week, PokerNews will be there with live updates, photos and videos.
Clowning Around In Space
As we reported earlier in the month, Guy Laliberté, Cirque du Soleil billionaire, much to the dismay of Phil Ivey and the rest of the high-stakes poker community, decided to use part of his bankroll, $35 million to be exact, to spend 12 days in space.
The Russian rocket blasted off toward the International Space Station from the Baikonur launch facility today with clown-nosed Laliberté, U.S. astronautJeffrey Williams and Russian cosmonaut Maxim Surayev. While we know Laliberté will be publicizing an effort to increase the world's clean water supply, it's uncertain whether he will be goading his fellow astronauts into some zero-gravity high-stakes poker games.
Read more and check out a video at Guardian.co.uk.
All Bark and No Bite
The sleuths at TwoPlusTwo.com are back at it, this time uncovering suspect behavior from fledgling poker site PitBullPoker.com. The initial post comes from TwoPlusTwo user chesterboy, who while playing $2-$5 no-limit hold'em on the site, suspected superusers were in play. His accusations were based on certain players playing too many hands perfectly in any position, their avoidance of losing big hands in almost every scenario, and the players buying in short for around 40 big blinds and never actually busting instead of always growing fairly healthy stacks.
When chesterboy requested hand histories, the request was met with much resistance by Pitbull Network Manager Dave Brenes, who said, "we cannot request hundreds of hands from different accounts from the DB, it's an overwhelming task for the system." Brenes also said, "we simply don't have the time and resources to spend on weeks of data mining to please demands coming from a personal hunch."
Now, just a week later, a user calling himself Dave Brenes posted on the TwoPlusTwo forum that the owners of the site Kevin Baronowski and Jordan (unconfirmed last name) were arrested by the Costa Rican authorities trying to remove all the computers and servers out of the Pitbull office during the middle of the night.
The full TwoPlusTwo thread can be found here with the post from the alleged Brenes coming on page 90. PokerNews will continue to monitor the situation.
Doyle Brunson and Phil Leicester Square Off?
While Doyle Brunson continued to chase after his 11th bracelet in London today, his blog earlier this week held a bit of criticism for the man he is chasing, Phil Hellmuth. Brunson was none to pleased by the grandiose horse-drawn chariot entrance through Leicester Square that Hellmuth made before the start of the World Series of Poker Europe Main Event.
"I've always liked Phil Helmuth and have defended his tantrums because that is Phil being Phil, but these grand entrances he makes are too much! He came to my table dressed as Julius Caesar along with trumpets and scantily clad girls. It embarrassed me just being there. I would have liked to applied for the role of Brutus. I am a poker purist and stuff like that detracts too much from what a great game poker is," Brunson said.
No word yet on whether or not Hellmuth will be escorted to his seat at theAruba Poker Classic by a school of dolphins, but we do know Brunson disapproves and won't be there to see it.
Read Brunson's full blog post over at PokerRoad.com
Our Twitter feed brings you the latest news; are you following us yet? Have anything to say about something you read today? Let us know below.