WSOP Main Event on ESPN: Hand of the Week, our MVP and More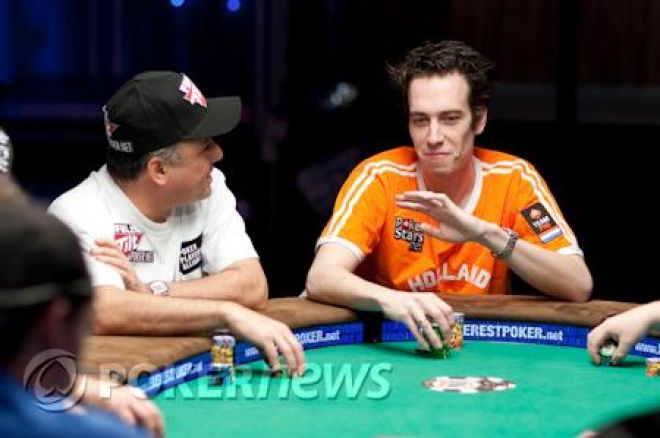 Poker fans, you can all thank Brett Farve and his latest foray out of retirement for your DVRs cutting off the conclusion of ESPN's first two hours of coverage of the 2009 World Series of Poker Main Event. Due to Farve's press conference running into serious overtime the broadcast started a full 20 minutes late, but lucky for you, we have the whole scoop right here.
What's New?
Episode One opened with a dramatic, partially-scripted prologue that underlined the theme that the Main Event is not only a place where amateurs can burst out of obscurity to win millions, it's a title coveted, even hungered for by the game's top professionals. Featuring voiceovers from Doyle Brunson, Phil Hellmuth, and Jennifer Harman, we were reminded that only 33 players have ever won a WSOP Main Event bracelet, their photos ringed around the Amazon Room in tribute. This year's Main Event coverage also includes two new segments called "Straight from the Pros" and "Deal Me In" where pros recall key hands they played in past WSOP events.
The Cast of Characters
Lex Veldhuis, Allen Cunningham, and Eli Elezra all occupied the first hour's featured table while actor/comedians Jason Alexander and Brad Garret found themselves seated together on the main floor. Greg "FBT" Mueller's double bracelet win earlier in the series earned him a short feature piece, while 1988 MLB World Series MVP Orel Hershiser arrived on the felt with an autographed ball to present to whomever knocked him out. Hour two focused on previous Main Event champions Doyle Brunson, Chris Moneymaker, Greg Raymer, and Chris Ferguson as they began their quest for a repeat title. Mike Matusow ruled the roost on the main featured table while Doyle Brunson captained the secondary. Paralympic gold medalist Marlon Shirley, 96-year old Jack Ury, and the "Mad Genius" of Poker, Mike Caro (who really schticked up his act for his profile segment) also earned airtime.
Norman Chad's New Schtick: Breathy platitudes about beef jerky.
Interesting Stats: How did past Main Event winners fare the year after they won? Moneymaker and Jamie Gold both went out on Day 1, Jerry Yang busted on Day 2, Joe Hachem cashed in 238th place, and Raymer made a historic run at back-to-back titles, finishing in 25th place in the 2005 Main Event.
Blink and You'll Miss It: Jerry Yang and Allen Cunningham both failed to last half a day in the Main Event.
"The Nuts": The first "Nuts" of 2009 was a baseball edition featuring half a dozen members of Team PokerStars Pro including Greg Raymer, Hevad "Rain" Khan, Vanessa Rousso, Dennis Phillips, Chad Brown and Joe Hachem. Dressed in their finest PokerStars hats and jerseys, they all tried to hit pitches hurled by former L.A. Dodger Orel Hershiser. No one managed to make contact with the ball with the exception of Raymer, who eeked out a bunt on his third swing.
MVP = Lex Veldhuis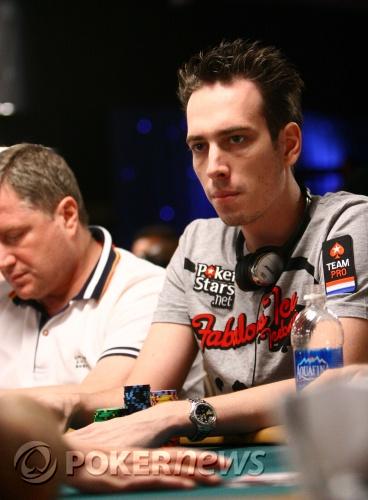 The young, hyper-aggressive Dutchman put on a master class in bluffing for the cameras on this episode...and showed every one. First, he got Eli Elezra to fold his pocket fours on an ace-high flop, showing 7-9 offsuit as he took down the pot. Next, he three-barreled the river on a board with four clubs holding nothing but king high, getting his opponent to fold two small pair. Then, in perhaps his most masterful move (so masterful it was the "Jack Link's Wild Card Hand") he moved all-in on the river on a
board after his opponent, Simon Muenz, checked to him. Holding
, Muenz had no idea where he was at and folded his hand, Veldhuis revealed
.
Muenz would fall at Veldhuis' hands later in the episode. Vedhuis three-bet squeezed in position with
following a pre-flop raise from Tom Richter and a call from Eli Elezra only to have Muenz four-bet shove from the big blind. His hand?
The move prompted Norman Chad to practically squeal "He's got 60 big blinds left!" In all of this chaos, Veldhuis somehow managed to find a call (also a headscratcher), and KOed his nemesis when the board ran out J-T-T-8-4. Completely "wamboozled" by the play, Muenz approached Veldhuis and asked why he called as he made a dazed exit from the feature table. Veldhuis could only manage a shrug.
Hand of the Week: Mike Matusow lays down a queen high flush: Five players including 46-year old businessman Richard Johnson and Mike Matusow all limped in and saw a
flop. Matusow made the queen-high flush with
while Johnson had the nut flush draw with
. The action was checked to Johnson, who led out with 700 chip bet into the 1,500 pot. Matusow raised to 2,200 and after the rest of the table got out of the way, Johnson moved in for his remaining 16,300. Matusow agonized before making a difficult laydown.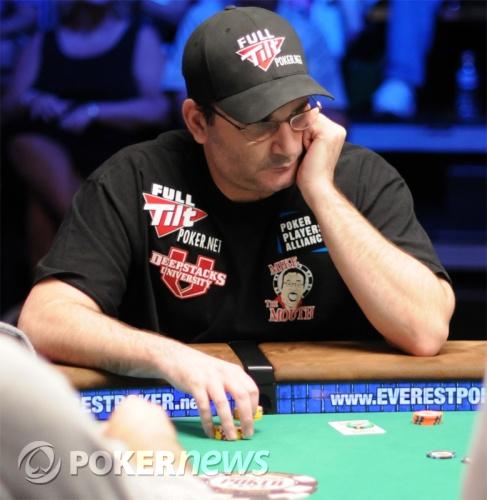 "The tightest player just moved all in on me and I have the second-nut flush. How strong is that? Can I really fold this hand?" said Matusow as he sized up Johnson.
"All right, buddy. Take it" Matusow said as he open-folded his hand. Johnson mucked and remained mum.
Notable Bust-Outs: Doyle Brunson, Allen Cunningham, Chris Moneymaker, Jerry Yang, and Lex Veldhuis' whipping boy Simon Muenz.
Quote of the Episode: "For a bald Jew, it's not a bad day." - Jason Alexander, after making Day 2.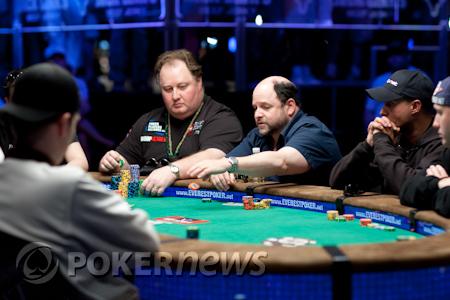 It's never to early to start making a plan for next years World Series of Poker. Sign up now for an online poker account to take advantage of amazing bonuses.