"This is beyond fairy tale. It's inconceivable!" — Norman Chad
Chris Moneymaker is an American poker player who won the 2003 World Series of Poker Main Event. He was the first Main Event winner to qualify through online poker. His victory, coupled with the rise in popularity of televised poker, gave rise to the early 2000s poker boom. This is sometimes dubbed 'The Moneymaker Effect'.
In 2019, Moneymaker was inducted into the Poker Hall of Fame.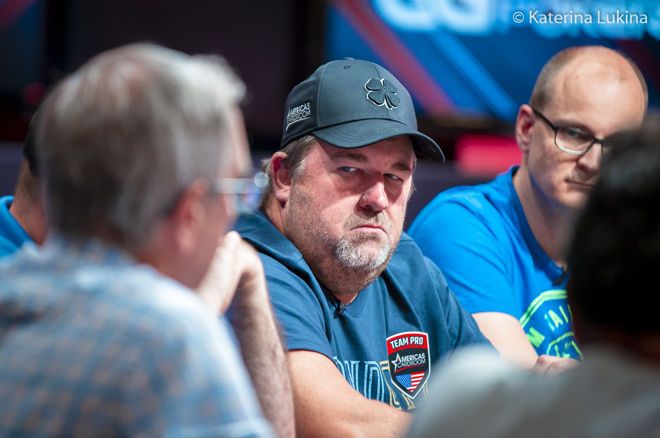 Biography
Moneymaker was born in Georgia and went on to earn a master's degree in accounting from the University of Tennessee.
In 2003, he won a seat to the WSOP Main Event in an $86 satellite on PokerStars. Coming into the Main Event, no one knew who Moneymaker was, but he battled his way to the top and defeated a final table that included Sam Farha and Phil Ivey.
He took home $2,500,000 for his efforts, defeating a field of 839 entries. The impact of his victory cannot be understated. In the space of three years, the Main Event field would increase to 8,773 as online satellites, televised poker and a boom in interest in the game saw players take their shot at following in Moneymaker's footsteps.
"I went back to work, because I didn't realize I could be making enough money to retire or quit doing what I was doing," Moneymaker told PokerNews in 2016. "It wasn't really until it started airing on TV. They had it on a loop and I guess that really woke me up to the fact there was something to it. Poker was not just a passing fad. It looked like it was going to be around more than just a few years and somehow I was part of the driving factor behind all that."
He also was a member of PokerStars Team Pro for 17 years, before leaving in 2020.
---
Related: Chris Moneymaker's WSOP Memories
---
Other Poker Achievements
A year after his WSOP victory, Moneymaker placed second at the 2004 Shooting Star WPT event for $200,000.
WSOP Main Event Winners 1994-2003
| YEAR | ENTRIES | CHAMPION | COUNTRY | PRIZE |
| --- | --- | --- | --- | --- |
| 2003 | 839 | Chris Moneymaker | United States | $2,500,000 |
| 2002 | 631 | Robert Varkonyi | United States | $2,000,000 |
| 2001 | 613 | Carlos Mortensen | Spain | $1,500,000 |
| 2000 | 512 | Chris Ferguson | United States | $1,500,000 |
| 1999 | 393 | Noel Furlong | Ireland | $1,000,000 |
| 1998 | 350 | Scotty Nguyen | Vietnam | $1,000,000 |
| 1997 | 312 | Stu Ungar | United States | $1,000,000 |
| 1996 | 295 | Huck Seed | United States | $1,000,000 |
| 1995 | 273 | Dan Harrington | United States | $1,000,000 |
| 1994 | 268 | Russ Hamilton | United States | $1,000,000 |
Kentucky Poker Room Purchase and Forced Closure
Prior to the pandemic, Moneymaker, who resides in Mississippi, had planned to open a poker room in Dallas, Texas. Due to COVID-19, he decided against that move.
Instead, in September 2022, he opened a card room in Paducah, Kentucky, a small town in the northwest corner of the state, four hours from his home. The room, called Moneymaker Social Club, operated similarly to a Texas poker room in that, due to gambling being illegal in both states, he didn't take rake out of the pots. The money was made via selling memberships to the club and charging seat fees.
All was fine until February 2023 when the county attorney, Cade Foster, reversed course and determined that his business was operating illegally. Facing criminal charges, including a felony, Moneymaker was forced to remove the poker tables from his social club. He is continuing to operate the business for the time being and still hopes to one day be able to legally bring poker back to Moneymaker Social Club.