Event Info
Level Info
| | |
| --- | --- |
| Level | 25 |
| Blinds | 15,000 / 30,000 |
| Ante | 5,000 |
$1,115 Regional Main Event
Day 2 Completed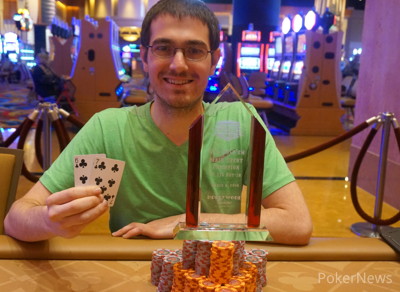 Michael Ermie is the Hollywood Poker Open Toledo $1,115 Regional Main Event champion! He topped a record-second field of 323 entries for an HPO regional main event and earned $60,017 in first-place prize money.
Ermie is now over $200,000 in lifetime tournament earnings and this is his third first-place finish. Normally a cash-game player, Ermie says he plays a few tournament every month. He certainly won't regret taking some time off of his normal grind for this event, as he booked the biggest live tournament win of his career.
With a deal taking place between the final three players, the tournament was over sooner than later. Ermie finished the tournament with more than half the chips in play, which allowed him to get the most money and the win out of the deal.
He earned most of his stack at the final table when he eliminated both Alex Barill in sixth place, then Zach Andrews in fifth place. On both hands, Ermie made a flush. Against Barill, he hit a flush on the river after both players were all in.Then, against Andrews, Ermie shoved all in over the top of a river bet from Andrews. Andrews called with a straight, but that was no good against Ermie's flush.
From there, it was relatively smooth sailing.
"I don't think I necessarily have a had edge three-handed," Ermie said. "But once I got to about half the chips in play, I thought I might win."
He will also earned an HPO $2,500 Championship seat, and the event will take place in Las Vegas this summer at the M Resort.
"It's a great tournament," Ermie concluded, having played the event before and always looking forward to it.
HPO ambassador Chris Moneymaker made yet another deep run, finishing 23rd. He got knocked out by eventual third-place finisher, Nick DePalma. As part of the deal, Palma earned $46,019. Bruce Peery earned second-place honors and $50,000.
This was the second stop of Season 4 of HPO. The next event will be March 10-20 at Hollywood Casino in St. Louis, and PokerNews hopes to see you there.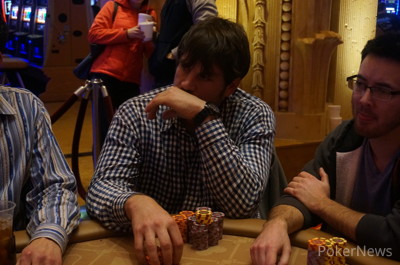 Bruce Peery gets second place as part of the deal and takes home $50,000. Peery rode his post dinner break hot streak all the way to second place and he actually ended up taking about $3,000 more than second place money.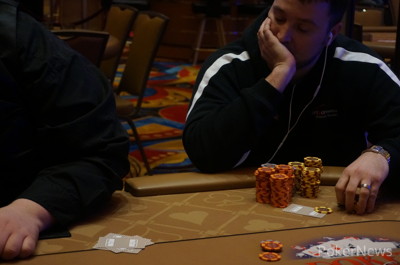 The three remaining players made a deal and Nick DePalma finishes in third place. As part of the deal, he gets $46,019 plus $1,000 from Bruce Peery. Third place was going to be worth $31,493.
The players asked to stop the clock and discuss a deal.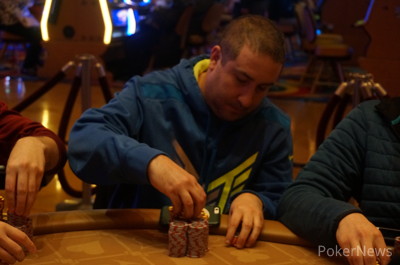 Jason Orrell has been looking for a spot and after Bruce Peery raised preflop to 80,000 and Nick DePalma called, Orrell shoved all in.
Peery and DePalma both called.
The two checked the board down to the river, when Peery bet 125,000 on the
board. DePalma folded and Peery showed
, for a straight and eliminated Orrell.
Level:

25
Blinds:

15,000/30,000
Ante:

5,000
| | | | | | |
| --- | --- | --- | --- | --- | --- |
| Michael Ermie | | | | 3,420,000 | 70,000 |
| Nick DePalma | | | | 1,475,000 | -145,000 |
| Bruce Peery | | | | 1,430,000 | 210,000 |
| Jason Orrell | | | | 155,000 | -65,000 |
The final four players are on a 15-minute break. Each player is guaranteed at least $21,964.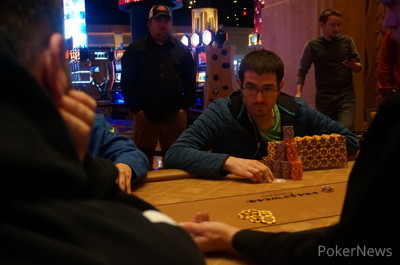 Michael Ermie and Nick DePalma just played a hand, where Ermie called a river bet and won the pot, but neither player showed their hand.
The action started when DePalma raised the button into Ermie's big blind and Ermie defended.
The flop was
and both players checked.
The turn was the
and Ermie checked. DePalma bet 55,000 and Ermie called.
The river was the
and Ermie checked again. DePalma bet 125,000 and Ermie quickly called.
DePalma didn't show his hand, assuming he was beaten, but after Ermie made no move to show his hand, waiting instead to see DePalma's first, DePalma mucked his hand and Ermie won the pot. He slid his hand face down toward the dealer, and collected the pot.