Regional Main Event
Day: 2
Regional Main Event
Day 2 Completed
Level 23 : 10,000/20,000, 3,000 ante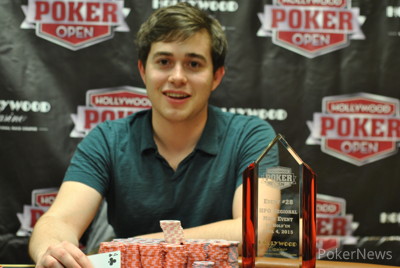 Steven Gurney-Goldman banked the biggest score of his young live tournament career, pocketing $29,342 for winning the Hollywood Poker Open Grantville Regional Main Event. Gurney-Goldman turned the tables on chip leader Chris Moneymaker early in the final table and was able to roll over the rest of the field once he had a commanding chip lead.
In addition to the prize money, Gurney-Goldman scored a $2,500 seat in the HPO season-ending event in Las Vegas.
The tournament drew 92 runners, a big step up from last year's 37-player field, and 18 of them survived Day 1 to return on Sunday for Day 2. Gurney-Goldman began the day with a modest 34 big blinds, and it was the Moneymaker show early on, as the former World Series of Poker Main Event champ and current HPO ambassador ran up a huge stack. As the day wore on, the field was cut down to a final table of 10, losing notable tournament pro Alex Queen along the way.
Only nine players would get paid, and Moneymaker, who took 365,000 to the final table, abused the bubble with constant aggression and had about a third of the chips in play at one point as opponents tightened up. Short stacks doubled numerous times, enabling Moneymaker to keep picking up the blinds and antes, but Matt Mahek ultimately bubbled out to change the table dynamic.
That's when Gurney-Goldman made his move, first doubling up after opening with queens and seeing an
flop against Moneymaker, who called flop, turn (
), and river (
) barrels, the last one being an all-in shove. Moneymaker could only laugh at the cooler afterwards, showing
for top two.
Greg Davis (ninth) and Michael Nolan (eighth) were the first two to receive payouts. Then, Moneymaker dropped two huge pots and found himself short for the first time since midway through Day 1. He sent his last 60,000 into the pot with the
, but didn't improve against Day 1 chip leader Jeremy Cline, who had
, ending his run in seventh place.
Gurney-Goldman then found himself with ladies at another opportune time, as Rob Brown shoved for 140,000 over a raise during Level 21 (6,000/12,000/1,000) in the cutoff seat. Gurney-Goldman shoved as well from the blinds, folding out the opener, and found himself against the
. Brown found an eight on the turn, but Gurney-Goldman binked a queen on the river to get the knockout.
Cline then went out fifth, followed by Ken Moore in fourth. Gurney-Goldman then had a key spot go his way three-handed, as Anatoly Podolsky shoved from the button for 185,000 at Level 23 (10,000/20,000/3,000). Gurney-Goldman called in the small blind with the
, while Kent Bitzer tank-folded what he said was
in the big blind. Podolsky had the
and failed to improve, leaving Gurney-Goldman with a big chip lead going into heads-up play and Bitzer with a major missed opportunity if he indeed had tens.
Bitzer battled back a bit, but Gurney-Goldman picked off a big bluff to put him back on the brink, finishing the job when he called Bitzer's 14-big blind shove with the
and holding against the
.
The HPO returns to action in St. Louis later this month, and PokerNews will see you then for more live coverage.
Level 23 : 10,000/20,000, 3,000 ante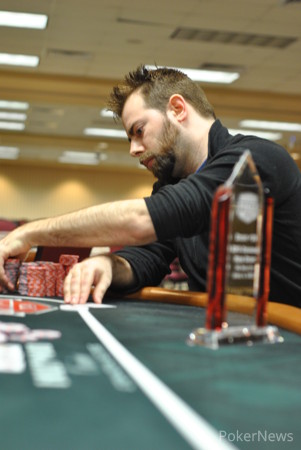 Kent Bitzer shoved for about 280,000 on the button, and Steven Gurney-Goldman called.
Bitzer:

Gurney-Goldman:
Gurney-Goldman was in a dominating position and had the tournament in his grasp, and he pumped his fist as the
appeared in the window, followed by
.
"Good game," he said as they shook hands while the
hit the board, ending the hand. The river was a meaningless
.
Level 23 : 10,000/20,000, 3,000 ante
Steven Gurney-Goldman and Kent Bitzer each put 130,000 in on a
board, and Gurney-Goldman checked the
river. Bitzer bet 225,000, giving Gurney-Goldman great pause.
"I almost feel like you have pocket threes and just turned it," he said with a smile. Nevertheless, he flicked in a chip.
"Just a three," Bitzer said, showing
.
Gurney-Goldman turned over
to take a commanding lead.
Level 23 : 10,000/20,000, 3,000 ante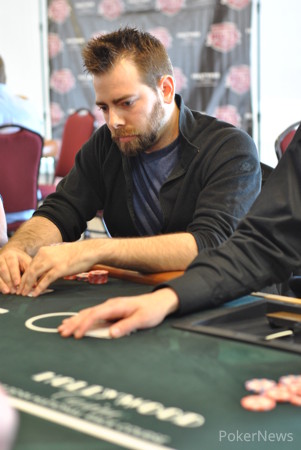 Steven Gurney-Goldman made it 40,000 preflop and then checked a
flop back. Kent Bitzer bet 40,000 on the
turn, and Gurney-Goldman called. Bitzer bet 50,000 on the
river, and Gurney-Goldman quickly called again, mucking to Bitzer's
.
Level 23 : 10,000/20,000, 3,000 ante
Kent Bitzer check-called 125,000 from Steven Gurney-Goldman on a
board. Both players quickly checked the
, and Bitzer showed
. It was no good, as Gurney-Goldman held
for top pair.
Level 23 : 10,000/20,000, 3,000 ante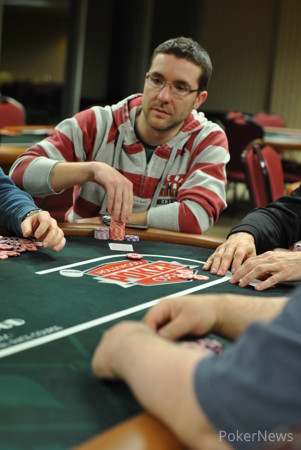 Anatoly Podolsky shoved 185,000 from the button, and Steven Gurney-Goldman called. Kent BItzer said he needed a couple of minutes but ultimately folded.
Podolsky:

Gurney-Goldman:
A run out of
meant Podolsky hadn't improved, and the tournament's down to two players. Bitzer said he folded tens.
Level 23 : 10,000/20,000, 3,000 ante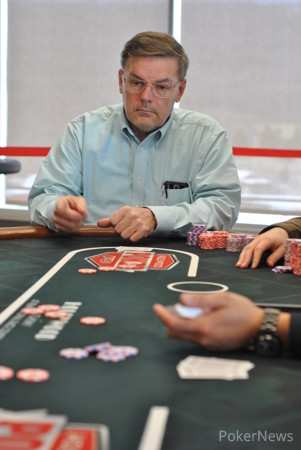 Kent Bitzer raised to 65,000 on the button. Ken Moore jammed for 177,000 in the small blind, and after a couple of minutes, Bitzer called.
Bitzer:

Moore:
Moore observed that the hearts wouldn't help, and the
flop didnt either.
"No king, no ten," one of the other players said, and that's what happened as
and
fell.
Level: 23
Blinds: 10,000/20,000
Ante: 3,000