Main Event
Day 3 Completed
Level 32 : 100,000/200,000, 30,000 ante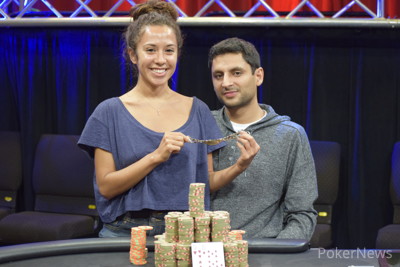 He came into the day short on chips, but long on poker skills and success. In the end, Ben Zamani wouldn't be denied as he conquered his final 11 opponents on Day 3 of WinStar River Poker Series $2,500 Main Event to take down a first-place prize of $347,134.
That adjusted prize came after Zamani made a deal heads up with Chengce Jiang, who came into the day as massive chip leader. Jiang earned $297,760 for his runner-up finish. It's the fourth-biggest live cash for Zamani, a two-time bracelet winner and the reigning WPT Player of the Year. He now has over $4.4 million in total live earnings.
"In a poker tournament, you're just never out of it," he said of his attitude heading into the final day of play. "I kept believing and didn't think about anything else."
While Zamani began the day with less than 10 big blinds but managed to chip up from 535,000 to a solid 2.6 million by the time the final table got under way. He also saw one of his most dangerous rivals, fellow bracelet winner Anthony Spinella, go down in 12th when he ran top pair and the nut flush draw into the two pair of Jiang.
The story heading into the day was Maxx Coleman's attempt at a second WinStar title in three years. The Kansas native has been on a wildly successful run here, taking the lion's share of a three-way chop in 2015 for $750,000 and then finishing in 32nd last year.
Coleman crushed on the first two days of the tournament, bagging a monster Day 1a lead that easily held up through the subsequent flights and then coming into the final day second only to Jiang. However, Coleman lost a flip right away and appeared to go card dead after that, failing to regain even his start-of-day count.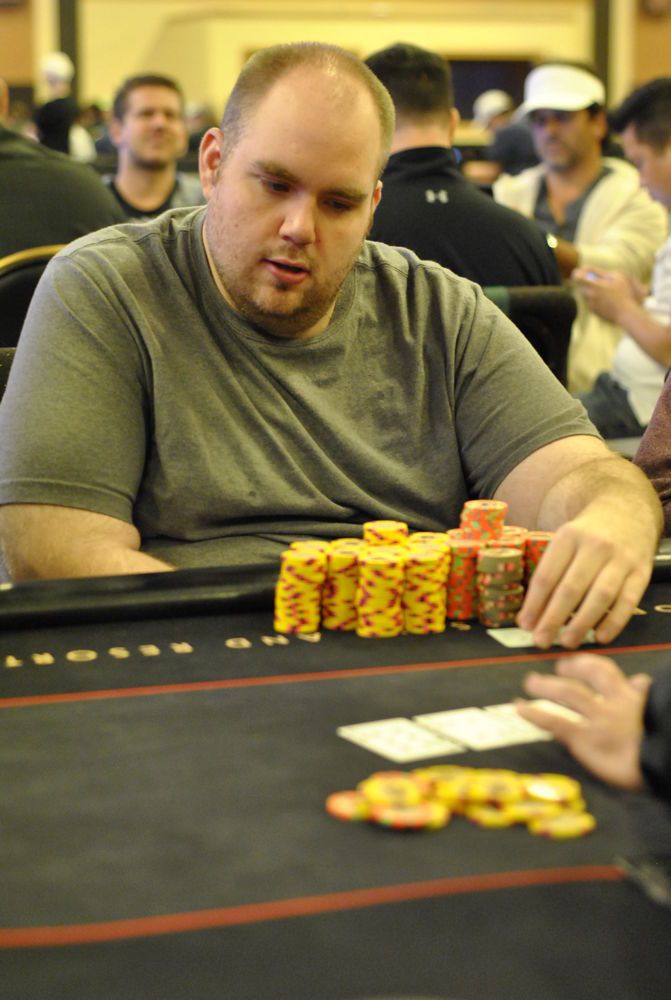 In what proved to be both his final hand and the one that would propel Zamani to victory, Coleman shoved his last 850,000 in at 50,000/100,000/10,000 and Zamani called in the small blind. Big blind Lang Nguyen woke up with kings and jammed, and Zamani called for about 4.5 million with queens. Coleman showed down ace-three of diamonds.
Fortunately for Zamani, a queen hit, and he suddenly found himself within striking distance of the lead with a dangerous player heading for the payout desk.
It appeared Zamani and Jiang were destined for a heads-up confrontation, and though there were a few bumps along the way, that's exactly what happened.
Zamani briefly wrested the lead from Jiang when they were three-handed with Johanssy Joseph, when Jiang called a huge river bet after Zamani hit a wheel on the end. However, it was Jiang who reclaimed the lead when he eliminated Joseph with ace-queen against king-nine all in preflop.
Slightly down in chips, Zamani offered an even split but said he'd also be willing to chop based on stacks and play for a chunk of the remaining pool.
Confident in his game and his small lead, Jiang went with the latter, and the two locked up $297,760 and $287,134 with $60,000 left to battle over.
Zamani dominated early on, sweeping up seemingly every small and medium pot the two played to move into the lead. He then made another huge hand when a combo draw hit for a flush on the river and Jiang again couldn't find the fold button when Zamani bet big.
"I was definitely being more aggressive," Zamani said of the match. "Some things went my way because of my aggression but I also think I made a few mistakes because of that."
Jiang battled back when he picked off an all-in semi-bluff for stacks while holding a straight — perhaps one of the mistakes to which Zamani alluded — and then grabbed the lead by making two pair in a huge pot. However, both players would make trip eights in a pot that all but decided it, with Zamani's ten kicker besting Jiang's four.
Jiang tried his own semi-bluff with bottom pair and a straight draw for the rest of his chips but got picked off when Zamani checked and successfully induced with top pair and a gutshot.
It may not be WSOP gold, but Zamani added yet another bracelet to his collection courtesy of WinStar, and he said he won't be resting on his laurels. He's planning to go trophy hunting once again, as he said he'll be hopping on a plane to the Northeast with the aim of winning the big event coming up at Borgata.
Final Table Results
| Place | Player | Prize |
| --- | --- | --- |
| 1 | Ben Zamani | $347,134 |
| 2 | Chengce Jiang | $297,760 |
| 3 | Johanssy Joseph | $188,904 |
| 4 | Dwight Sellars | $142,011 |
| 5 | Lang Nguyen | $107,968 |
| 6 | Chris Hooper | $83,073 |
| 7 | Maxx Coleman | $64,650 |
| 8 | Gnana Duddukuru | $50,893 |
| 9 | Lawrence Porath | $40,537 |
| 10 | Mike Dentale | $32,669 |
Level 32 : 100,000/200,000, 30,000 ante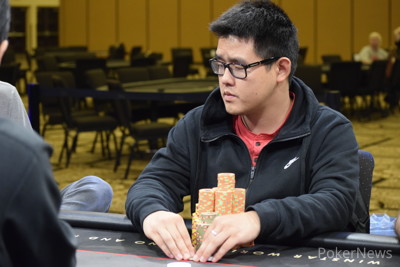 In a limped pot, Chengce Jiang and Ben Zamani checked to a board of
. Zamani bet about 350,000 on the turn and called quickly after double-checking his cards when Jiang check-shoved all in for about 5 million.
Zamani:

Jiang:
Zamani was a solid favorite to end the tournament with top pair and a gutter against bottom pair and an open-ender. The river was an
no help to Jiang, who knuckled the table in defeat.

Level 32 : 100,000/200,000, 30,000 ante
Chengce Jiang was extending his lead and it looked like he might finish off Ben Zamani, but they both picked up trips and played a pot for all the chips. When the dust settled, Zamani would be the one with the big lead. looking to finish Jiang off.
Here's how it went down:
Jiang limped and Zamani made it 500,000 to to. Jiang called. The flop came
and Zamani bet 500,000. Jiang called.
The turn was another eight, the
, and Zamani checked. Jiang bet 1,200,000 and Zamani raised to 2,580,000. Jiang went all in and Zamani called off his remaining 6,650,000.
Both players had trips, but Zamani had the better kicker with
against the
of Jiang. The river was the
and Zamani would win the pot and double up, leaving Jiang with under eight million.
Level: 32
Blinds: 100,000/200,000
Ante: 30,000
Level 31 : 80,000/160,000, 20,000 ante
Chengce Jiang called and then called 200,000 more from Ben Zamani. The WPT Player of the Year bet 280,000 on the
flop, and Jiang called. Zamani bet 900,000 on the
turn and Jiang called again. Finally, Zamani checked the
. Jiang announced 1.6 million and Zamani called after about 30 seconds.
Jiang showed
for two pair.

Level 31 : 80,000/160,000, 20,000 ante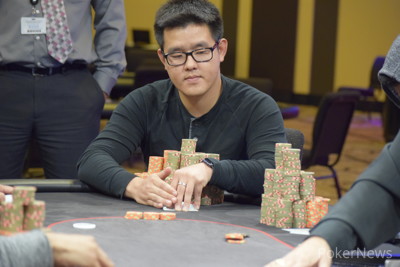 Chengce Jiang was well behind Ben Zamani in heads up play until he turned a straight and got his remaining chips in against Zamani's flush draw.
The swing started one hand earlier when Jiang called 400,000 on the river with fourth pair to win about 800,000 from Zamani on that pot.
On the next hand, Jiang limped the small blind, as Zamani had done the hand before and Zamani checked behind.
The flop came
and Zamani checked. Jiang bet 225,000 and Zamani raised to 625,000. Jiang called.
The turn was the
and Zamani checked again. Jiang bet 800,000 and Zamani went all in. Jiang didn't look too pleased but called relatively quickly and showed a straight holding
. Zamani had a chance to end the tournament if he could catch a club, since he was holding
.
The river was the
and earned Jiang the double up, bringing him within 2 million chips of Zamani.
Level 31 : 80,000/160,000, 20,000 ante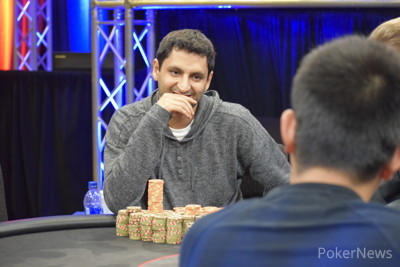 Ben Zamani has opened up a big lead heads up. First, he won a number of smaller pots without getting to showdown. Then, the following hand developed.
Chengce Jiang limped in and Zamani checked to see a
flop. Zamani check-called 225,000. Zamani checked the
as well, and Jiang bet 500,000. Zamani shipped in 1.4 million and Jiang called to see a
river. Zamani slid in a two-handed bet of 2,060,000. Jiang called in short order but couldn't beat
for a flush.

Level 31 : 80,000/160,000, 20,000 ante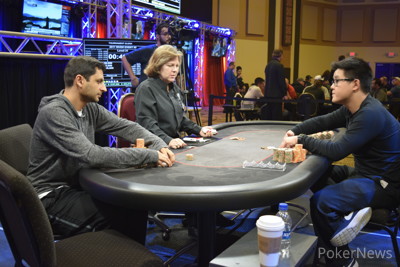 Ben Zamani won a big pot heads up to take the lead and avoided a potential trap when he checked back a river on the next hand.
The first hand:
Chengce Jiang opened to 160,000 and Zamani raised to 380,000. Jiang made it 1,250,000 and Zamani called.
The flop came
and both players checked. The turn was the
and Zamani checked. Jiang bet 1,100,000 and Zamani shoved all in. Jiang didn't waste much time before folding.
The next hand:
Zamani made it 325,000 preflop and Jiang called. The flop came
and Jiang checked. Zamani bet 230,000 and Jiang called.
They both checked the
on the turn and Jiang checked again when the
hit the river. Zamani checked behind, which saved him some money because Jiang turned over
for a full house.
Level 31 : 80,000/160,000, 20,000 ante
That didn't take long.
Deal discussions took only a few minutes. Ben Zamani, who was at a slight chip deficit, said he was willing to either chop it up evenly or do a chip chop with money left to play for. The players looked at the chip numbers and Chengce Jiang opted for the latter. His chip lead secured him $297,760 while Zamani has locked up $287,134.
That leaves $60,000 on the table for the heads-up match, which is under way now.