₽133,000 EPT Open Main Event
Day: 4
₽133,000 EPT Open Main Event
Day 4 Completed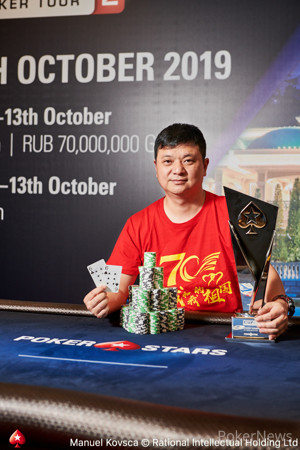 The 2019 PokerStars EPT Open Sochi festival is a wrap and the RUB133,000 Main Event (~$2,040) has crowned a champion in a field of 879 entries. On his third trip to the stunning Casino Sochi, China's Yi Ye claimed the lion's share of the RUB103,370,400 (more than $1.6 million) prize pool after defeating Giorgiy Skhulukhiya in heads-up to take home the trophy and top prize of RUB19,306,000.
Ye had already cashed in his previous two trips to Sochi including a 60th place in the inaugural EPT Open Main Event and a third place in a side event of the 2019 EPT Sochi festival. The 40-year-old hails from Chengdu, the capital of southwestern China's Sichuan province, and has been playing poker for seven years. Around one and a half years ago, he switched from cash games to tournaments and that decision has definitely paid off.
Initially, his plan was to try and claim the coveted Platinum Pass for the 2020 PokerStars Players NL Hold'em Championship (PSPC) in Barcelona but never had a chance to play in the RUB10,500 "Moneymaker's Road to PSPC". He also overcame a big language barrier as all other finalists were native Russian speakers, and defeated Giorgiy Skhulukhiya in heads-up.
Skhulukhiya came fresh off a victory in a High Roller Event on Cyprus and narrowly missed out on a new career-best score on the live circuit. Natalia Panchenko put up a fierce fight and finished in 3rd place, while former Casino Sochi floor staff member Lidiya Kozenkov ended up in 4th place. Egor Sukhov had to settle for 5th place and the first casualty of the six-handed final day was local player Abdul Mamin Abdal Ali Han.
Final Result 2019 EPT Open Sochi Main Event
| Place | Winner | Country | Prize (in CSU) | Prize (in RUB) | Prize (~ in USD) |
| --- | --- | --- | --- | --- | --- |
| 1 | Yi Ye | China | 275,800 | 19,306,000 ₽ | $301,378 |
| 2 | Giorgiy Skhulukhiya | Russia | 167,460 | 11,722,200 ₽ | $182,991 |
| 3 | Natalia Panchenko | Russia | 118,140 | 8,269,800 ₽ | $129,097 |
| 4 | Lidiya Kozenkova | Ukraine | 88,600 | 6,202,000 ₽ | $96,817 |
| 5 | Egor Sukhov | Russia | 69,850 | 4,889,500 ₽ | $76,328 |
| 6 | Abdul Mamin Abdal Ali Han | Russia | 52,280 | 3,659,600 ₽ | $57,129 |
| 7 | Vladislav Petrov | Russia | 36,770 | 2,573,900 ₽ | $40,180 |
| 8 | Boris Kitov | Russia | 25,840 | 1,808,800 ₽ | $28,236 |
Note: CSU stands for Casino Sochi Unit and is equal to 70 Russian Rubles (RUB)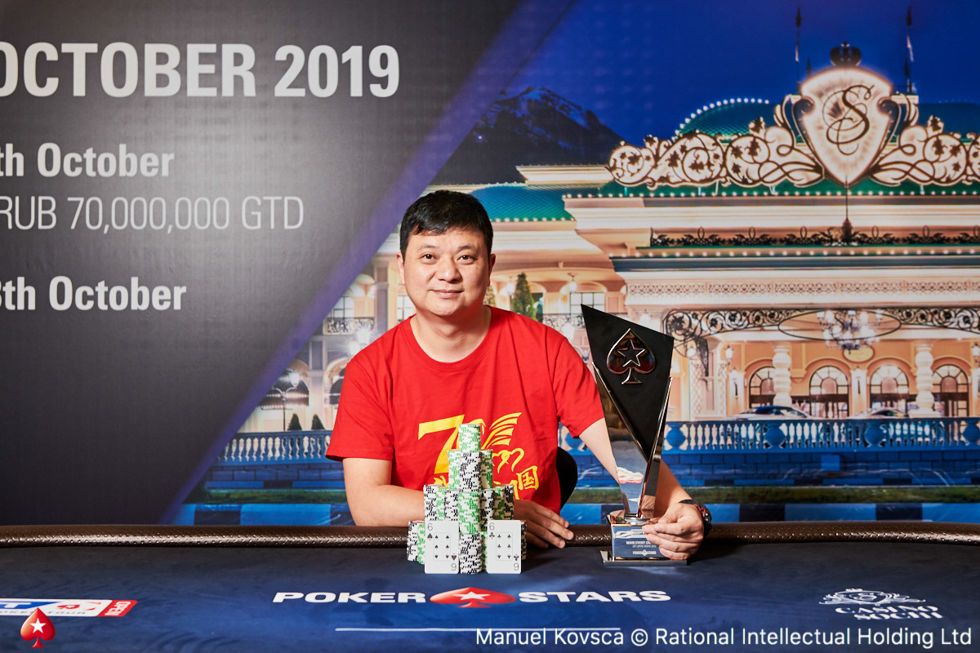 Only six players remained and Giorgiy Skhulukhiya was the dominating chip leader heading into the final day while all other remaining five hopefuls were bunched together within a few big blinds. The early action indicated a rather short day as Abdul Mamin Abdal Ali Han and Egor Sukhov headed to the rail in the first full level of the day. Skhulukhiya took a blow to his stack when he ran with ace-king into the aces of Lidiya Kozenkova but remained at the top of the counts.
What followed was a gruesome grind for the final four and the lead changed several times. Natalia Panchenko also doubled through Skhulukhiya and eventual champion Yi Ye then held up with queens against the ace-jack of Kozenkova to jump back into contention. It would take another three hours to lose a player and Kozenkova's move with ace-eight came at the wrong time, as Panchenko called with ace-queen to remain ahead with her kicker.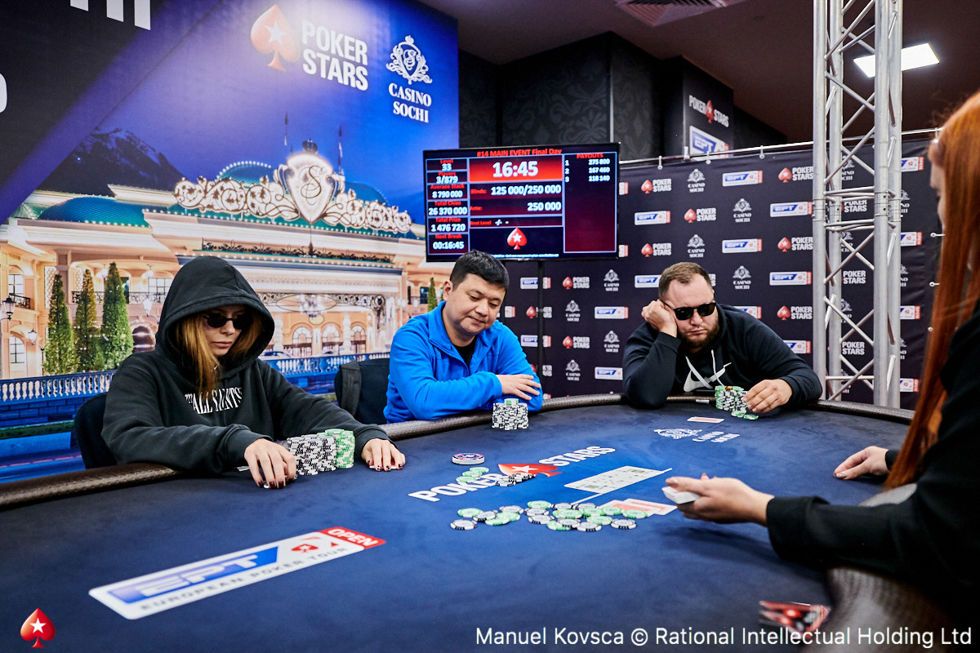 Slowly but surely, Skhulukhiya dropped out of the driver's seat and Panchenko took over, then Ye clawed his way to the top spot. The stack sizes were getting very even and first deal negotiations brought no result. Panchenko was left short, doubled and her hopes then vanished when an open-ended straight draw didn't get there against the trips of Ye.
Skhulukhiya and Ye discussed a possible deal once more but came to no agreement. The heads-up duel lasted all but two hands and a classic coinflip saw Ye ahead with sixes against king-queen. Once the six appeared on the turn, Ye locked up the victory. By the time the Chinese posed for the winner shots, the other two highlights of the final day in Sochi had also already determined their champions.
Sergey Konovalov Wins the RUB257,600 High Roller
There were 23 players remaining out of a field of 116 entries in the RUB257,600 High Roller and the top 17 spots were paid. Among others, well-known Russian players Andrey Pateychuk, Dmitry Yurasov, Gleb Tremzin, Vyacheslav Goryachev, and Aleksandr Merzhvinskiy cashed in the event. Konovalov took home a top prize of RUB6,813,800 after defeating Job Greben in heads-up.
Greben's brother Thom ran deep in the Main Event and finished 11th, Job took home RUB4,603,900 for his second place and fellow countryman Tobias Peters received RUB2,992,500 for third.
Vadim Gayduk Wins Platinum Pass in Moneymaker's Road to PSPC
Only 44 players out of a field of 909 total entries had survived their respective starting days in the bargain RUB10,500 Moneymaker's Road to PSPC Side Event and 26-year-old Vadim Gayduk from Belarus denied Narek Varderesyan heads up. On top of the RUB1,274,000 payout, he also received the Platinum Pass valued at more than €26,000 and will be heading to Barcelona in August 2020.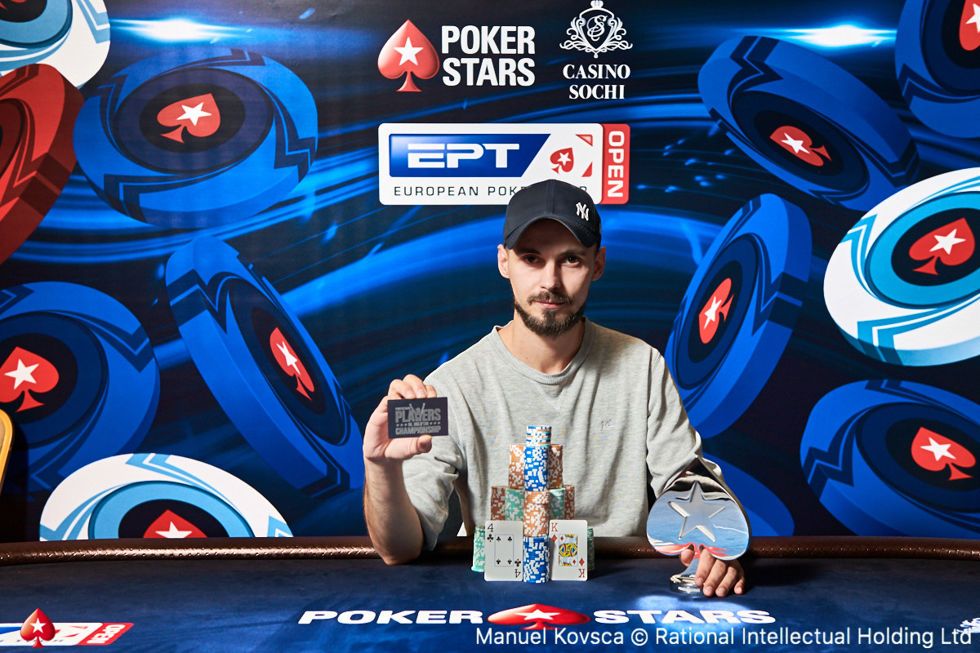 That wraps up the PokerNews live reporting from Sochi, but the 2019 World Series of Poker Europe at the King's Casino and Resort in Rozvadov is right around the corner.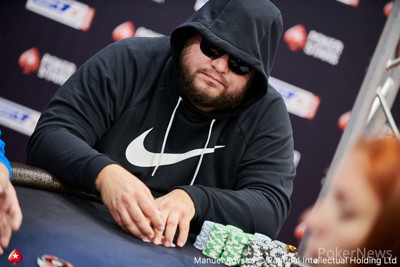 The heads-up duel lasted all but two hands and started promising for Giorgiy Skhulukhiya, who added a million to his stack.
In the second hand, Yi Ye raised to 1,100,000 on the button and Skhulukhiya moved all in. Ye quickly announced the call and the dealer verified that once more to make sure it was not "call" instead. Ye once more confirmed the call and the cards were on their backs.
Giorgiy Skhulukhiya:

Yi Ye:
The
flop changed nothing yet but it was over as soon as the
appeared on the turn, which made the
river a formality. Skhulukhiya finishes as the runner-up for RUB11,722,200 and Ye takes home the trophy and top prize of RUB19,306,000.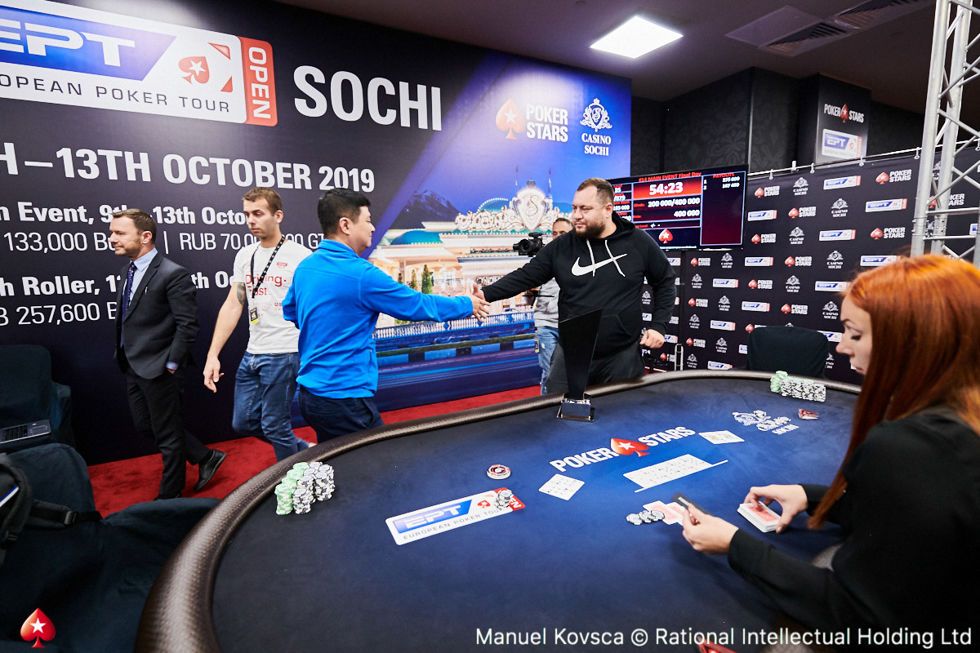 The deal discussions lasted for some 10 minutes and eventually, Yi Ye declined the request of Giorgiy Skhulukhiya for more than ICM.
The cards are back in the air.
The clock has been stopped with 59 minutes left in the level as both players and the floor staff are currently discussing a possible deal.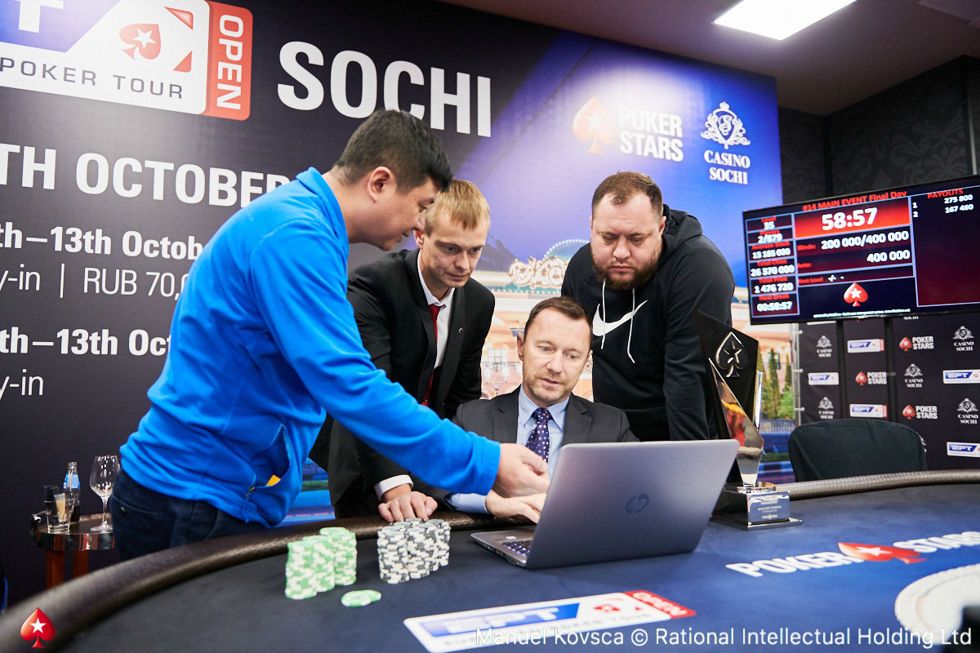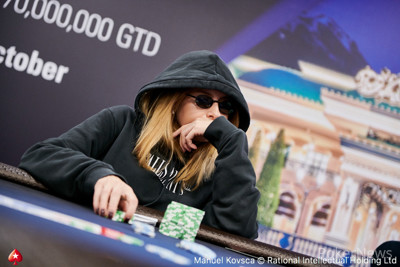 Ye Yi raised to 825,000 on the button and Natalia Panchenko called from the big blind. Both checked the
flop and the
appeared on the turn. Panchenko checked once more and Ye elected to bet 1,175,000.
Panchenko spent more than two minutes in the think tank and then motioned for the all-in triangle, which prompted Ye to immediately to ask for a count. The shove was for 4,775,000 total and the call followed, which got everyone on the Russian rail to their feet.
Natalia Panchenko:

Yi Ye:
Panchenko had eight outs with her open-ended straight draw and the
river came a blank to send her out in 3rd place for RUB8,269,800.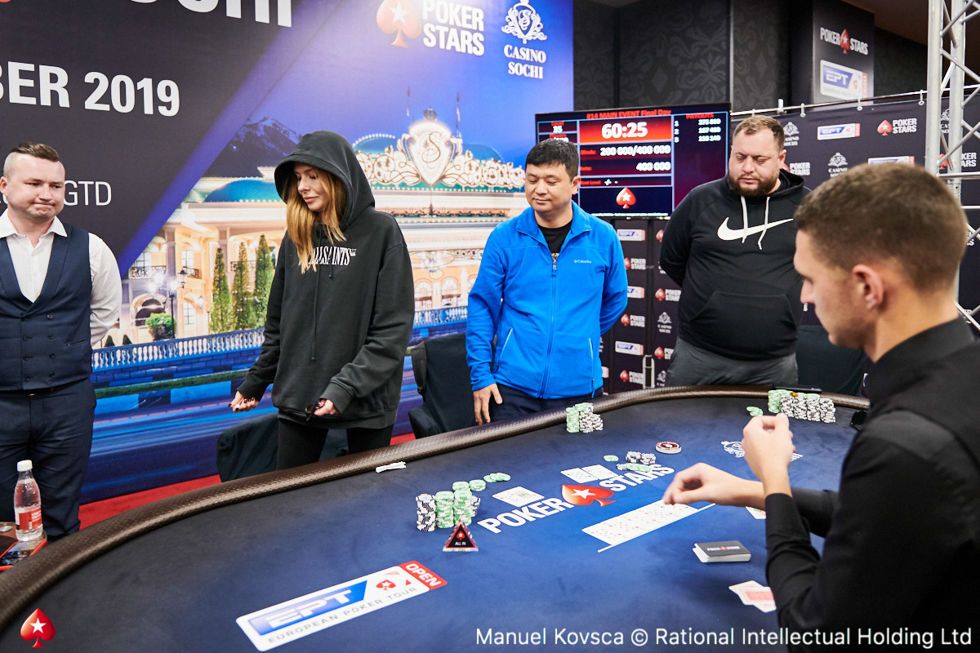 In a limped battle of the blinds, Yi Ye bet the
flop for 500,000 and Giorgiy Skhulukhiya folded.
Ye then raised to 900,000 and scooped the blinds and big blind ante.
Skhulukhiya raised the button to 850,000 and showed
.
Skhulukhiya stole the blinds and big blind ante once more and then Natalia Panchenko shoved for 5,025,000 on the button. Ye asked for a count and folded.
Level: 35
Blinds: 200,000/400,000
Ante: 400,000
Natalia Panchenko raised the button to 625,000 and Giorgiy Skhulukhiya jammed out of the big blind to force a fold.
In the last hand before the break, a limped pot led to the
flop and Panchenko bet 300,000, Yi Ye folded. Right after, all three headed into the next 10-minute break.
Player
Chips
Progress

Giorgiy Skhulukhiya

10,175,000

1,575,000

Yi Ye

10,025,000

-775,000

Natalia Panchenko

6,025,000

-475,000
Giorgiy Skhulukhiya raised to 625,000 and Natalia Panchenko called. Panchenko led the
flop for 400,000 and Skhulukhiya called. After the
turn, Panchenko check-shoved for 4,275,000 into a bet of 1,075,000 and Skhulukhiya folded.
Yi Ye then won a pot against Skhulukhiya by betting the
flop for 650,000 to claim the next pot and remain in the top spot.
Player
Chips
Progress

Yi Ye

10,800,000

450,000

Giorgiy Skhulukhiya

8,600,000

-2,100,000

Natalia Panchenko

6,500,000

1,500,000