$10,300 Main Event
Day: 4
$10,300 Main Event
Day 4 Completed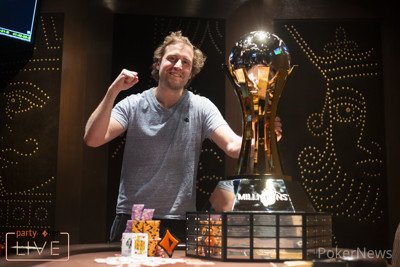 Tom Marchese has been crowned champion of the first ever partypoker LIVE event held on American soil after takig down the partypoker MILLIONS Vegas at the Aria Resort and Casino.
Just over ten hours from the start of play on Day 4, Marchese emerged as champion after defeating Jeremy Ausmus in a heads-up battle.
The pivotal hand came way back when play was nine-handed, after Marchese turned a set to eliminate Chris Moneymaker who held kings. He never really relinquished that chip lead and he emerged victorious for his first seven-figure score since December 2016.
"The field was a real mix of amateur and pro players," Marchese told PokerNews. "When it was down to like the finall three or four tables [yesterday] it's crazy how many good players were left. It had the feeling more like a High Roller field."
Final Standings
| Place | Player | Country | Prize |
| --- | --- | --- | --- |
| 1st | Tom Marchese | United States | $1,000,000 |
| 2nd | Jeremy Ausmus | United States | $650,000 |
| 3rd | Ana Marquez | Spain | $445,000 |
| 4th | Freddy Deeb | United States | $319,200 |
| 5th | Sergio Aido | Spain | $230,000 |
| 6th | Conor Beresford | United Kingdom | $170,000 |
| 7th | Rainer Kempe | Germany | $130,000 |
| 8th | Tobias Duthweiler | Germany | $100,000 |
| 9th | Chris Moneymaker | United States | $80,000 |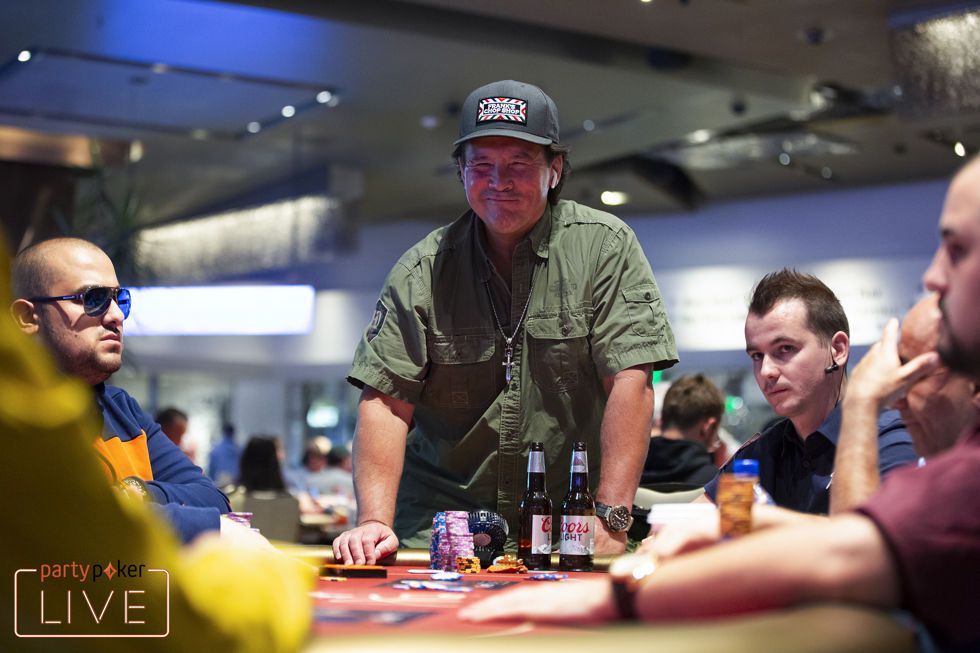 Early Exchanges
The day began slowly with a Sergi Reixach double, but ultimately it did not prevent him from becoming the first casualty of the day within the first level of the day. He was followed out the door by Fahredin Mustafov who got it in drawing dead against start-of-day chip leader Frank Stepuchin.
However, it was Tom Marchese who lead by the first break after taking chips off Stepuchin after turning a full house against a flopped flush.
"All the stacks outside of Frank were grouped together," Marchese told PokerNews shortly after his win. "I mean, I figured I would play a big pot against him at some point and that would kind of decide my fate.
"And I was lucky! I was on the right side of the cooler and that kind of propelled me all the way."
Another player making a run up the chip counts was a certain Chris Moneymaker, who sent Martin Mathis to the rail next to move up to just below nine million in chips.
Stepuchin finished off Day 3 by soaring up the leaderboard, but he was unable to recapture the form of yesterday and he lost the rest of his chips to Freddy Deeb after the latter had flopped top pair against Stepuchin's pocket fives.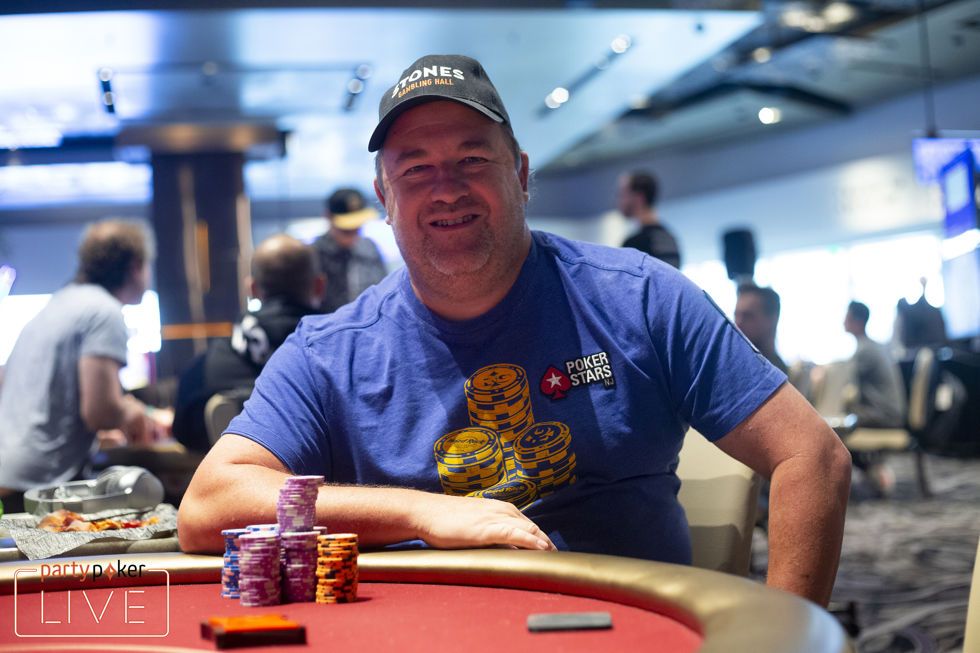 Final Table
Marchese lead from Deeb and Moneymaker when the players were drawn around a single table, and there was quickly action as Sergio Aido doubled through Moneymaker with aces against ace-queen.
That saw Moneymaker plummet down the counts and he would bust in spectacular fashion, calling off a shove from Marchese with pocket kings only for his opponent to have turned a set. This gave Marchese a huge chip lead, holding 40% of the chips in play.
"That was just super lucky for me," said Marchese. "He just re-raised pre-flop and I was getting a good price all the way. Then I was super fortunate to hit the two outer."
Duthweiler went next, losing a flip against Ana Marquez with who was slowly creeping up the chip counts. In fact, after further pots, she moved into second in the leaderboard with almost ten million but remained a distant second behind Marchese. However, the American reinforced his chip stack with the elimination of Rainer Kempe.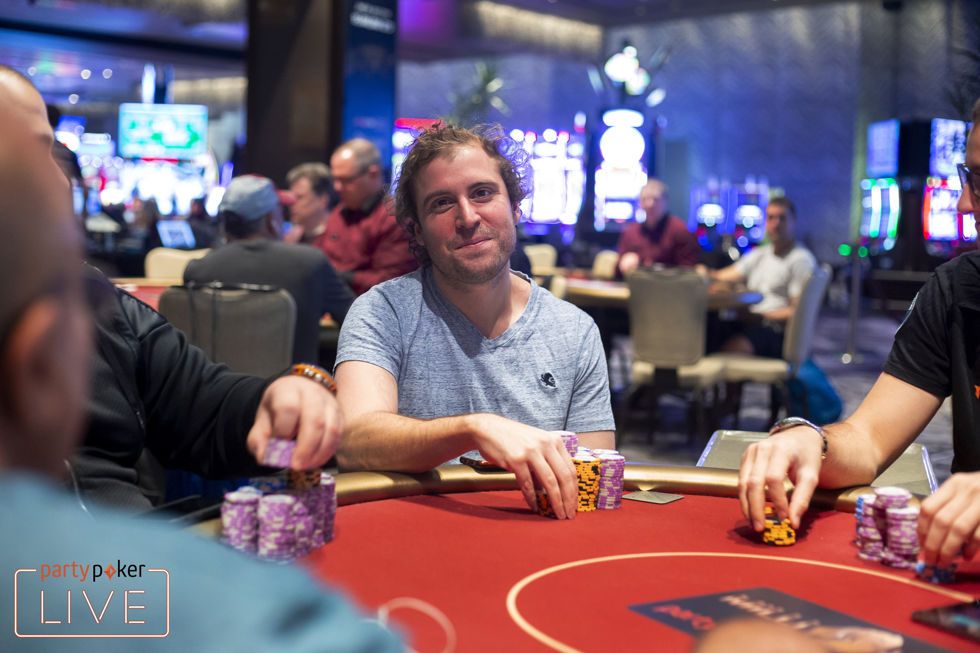 Marchese Works the Big Stack
Marchese might have half the chips in play, but there were still other players at the table. Jeremy Ausmus put his chips to good use shortly after returning from a break with the elimination of Conor Beresford, his jacks holding against the tens of the Brit.
Now it was Ausmus hot on the heels of Marchese, breathing down the neck of a chip leader who didn't look like slipping up in post-flop play.
And he excelled pre-flop also, opening and calling a three-bet shove from Sergio Aido to send him to the rail in fifth and following that up with the elimination of Deeb in a classic blind on blind confrontation.
Now with 70% of the chips in play, Marchese was eyeing the shorter stacks. One of those was Ausmus', but he would secure a vital double with tens against the ace-king of Marchese to halt the runaway train.
"I was fortunate to be on the right side of all-ins today. I mean when you have a big stack you're really able to put on a lot of pressure on people, and they're kind of forced to just take shorts at you."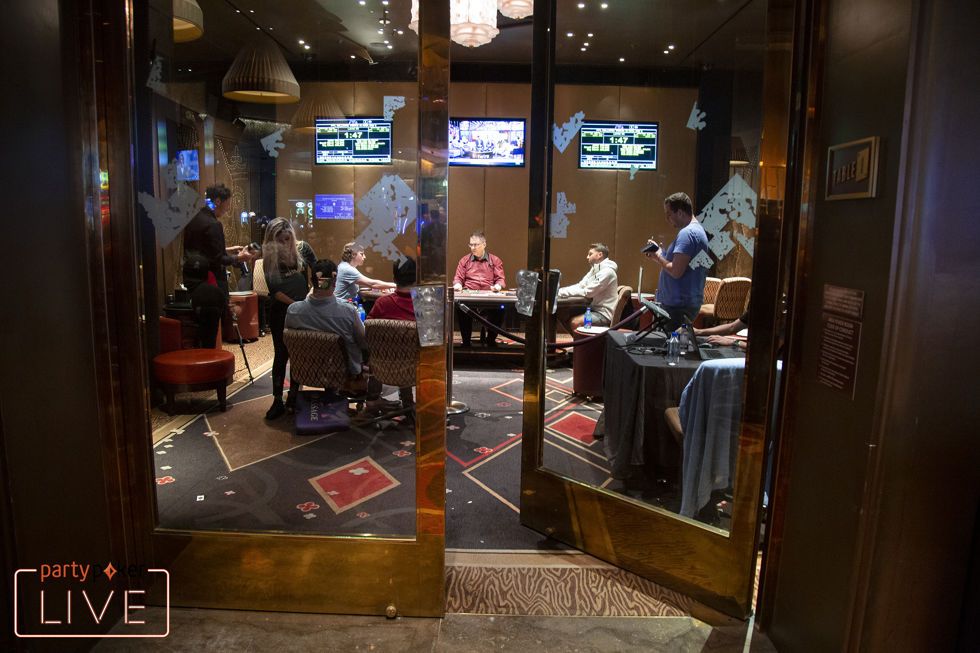 Deep Stacks Short-Handed
That double by Ausmus would ensure that both he and Marchese sat on 100 big blind stacks, with Marquez further behind. She stuck around gamely but eventually fell in third place bringing it to heads-up play.
"You're always going to be a little worried about it slipping away," said Marchese. "But when that happens you have to really think about your current position. But you're still going to have chips three-handed and it's a great spot, so I can just keep putting pressure on and playing my game."
Ausmus doubled once through Marchese, but he seemed determined to close this one out. And after grinding his opponent down once more to around a 20 big blind stack, he called off a shove with ace-jack; turning an ace to leave his opponent drawing dead and Marchese the latest partypoker MILLIONS champion.
"We'll see if this really lights the fire and motivates me to go to more stops!"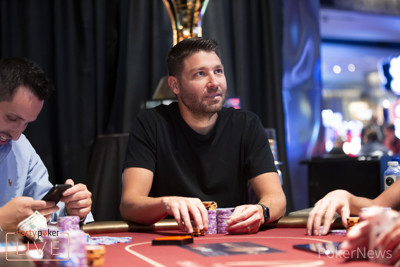 Tom Marchese opened to 1,000,000 on the button and Jeremy Ausmus three-bet ripped for 14,400,000.
Marchese had asked for a count and took some time to consider before calling and tabling his cards simultaneously as he had done all tournament.
Tom Marchese:

Jeremy Ausmus:
The board ran out
with the ace on the turn leaving Ausmus drawing dead as Marchese secured victory.
Player
Chips
Progress

Tom Marchese

53,600,000

14,400,000

Jeremy Ausmus

Busted
On a
board Tom Marchese check-called 800,000 from Jeremy Ausmus and the turn was the
. Both players checked and the river was the
. Marchese bet 1,250,000 and Ausmus raised to 6,500,000.
Marchese had a short tank before calling with
beating the
rivered pair of Ausmus.
Player
Chips
Progress

Tom Marchese

39,200,000

8,500,000

Jeremy Ausmus

14,400,000

-8,500,000
Tom Marchese limped in on the button and Jeremy Ausmus opted to see a flop. The dealer fanned a flop of
and Ausmus check-called a bet of 700,000 from Marchese. The turn was the
and both players checked to the
on the river. Ausmus led out for 1,725,000 this time and Marchese folded.
A couple of hands later in another limped pot, the flop fell
. Ausmus led out for 350,000 and Marchese called. The turn was the
and both players knuckled the table. The river brought the
and Ausmus tossed in a bet of 1,350,000 but Marchese folded again.
Player
Chips
Progress

Tom Marchese

30,700,000

-1,400,000

Jeremy Ausmus

22,900,000

1,400,000
Jeremy Ausmus limped and Tom Marchese raised to 1,400,000. Ausmus called.
Marchese bet 800,000 on the
flop and Ausmus called. Marchese check-called 2,500,000 on the
turn and the river was the
.
Marchese checked again and Ausmus bet 10,000,000.
"[...] like jack-ten..." murmured Marchese as he tanked and he used up a time extension before mucking.
Player
Chips
Progress

Tom Marchese

30,300,000

-5,000,000

Jeremy Ausmus

23,300,000

5,000,000
Level: 38
Blinds: 175,000/350,000
Ante: 350,000
Tom Marchese limped in on the button and Jeremy Ausmus raised it up to 1,200,000. Marchese thought for a moment and then announced all in. Ausmus replied with a snap-call for his last 9,000,000 chips.
Jeremy Ausmus:

Tom Marchese:
The flop of
provided a sweat as Marchese made a pair and a straight draw to go with his one overcard. However, the
on the turn and the
on the river bricked off and Ausmus scored a double up.
Player
Chips
Progress

Tom Marchese

35,300,000

-9,100,000

Jeremy Ausmus

18,300,000

9,100,000
There have been no major confrontations during the latter half of this level as Jeremy Ausmus seeks to manoeuvre his short stack against Tom Marchese heads-up.
Blinds will increase to 175,000/350,000 where Ausmus' stack will then be worth somewhere in the region of 31 big blinds.
Player
Chips
Progress

Tom Marchese

42,700,000

450,000

Jeremy Ausmus

10,900,000

-450,000
Tom Marchese raised to 900,000 on the button and Jeremy Ausmus called from the big blind. The flop fell
and Ausmus checked to Marchese who continued for 700,000. Ausmus called and the
hit the turn.
Ausmus checked again and Marchese fired out another 1,750,000. Ausmus still called and the
on the river put four diamonds on the board. Ausmus checked and Marchese quickly checked back. Ausmus turned over
for two pair but Marchese rivered a straight with
.
Player
Chips
Progress

Tom Marchese

42,250,000

2,250,000

Jeremy Ausmus

11,350,000

-2,250,000