The Nightly Turbo: Australia's Next Poker Star, Guy Going to Space, and Your Poker IQ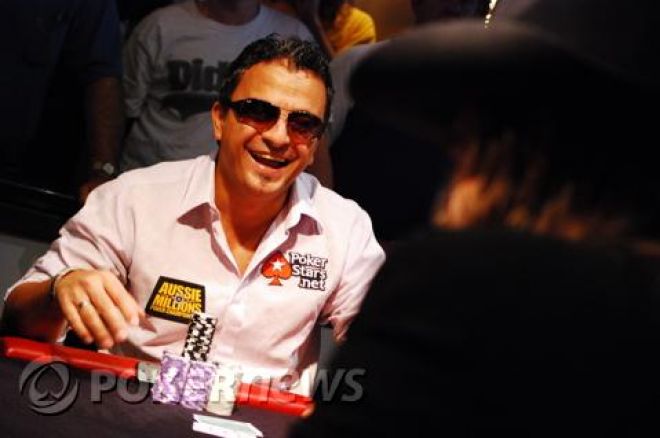 It's finally Friday. You'll get your news fill with The Nightly Turbo so you have something to talk about at the tables or while you're sitting in front of the TV with some wings and beer watching your favorite team intercept the other team's QB.
In Case You Missed It
We know you know the Borgata Poker Open is going on in AC, but do you know what movies are coming out or what concerts are in your neck of the woods this weekend? Good thing we bring you the Weekend Survival Guide every Friday. How else would you spend that bankroll?
If you signed up for your PokerStars account through PokerNews, you'll be happy to hear the news. If you haven't signed up for a PokerStars account, what are you waiting for? The $2k Cash Freerolls are being extended through December.
The poker world has descended upon the casino at the Empire in Leicester Square in London. This can only mean one thing: The World Series of Poker Europe is Under Way
The World Championship of Online Poker only has a few days left. Yesterday, two players won bracelets. Here is the recap.
The action picked up again in the nosebleeds on Full Tilt Poker. The Online Railbird Report has the week's biggest winners and some huge hand recaps.
The Poker Star
You can't blame PokerStars for wanting in on all the poker-on-TV action. The Poker Star will take 11 contestants and pit them against each other on the felt to see who has what it takes to be the next poker superstar in Australia.
Contestants will be playing for $100,000 and a PokerStars sponsorship. The winner will also be mentored by 2005 World Series of Poker Main Event Champion, PokerStars Pro, and host of the show, Joe Hachem.
Over 18,000 people applied for the show. Most contestants were hand-picked by Hachem and ranged from a 60-year-old war veteran to a 24-year-old former ballerina. We wonder if she'll be able to elevé right to the winner's circle. The Poker Star will air on One HD in Australia next Saturday night.
Read what Joe had to say about The Poker Star in the Sydney Morning Herald.
Rumor Mill
That darned little birdie is back and this time told us that a certain poker queen will be filming Poker After Dark soon here in Vegas. Here's a hint, this online phenom won the World Series of Poker Europe Main Event and also just turned 21 this week. Happy Birthday!!
An Orbit for Guy
The orbit Guy Laliberte will take later this month will be a bit different than the orbits many of us are used to at the poker table. The 50-year-old Cirque de Soleil founder has paid $35 million for his blast into space and will be spending more time up there than he has in the high-stakes poker games lately.
He'll be shacking up with the astronauts at the Space Station for 12 days. While he's there, he plans to lighten things up, as if zero gravity hasn't already. He'll bring red clown noses with him and pass them out to all the astronauts. It's not all fun and games, though, as he'll be hosting the first multimedia event from the station to bring awareness to drinking water problems around the world.
"This is the symbol of my mission, but it will also remind me that I should never forget I was once a kid," said Laliberte, who has been dubbed "the first clown in space."
To read more and see Guy with a clown nose, check out NPR.com.
Lovely Ladies
After that dude, who isn't a lady but entered a ladies' event anyway, won the Borgata Ladies Event, it seems women at the poker tables are on everyone's mind. Well, PokerNews head honcho, Tony G, sat down with Tatjana Pasalic and they talked about — you guessed it, women at the poker table. Tony G seems to be very fond of playing against girls, and in particular brings up the stellar play of Vanessa Rousso Mr. G also offers Tatjana some poker tips. We're not sure whether he got her number when they finished.
What's Your IQ?
We don't care how smart you are. All we care about is that you're crushing the tables at whatever stakes you play. So for fun, test your poker IQ and then if you need it or even if you don't, head on over to our strategy section and learn something.
Test your Poker IQ here.
Need a new friend? Become ours on Facebook.