Male Borgata Player Wins Ladies Event But Loses Self-Respect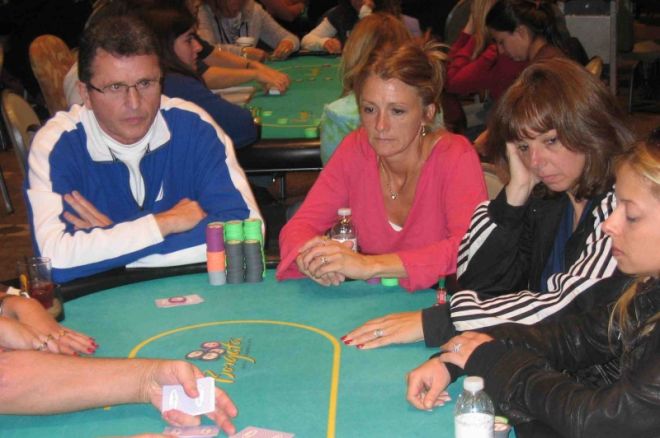 Recently, a guy named Abraham Korotki took down the Ladies Event at Borgata in Atlantic City, much to the dismay of the sizable field of female competitors, when he defeated Nicole Rowe heads up for the $20,892 first-place prize.
Although I understand part of an argument for men being allowed to play in women's events because discrimination in regard to sex is not allowed under gaming laws, it is difficult to fathom the mindset of this "winner" playing in such an event. These events are designed to allow women to play against women if they choose to, without having to play against men. It makes no sense for a man to try to barge in on a women's-only game. Men always have plenty of tournaments to play in across the country. Borgata alone offers 49 tournaments that are not specifically devoted to women players during its Poker Open series.
In essence, Korotki took advantage of a legal loophole that allowed him to play in a women's tournament. I'm not saying that women are less-skilled than men are. We can cite numerous examples of women, such as Annie Duke, Jenifer Harman and Cyndy Viollete, who could show this guy a thing or two at the table. But there is a reason that women's events are held: many women feel uncomfortable playing against men and they want to enjoy the game without them. To put it simply, women's tournaments are supposed to provide a level playing field for women who might not want to play in what have been traditionally male-dominated events.
According to Borgata, the casino was powerless to prevent the 65-year-old Korotki from playing because New Jersey gaming laws and a federal statute forbid discrimination during poker tournaments. Having worked with Borgata for several years while providing media coverage for the casino's Poker Open series, I know how hard Borgata has worked to develop its Ladies Tournament. For a man to win it is a slap in the face for those who have worked diligently to give women a tournament of their own, and as expected, the Borgata's organizers were frustrated with the situation but could do nothing about it.
Despite many women having witnessed Borgata officials trying to dissuade Korotki from participating, he continued playing and later claimed to the Philadelphia Daily News that Borgata staff did not try to encourage him to stop playing. Having given no thought to the fact that women-only events provide a level playing field for their players and that these events help promote the game to a relatively untouched demographic, Korotki managed to destroy much of the hard work of those trying to attract women to the game while creating an uncomfortable playing experience for the rest of the field.
Here's where the story becomes more aggravating. According to sources on the scene, once Korotki and Rowe got heads-up (each with nearly identical chip stacks), Rowe offered to chop the remaining prize money because the additional cash would help her pay for her living expenses while she recovers from surgery scheduled in a few weeks. Korotki refused and ended up winning the lion's share of the prize pool. Although Rowe took home $11,889 for finishing second, the extra money would have been pretty important to her as she recovers from breast cancer surgery.
To many of us in the poker industry, Korotki's actions are a disgusting display of greed and self-absorbed gall that gives poker a bad name. And the more the media cover the story, the more poker gets a black eye. According to the Borgata poker blog, Korotki had the nerve to talk trash after his win. "It's always nice to win a tournament. The ladies played very well and it's always nice for the weaker sex to have a victory," he said. This disgusting display of ignorance and condescension was yet another slap in the face for women players such as Rowe, who, incidentally, finished second in the Ladies Event in 2007.
To show that he is a good guy, Korotki said that he would donate his winnings to charity, but this doesn't make his behavior any less unsportsmanlike. His disrespect for all women who participated in this tournament and other women-only events around the world is offensive. He used the law to take advantage of a situation and in this case took money from someone who could have used it for a purpose other than feeding one's ego. Unfortunately, no one offers a losers-only tournament, which is where he belongs.
PokerNews is in the process of trying to organize a special tournament for Nicole Rowe and her fight against Breast Cancer. Be sure to follow us on Twitter for up to the latest.
photos courtesy of Borgata