The Nightly Turbo: Drama at Wynn, Sports Legends Qualifiers, and Who Climbed the Mirage Volcano?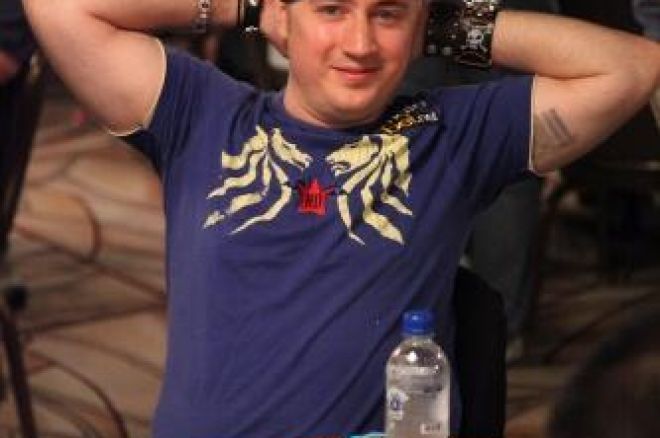 If there's one thing we know, it's poker players. And we know you guys like to spend as much time at the tables as possible. It's a good thing we're saving you so much time by putting the day's top poker news stories all in one place. Enjoy!
Hollywood Drama
Alright, now we all know some things like to get blown out of proportion. So when this thread was started on TwoPlusTwo, we were kind of hoping to get the full story from Dave "Hollywood Dave" Stann himself.
Apparently, while playing a $15/$30 O8/Razz mix game at the Wynn one night, Dave and two regulars had a little disagreement. Dave was raised out of a Razz pot between the two regulars and before any further action or fourth street was dealt the two regulars chopped the pot. Essentially, the two friends raised and re-raised each other to isolate one another in the pot and then chop up the money in the middle.
Of course, the floorman was called and Dave explained that the actions that took place were pretty much the definition of collusion, and that's when the floorman said he knew the two regulars and they were allowed to chop pots after raising players out of multi-way pots. Dave protested and was clearly getting nowhere, so he picked up his chips and left. The whole thing sounds pretty fishy to us. Hopefully, if it's true, it won't ever happen again, because it's certainly compromising the integrity of the game.
Read how it all went down on Hollywood Dave's blog.
Win Your Way To The Bahamas
The PokerNews Sports Legends Challenge is only a few weeks away. We know you're trying to figure out just how to get down to the Atlantis Paradise Island resort to play poker and golf against some of your sports and poker heros. And if you haven't started thinking about it, here are five reasons you should. On top of that, Absolute Poker is giving you fifteen more chances.
Wednesday through Sunday from now until September 6th, players have their shot at one of five weekly Sports Legends Prize packages that are exclusive to Absolute Poker. The Sports Legends Challenge Super Satellite will have a $200 + $15 buy in and the winner of each satellite will receive a luxury prize package that includes entry in to the four-day Sports Legends Challenge.
What are you waiting for? Sign up for an Absolute Poker account and get to the Bahamas!
In Case You Missed It
It's been a busy day here at PokerNews HQ. In case you missed some of our earlier stories, you'll be happy to know, this is your quick recap.
A lot of controversy has come of a certain November Niner's actions and it prompted this piece about Poker's Ambassadors. There are quite a few players out there that have done everything they can to bring the game in to a positive light...and then there are others that haven't. We have our opinions. Tell us yours in our forum.
There's a new screen name in the nosebleeds at Full Tilt Poker. Durrrr and Co. are lined up to play against "martonas." There is quite a bit of speculation who martonas is, but nothing has been confirmed yet. What is confirmed, however, is the three million dollar swing martonas had today. The Online Railbird Report has the full story.

We all know there was a bit of an uproar when the ESPN broadcast schedule was released for the 2009 World Series of Poker. With only four events (including the Main Event) being aired this year, people were concerned we wouldn't get our fill of poker. Nicole and Michael give us the pros and cons of this years decision in ESPN's WSOP Coverage: Buy or Sell?
For those of you on the other side of the world, your Thursday has come and gone, which is why we can bring you end-of-day updates from some of the biggest tournaments brewing. APT Macau Main Event Day 1A is in the bag and our recap has the days leaders and losers. Day 3 of the PokerStars EPT Kyiv begins on Friday and you can find out who the big movers are in this update.
Korea Wins
The inaugural JBET Battle of the Nations was held yesterday at the APT Macau Festival. Team Korea (Brandon Wong, Chino Rheem, and Steve Sung) won the overall team championship with Team Vietnam (brothers, Nam Le, Tommy Le, and Allan Le) coming in second. Team Korea took home the prize of HK $406,060 for their win. Team Vietnam didn't go home empty handed though, as Allen Le took home the first place individual award prize of HK $95,700 and Nam Le took the second place individual award prize of HK $52,200.
The JBET Battle of the Nations was a team No-Limit Hold'em tournament. Teams were composed of three members from the same country. Thirteen teams with a total of 39 players took part in the HK $48,000 event.
Asian Poker Tour has more on this event.
Scaling a Volcano?
Andrew "good2cu" Robl and his good buddy Alec Torelli are filming a pilot for a new reality TV show based on their friendship, the fast-paced Vegas life, and of course some good old fashioned degen gambling.
During filming one night, Robl bet Torelli $1,000 to climb the volcano at the Mirage Casino. He says in his blog, "Normally, I would have to bet Alec at least $10,000 to do something like this that could result in his arrest, but I figured with a film crew trailing us I could get away with less."
Of course, Torelli jumped into the lake in front of the volcano and proceeded to climb to the top, all the while, a crowd had formed cheering him on. No sooner than he was up, he was down and out, making sure not to get arrested.
Read the whole story at Robl's blog.
We hope you enjoy getting the day's news this way. Let us know below and be sure to become a fan on our Facebook page.