The Nightly Turbo: The Poker Hall of Fame, Chinese "Rounders," and More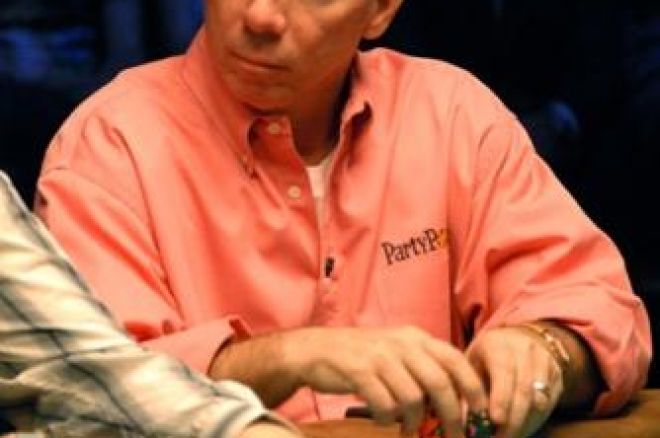 It sure has been a busy week. Good thing you have us to bring you the day's top poker news, so you aren't searching for it all over the place and missing that chance to bluff someone with seven-deuce.
FTOPS XIII Day 2
FTOPS XIII is going strong. No overlays yet, as players are coming out in full force for their chance at a win. Events 2 and 3 crowned champions last night.
The first event of the day was the $300+$22 buy-in No Limit Hold'em 4xShootout 6max. There were 1,193 players entered which brought the total prize pool to $357,900, $107,900 more than the $250,000 guarantee. "Jive32" took the title and $62,632.50 for his efforts.
Event #2 Final Table Payouts
1. jive32: $62,632.50
2. CooLJohN22222: $39,369.00
3. POCKET FIVE: $26,198.28
4. Jsbryan: $17,895.00
5. Mutha Flushaa: $12,526.50
6. Gracie8585: $8,589.60
The $200+$16 Omaha/8 event was the second event of the day. This event attracted 1,086 players giving the total prize pool a $17,200 boost from it's $200,000 guarantee to $217,200. The final five players decided on making a deal and third place finisher "HelloCity" took home the biggest chunk of change with $32,238.44, proving yet again, sometimes it's not a bad idea to make a deal.
Event #3 Final Table Payouts
1.* UgA7211: $29,630.73
2.* Acesoverxxx: $21,224.28
3.* HelloCity: $32,238.44
4.* gr24: $24,295.57
5.* LAJG: $26,840.58
6. TheComeUp: $9,774.00
7. arobinson11: $6,516.00
8. thechemist83: $4,887.00
9. knickadam55: $3,475.20
* Winnings reflect post-deal payout amounts.
You still have a shot at FTOPS fame. Sign up here.
Views on the Poker Hall of Fame
Daniel Negreanu and Doyle Brunson have taken to their blogs to speak out about who they think should be inducted into the Poker Hall of Fame. This is the first year that the public has been able to vote on who they think should be nominated. Then, the 15 living members of the Hall of Fame and 15 media members vote on the publicly nominated top 10. Each voter has two votes.
Criteria for induction are:
(1) Must have played against top competition.
(2) Played for high stakes.
(3) Played consistently well, gaining respect of their peers.
(4) Stood the test of time.
(5) Contributed to the overall growth and success of poker with positive and lasting results.
The top 10 nominees are: Tom Dwan, Barry Greenstein, Dan Harrington, Phil Ivey, Tom McEvoy, Men Nguyen, Scotty Nguyen, Daniel Negreanu, Erik Seidel, and Mike Sexton.
While Doyle outlines his views on each of the nominees, Daniel focuses more on the criteria for selection, even saying he doesn't think he should be inducted...yet. No matter which way they went about it, they've both come to the same conclusion: Mike Sexton. We'll just have to wait till November to find out who will be inducted into the Poker Hall of Fame Class of 2009.
The Chinese Version of Rounders in the Making
"Listen, here's the thing. If you can't spot the sucker in the first half hour at the table, then you ARE the sucker." It's every poker player's favorite movie. Mike, Worm, and Teddy KGB have been immortalized in the poker community, which is no surprise that when rumors of Rounders 2 started floating around, they spread like wildfire.
Now the buzz is in Asia. Poker King seems to be Asia's answer to the 1998 Hollywood hit. Directed by famous Chinese director Chan Hing-Kai and Janet Chun, Poker King tells the story of two bitter poker rivals competing for world championship glory. The Asian Poker Tour Macau Festival will be featured in this highly anticipated movie. Johnny Chan, who made a cameo in Rounders, is hoping for a role in the Poker King.
"Poker King has the potential to be much, much bigger than Rounders ever was. Say there are over one billion Chinese speaking people in the world and compare this to the US and their 300 million people, you can see that this could be huge. Rounders gave poker a new lease of life in the western world – this could kick start a new poker boom in Asia," said Chan.
Bigger than Rounders? I guess we'll just have to wait and see.
Check out more about the movie here.
Send My Chips
Run out of money on your Absolute Poker account but you just won the an FTOPS event on Full Tilt? SendMyChips will transfer your funds from Full Tilt to Absolute Poker for you (for a small fee of course).
They have levels and black lists set up to protect players against fraud. The levels limit the amount a player can transfer over seven days and the black lists allow poker sites to ban player aliases from using the SendMyChips services.
This seems like a great idea and it will keep you from having to make deals, to get money on your account, with a friend of a friend of a friend. Only problem, they currently don't accept transaction requests from US based players.
If you want to check out more about it, go here.
Sexy Time
If you have a Wii, you like poker, and you're a fan of anime chicks, then Sexy Poker is the game for you. The game features six anime style women that strip to their undies if you're good enough at poker. You can download the game for 500 points on WiiWare.
Wanna learn more about the game? Check it out here.
Like The Nightly Turbo? Tell us about it below. Become a fan on Facebook too.