The Nightly Turbo: Chino Rheem, Another Ivey Bet, and More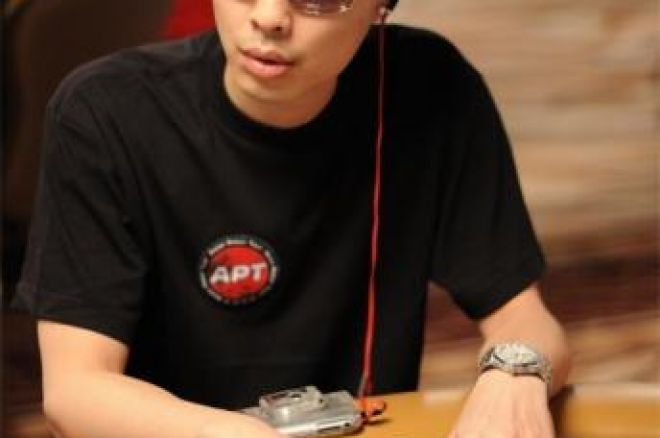 Yesterday was a big day on the virtual felt and on top of that, it's the start of the week, so we understand you may be a little worn out and need to get your news the easiest way possible. That's why we're here. Here are today's top poker stories.
The Poker Pack Making Its Mark
The 2009 Asian Poker Tour (APT) Macau is only four days in and already, the Poker Pack is making its presence known. David "Chino" Rheem took down Side Event #4 (aka: Hong Kong Game Club No-Limit Hold'em R+A). Rheem defeated Tommy Le (no, not that Tommy Lee, a different one) to take home the HK $64,200 prize and the trophy. It was Nam Le's brother, Tommy, who took on Rheem heads-up for the shot at the win. Rheem's Q-9 bested Le's J-10 that didn't improve after the Q-7-J flop.
The Poker Pack, a team of specially selected players of Asian origin, serve as ambassadors for the APT. Other members of the team include JC Tran, Quinn Do, Steve Sung, Kwang Soo Lee, and Nam Le.
The 2009 APT Macau runs from August 12-23, with the Main Event beginning August 20th. The Asian Poker Tour has more information and results.
Supernova Elite in 8 Months
At the beginning of the year, Mark Ioli decided to forgo his finance major at the University of Maryland and play poker full time. He wanted to achieve Supernova Elite status and was focused on reaching his goal.
"Before the year started I made up my mind I would get Elite," Ioli said. "It's certainly not something that happens on accident."
He 24-tabled $1/$2 and $2/$4 NLHE, multi-tabled $3/$6 and $5/$10, and made sure to pick his spots carefully when jumping into the $10/$20 and $25/$50 games. After eight months, he reached his goal. Ioli has become just the fourth person to reach VIP Supernova Elite status this year.
Read more about Ioli at PokerStars. To reach Supernova Elite yourself, sign up for a PokerStars account.
Will Defends Poker
Pulitzer Prize winning columnist, George Will, took to his Washington Post column on Sunday to speak out about poker and Congress. He brings up the theory that one reason for the 2006 UIGEA bill was to block the competition from the state governments and their state-run lotteries. He also looks at game theory and the works of John von Neumann, a mathematician who after working on the Manhattan Project became a specialist in game theory and strategic thinking.
"Chess involves logic; roulette involves probability theory. Poker involves logic, probability and something pertinent to military and diplomatic strategy — bluffing."
This is also the point Howard Lederer and the Poker Players Alliance (PPA) are trying to make. "When you play chess, Lederer says, there is symmetry of information: Both players have all the information provided by the location of the pieces on the board, and both are equally ignorant of the opponent's intentions. A computer can be programmed to "play" a powerful game of chess, but not of poker, wherein your opponents' cards are concealed."
The more people poker can get on its side, the better. Hopefully Congress will listen to the voters and make right what is wrong.
To read the entire article, head on over to the Washington Post.
Legal Drama
In June, seizure warrants were issued that resulted in the freezing of over $40 million in funds from payment processors that were working with the biggest online poker sites. Last week, we told you that a judge in New York ruled to have those warrants unsealed.
If you had a chance to look at the warrants, you probably noticed quite a few black lines through the pages. Because of an ongoing investigation, the judge also ruled that names must be withheld. Well, today, those names were revealed. Apparently, the ongoing investigation was the one regarding Douglas Rennick. Rennick's name can now be found on the unsealed seizure warrants, as well as Full Tilt Poker and PokerStars, and a company known as Alenis.
We'll be sure to keep you up to date with any more news regarding these warrants. To read more about the decision today as well as the court documents, head on over to Gambling911.
Main Event Prop Bet
According to a thread over on TwoPlusTwo, Gus Hansen stands to win over a million dollars in a bet with Phil Ivey if Ivey wins the Main Event. In a Pro Chat on Full Tilt Poker yesterday, Hansen was asked if he had any bets on Ivey and what the odds were. His answer was "55:1 for $20k." We're not too sure at what point in the tournament the bet was made, but it's just another one to add to the Phil Ivey Main Event Bet List.
Hansen confirms the story on a Danish news blog. This is the translated link, but you know how some things (like correct English) get lost in translation.
Sign up for a Full Tilt account and play with the Pros.
Be sure to follow us on Twitter for up to the minute news.