Weekend Survival Guide: The Borgata Poker Open, A Nifty New Couch, and NFL Football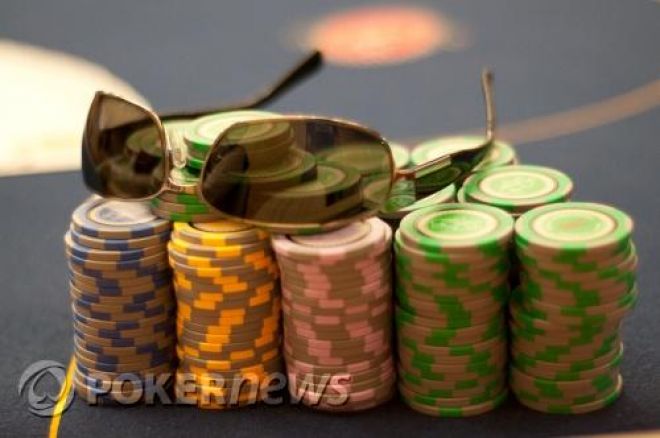 In honor of the impending weekend, PokerNews is offering a few ideas that will allow you to spend some of your hard-earned bankroll because nothing's better than working hard but playing harder.
Go
If you are in Las Vegas, consider checking out the comedic duo of Penn & Teller when they return to Sin City on Saturday. Arguably the most interesting magic, comedy and illusion act on the Strip, these guys make the crowd hang on their every move and they do stunts that would make most people wet their pants. Held at the Rio All-Suite Hotel & Casino, this eventful evening is sure to make you laugh. For more information on the show and to check out this hilarious pair, go to Pennandteller.com.
If you're a music fan on the California coast, you've got plenty to get off on this weekend with shows from Blink 182 (Irvine), Social Distortion (Ventura), The Psychedelic Furs & the Happy Mondays (L.A.), War (Pamona), and P!nk (L.A.) on Friday. If comedy is more your thing, check out Cheech & Chong in Morongo Casino Resort on Friday. Saturday offers plenty of gems as well including shows from Leann Rimes (Pomona), Bone Thugs~N~Harmony (Anaheim), while Sunday offers jam band fans Gov't Mule (Anaheim). For more information on these shows, check out Tickemaster.com.
If you are on the East Coast, you have plenty to do, but possibly the hottest tickets in town are for the upcoming U2 show at Giants Stadium on September 24. Why are we telling you this now? In case you haven't seen a U2 show, it is one of the most exciting concerts you can possibly attend, so pay attention because tickets are tough to come by (unless you know a scalper) but scoring some seats is definitely doable. Make sure to save some cash for these puppies. We promise, you won't regret it.
Buy
If you're looking for a new piece of furniture that will blow away your guests, the Athena Sofa may be just what you are looking for. Offering LCDs (operated by a multimedia PC) for each arm rest, this couch cruiser's dream also has an iPhone and iPod dock as well. If these embellishments aren't enough, it has speakers that include an 8-inch subwoofer for all of you base heads. Considering its measly $15,436 price tag, this versatile piece of home decor is a bargain for all you big ballers. The sofa's not available yet, but check out OhGizmo.com for more info.
Sometimes the hardest thing to do when it comes to playing poker is to wake up for the day's action. For those who use caffeine to activate their brains, check out the Excalibur Electronic Travel Cup. Simply plug this baby into your car or laptop (via USB) and you'll be sipping warm java on your way to your tournament or cash game. Featuring a rubberized handle and a spill-proof lid, this bad boy will help jump-start your game. Buy one at TekGems.com
For all of you green music fans, consider picking up a hand-crafted wood iPod or iPhone case from Vers. Made of cherry, walnut or bamboo, these cases are much more durable than plastic holders and they are biodegradable. Available at $39 (iPod classic) and $34 (iPod nano), these long-lasting cases are perfect for players who like to chuck their iPods across the room when they suffer a bad beat. To learn more about the Vers case, check out Versaudio.com.
Watch
Movie fans will enjoy a special treat this weekend when Matt Damon's new comedy, "The Informant!," hits movie screens across the country. In this hilarious flick, Damon takes a turn as a star of a leading agri-industry company who turns whistleblower. Deluded that he is a hero, Damon's character does things such as wear a wire to help the FBI build cases against his fellow white-collar criminals. If Damon's performance isn't enough to keep you laughing in the aisles, consider the fact that this comedy is based on the highest ranking corporate whistleblower in history and you will surely get a kick out the fact that much of this plot really happened. Watch the trailer below.
If you're an X-men fan, why not take some time to catch up with the crew's leading man, Wolverine? "X-Men Origins Wolverine" was recently released on DVD and it is a cheap way to spend two hours of your time. Featuring plenty of action and Wolverine's trademark wit, this Hugh Jackman flick is an affordable date-flick (as long as your guests like ass-kicking) that will keep action fans on the edges of their seats. Buy it everywhere DVDs are sold.
Sundays finally mean something again with the glorious return of the NFL. With action running throughout the day, NBC, CBS and FOX all carry matchups so you have no reason to miss the action. That's right people, its time. Are you ready for some football! This weekend features plenty of exciting action as NFC and AFC teams position themselves to make a run at the Super Bowl. Sign up for a Bodog account and parlay your football knowledge into cash.
Play
If you are on the West Coast, then Commerce Casino is the place to be for its $400,000 guarantee kicking off today, a $1,065 limit event (Sat.) and a $100 no-limit rebuy event (through the first three levels) that features a $100,000 guarantee. Considering that Commerce has seen record fields in early events, plenty of action should be available for all you tournament junkies. For more information, check out CommerceCasino.com.
For those of you chilling on the East Coast, the Borgata Poker Open series championship event gets under way Saturday. Featuring a $2 million guarantee and a $3,300 buy-in, this might just be the best value for a player's buck on this year's tournament schedule. There are two day-one flights on Saturday and Sunday, so you have no reason to miss out on the action. To check the schedule or to follow the event on Borgata's poker blog, check out TheBorgata.com.
This weekend also sees the end of the Pokerstars WCOOP series with the $10,300 H.O.R.S.E high-rollers event and the two-day $5,200 no-limit Main Event, which offers a $10 million guarantee. This is your last chance to get in on the WCOOP action, so don't delay! Sign up for a PokerStars account here.
For up to the minute news, follow us on twitter.