The Nightly Turbo: A New PokerStars SportsStar, Battle of the Sexes, and High Stakes Poker Coming Back to Your TV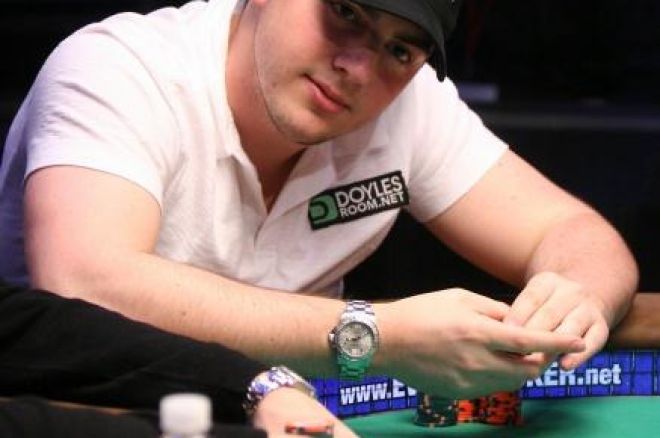 We know how valuable your time is. It's a good thing you have us to search the Internet and find poker's top stories of the day. Now you can get back to cracking your opponent's aces and working on your game sooner.
In Case You Missed It
If you registered for an Ultimate Bet account with PokerNews, you're eligible for the $1,530 PokerNews Freeroll Series. If you haven't, go register for one now. Find out more about the $1,530 UB Freerolls here.
The Commerce Casino and tournament director Matt Savage hit the ball out of the park with a new format for a $500,000 guarantee tournament. Find out how Commerce got the record for the largest land-based tournament in history after the World Series of Poker.
The World Championship of Online Poker is rolling along. Day 14 marked the last day of three-figure buy-ins. Haven't seen the results from yesterday yet? Here they are.
Two Months,Two Million has a new time slot on G4. Maybe you forgot to set your DVR. In case you had a momentary lapse in judgment, we have a recap.
Heads Up Canada
HeadsUp Entertainment owns and operates the Canadian Poker Tour and Canadian Poker Player Magazine. Now, after some sponsorship negotiation, HeadsUp is announcing the launch of an Internet television network: CanadianPokerPlayer.tv.
The network is set to begin broadcasting at the end of 2009. It will feature coverage of poker events across Canada and documentary pieces with behind-the-scenes looks at the Canadian Poker Tour. This network is a key building block in the web interface HeadsUp Entertainment is launching as well, complete with a social community for members. "Facebook" for poker players? It's a shocker no one has thought of that one already. Wait a minute, we think someone did.
This press release has more.
High Stakesaments
Season six of High Stakes Poker has been "green-lighted" and will begin filming in November with plans to fill your HSP prescription in February 2010. Season five brought us appearances by Ilari "Ziigmund" Sahamies and the guy who simply ran over everyone at the table, Tom "durrrr" Dwan.
You may remember Barry Greenstein's now infamous catchphrases "LOL donkaments" and "Math is idiotic" that he said to raise money for the charity Children's Incorporated. Well, this season, he won't leave us wondering. "Bling Blang Blaow" is Greenstein's money-maker this season and because we know you can't get enough of the video — here you go.
Want to know more? Check out Coinflip.com.
A Battle on the Felt
The High Heels Poker Tour is inviting men to one of its events. Not like the guy who invited himself to a women's-only party at the Borgata. On October 10 at Tampa Bay Downs in Florida, men and women will battle it out on the felt. The buy-in is $100 with $20 rebuys for three levels and a $50 add-on.
In this tournament, it doesn't matter if the men or the women win on the felt as the real battle is against breast cancer. Ladies, if you don't check your breasts frequently, we're sure there are many online poker players who would love to help you out, although we can't guarantee they have any experience touching anything resembling an actual breast.
HighHeelsPokerTour.com has more on the event.
Denmark and Their Danish Rules
Last year, when Peter Eastgate won the World Series of Poker Main Event, speculators guessed about how much he would have to pay in taxes to the Danish government, they have a 75% tax on casino winnings over 4 million Danish kroner. Now, an unemployed man has been told by the Danish Supreme Court that he must give up the 194,000 kroner he won by playing online poker.
The Danish government has rules against earning a living from gambling. Since this man's only source of income for an entire year was from poker, he is in violation of this law. The court ruled that even though the servers running the poker game were outside of Denmark, the individual computer was located in Denmark and therefore subject to Danish law. Wait a minute — don't Gus Hansen, Theo Jorgensen and plenty of other Danes play poker online? Isn't Denmark a hotbed of upcoming poker players? Let the Danish exodus begin.
Gambling911.com has more on the story.
A New SportsStar for PokerStars
PokerStars doesn't sit on the couch with a tub of ice cream watching sappy movies after a break-up, they get right back in there and find someone else. On the heels of Isabelle Mercier's break-up (she doesn't mope around either) with PokerStars, the online poker giant has signed Fatima Moreira de Melo.
Fatima Moreira de Melo is a Dutch field hockey star and led the Dutch national team to a gold medal at the Beijing Olympics. De Melo has played 191 international matches and scored 30 times during her career, that's 30 more times than any of you will ever score with her. She joins Boris Becker, Mats Sundin, Sebastien Chabal, and Sami Selio on the SportsStars roster.
We've never heard of Fatima until now, but after seeing these photos on Wicked Chops Poker, we bet we'll be seeing her a lot more.
Do you like The Nightly Turbo? Do you think we need to add something? Let us know below. If you're going to offer us criticism you better be following us on Twitter.