The Nightly Turbo: Annette_15 Banned, Mercier Gets New Sponsor, and More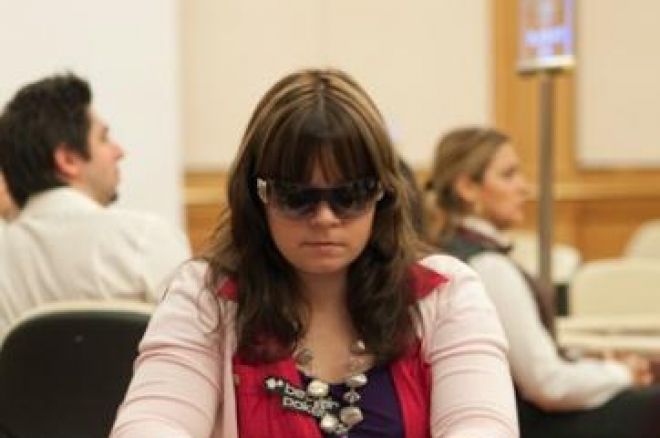 Welcome back to The Nightly Turbo. We're bringing you poker's top stories for the day conveniently packaged on one page so you don't have to search too far. We just hope you're working on your game with all that extra time we're saving you.
In Case You Missed It
On Monday, we first told you about the man who won the Ladies Event at the Borgata. We now have a few more details about the event and, of course, a few opinions.
WSOP Main Event coverage aired on ESPN last night. If you missed any of it, we have your recap.
Day 13 of the PokerStars World Championship of Online Poker saw three champions crowned. We have the results here.
Ever wonder what Lock, Stock and Two Smoking Barrels has to do with poker? We tell you in From the Big Screen to the Final Table.
Brown Loves Mississippi
Chad Brown was in Biloxi, Miss., for the Gulf Coast Poker Championship. Brown and wife Vanessa Rousso were hosting the event at the Beau Rivage Casino. The "employees-can't-participate" rule doesn't apply here though. Brown took down not only one but two events.
On September 10, Brown won the $500 PLO event for $32,301 and then a few days later entered the $5,000 Championship Event and bested 153 players for first place and a prize of $225,567.
So far this year, Brown has cashed in tournaments for about half a million dollars. Rousso has also had a pretty stellar year with her win at Monte Carlo and second-place finish at NBC Heads-Up. Maybe running good will be passed on to their unborn children.
Sign up for a PokerStars account and get your chance to play against Chad and Vanessa.
Annette_15 Banned...Sort Of
Annette "Annette_15" Obrestad is depicted in an ad for her sponsor, Betfair. The ad shows a photo of Obrestad with this headline "Online experience is measured in games, not years. Join the new breed. Annette_15".
The Advertising Standards Authority has ruled that the ad could have an appeal to young children and adults because the ad could imply that Obrestad is 15 because of her screen name. Betfair was given clear instructions from the ASA not to feature Obrestad in any ads until she turns 25. Would the ad have been rejected if she were touting Guinness? We doubt it...
InTheNews.co.uk has more.
You Heard it Here First
We can't confirm this just yet, but a little birdie told us that Betfair is getting ready to abandon its software platform and join the OnGame Network. With Betfair already one of the world's largest sports books, the influx of gamblers will mean a huge boost to the OnGame Network.
When will it all go down? You'll just have to check back with us to find out. In the meantime, sign up for a Betfair account for a nice bankroll bonus.
Isabelle Rebounds Quickly
Isabelle Mercier is no longer a PokerStars Team Pro. That news has been covered by all of our fine media friends. She has, however, found a new home with BetClick, which is most well-known for its sportsbook, but which is attempting to grow its poker market. It will be opening sites in Belgium, Hungary, Netherlands, Czech Republic and Romania and hopes Isabelle's assets (ahem) will be a driving force in attracting a new player base.
Mercier was a PokerStars Team Pro for five years. She made a name for herself in 2004 by winning the WPT Ladies Night II event and has continued to do well since, amassing about $1 million in tournament winnings.
There is more over at High Stakes News.
Anti-Poker Prohibition Ads Going Mainstream
The Safe and Secure Internet Gambling Initiative has launched an ad campaign aimed at getting lawmakers to end the prohibition of online gambling in the U.S. The ads will run on The Huffington Post, The Washington Post, and Politico.
"As Congress searches for ways to pay for health care reform and other worthy programs, it should end the unsuccessful prohibition of Internet gambling and start collecting taxes on the billions in revenue currently lost to unlicensed, offshore gambling operators," said Jeffrey Sandman, spokesperson for the Safe and Secure Internet Gambling Initiative.
One of the ads is designed to look like it is straight out of the thirties, with bootleggers rolling out barrels of booze, and says: "End Prohibition! Again. It didn't work for alcohol, it doesn't work for Internet gambling."
We can only hope Internet gaming follows in the footsteps of the now billion-dollar booze industry.
Safeandsecureig.org has more.
Million Dollar Cash Game
The participants of season four of the Full Tilt Poker Million Dollar Cash Game has been announced. Full Tilt Pros Phil Ivey, Chris Ferguson, Justin "Boosted J" Smith, Patrik Antonius, Gus Hansen, Mike Matusow, Allen Cunningham, and Howard Lederer are on the roster. Tom "Durrrr" Dwan, David Benyamine and Doyle Brunson will also make appearances.
The event is invitation-only, so you can go ahead and use all that money you tucked away under your mattress for something with a better return on investment, like, maybe casino war? The pros will battle it out in London on September 16 and 17. The series will air in January 2010 on Sky Sports.
Get your chance to play with the pros by signing up for a Full Tilt account.