The Nightly Turbo: Eva's Heroes, a Face the Ace Lawsuit, and a PokerStars UB Dance Off?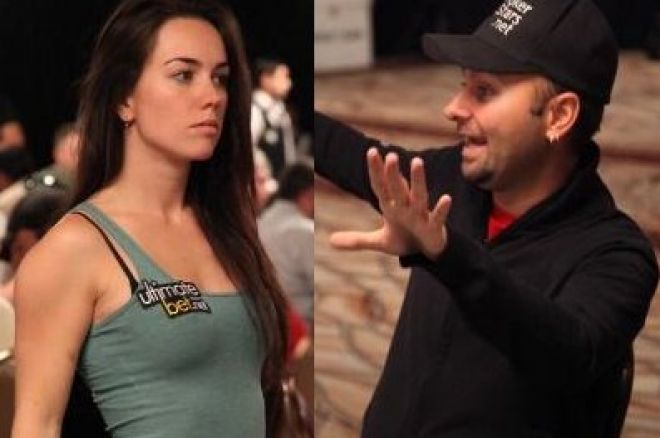 We're all about flopping the nuts. You've basically done just that by reading The Nightly Turbo. There is no better place to get your daily fix of the top poker news stories of the day.
In Case You Missed It
Sunday tournaments don't stop when the WCCOP is running. A lot of poker was played yesterday on the virtual felt and thousands of dollars were handed out as well as two bracelets. The Sunday Briefing has the results.
Two weeks ago, the 3rd Circuit Court of Appeals decided to uphold the UIGEA. That being said, it is still a minor victory for online poker. We take A Closer Look here.
We're sure by now you've all heard about the controversy surrounding a hand Roland De Wolfe was involved in at the EPT Barcelona. The hand makes usask the question: Where is the Gamesmanship?
The Ultimate Bet superuser list was released recently along with Russ Hamilton being named in the scandal. UB parent company, Tokwiro, has been cleared of any implications.
Eva's Heroes
Ok, so we know Eva Longoria Parker's tournament sponsored by Ultimate Bet went down on Saturday, but it is such a good cause and it garnered a little O'Reilly love that we had to tell you about it.
The Poker Brat, Phil Hellmuth, emceed the event that benefited Eva's Heroes, an organization that is dedicated to developmentally challenged children and young adults. About 1,000 people attended the event and it definitely wasn't short of star power. Actors Kyle Howard, Jennifer Morrison, and Ricardo Chavira were among the stars on hand as well as Spurs' players James Silas, Bruce Bowen, and Sean Elliot.
We like Pokerati's analysis of the Bill O'Reilly Pinheads and Patriots clip about the tournament: Longoria Parker is a patriot for helping out children with developmental illness and she hosted a poker tournament so that means poker = patriotism. We basically take positive poker talk any way we can get it.
MySanAntonio.com has more.
Face the Ace Facing Problems
We've never pitched a television show idea to a major network, but if we did and the network rejected it and then after two years that major network used our idea and it flopped — well, we'd be a little upset, but probably not $85 million worth of upset.
Brandon McSmith has decided to sue NBC for $85 million. Face the Ace hasn't been doing so well in the ratings. In fact, the show did worse on Saturday than a rerun of Finding Nemo. Maybe McSmith should count that rejection two years ago as a blessing in disguise.
Read more at TMZ.com.
Bwin Acquires Gioco Digitale
European online poker giant Bwin has acquired Gioco Digitale for over €90 million. "There are 60 to 70 people in Gioco Digitale and we would have had to build a team with that many people to be able to compete with the biggest poker sites in Italy. The time to market would have been too slow, the market penetration had to happen fast," said Bwin co-Chief Executive Manfred Bodner.
Gioco Digitale's management team and president will join Bwin to develop poker and other products. Gioco Digitale shareholders will get 2.3 million Bwin shares for 752,000 Gioco shares. Bwin will then get the remaining 44% of Gioco shares for €25 million in cash, €20 million payable upon the presentation of Gioco Digitale's audited 2009 accounts, and €5 million 18 months after closing if financial performance targets for 2009 are met.
EGRMagazine.com has more.
Ladies Event Won...By A Man
The Ladies Event at the Borgata Poker Open was won by a man. Abraham Korotki entered the Ladies Event, presumably to make a point, and ended up winning the event. A thread on Two Plus Two was started and has taken off in a heated debate. We're all for making a point, but this is along the same lines as the guy who decided to sue Hooters because it wouldn't hire him as a server.
There are of course two sides to the argument. One side thinks there shouldn't be any ladies tournaments because they are discriminatory and the other side says that it's just a way for the ladies to feel more comfortable in a sport that is dominated by men. We think that the more people who are exposed to poker, the better, whether it's an all-ladies event or people are playing poker hoisted 50 meters in the air.
The last woman standing for the event was Nicole Rowe, who took home over $11,000 for her second-place finish. Rowe, who has been diagnosed with breast cancer, said, "It was 16 hours of being cancer free, a diversion from my reality." She will donate $500 of her winnings to breast cancer research and use the rest for her surgery. Korotki also said he would donate part of his winnings to breast cancer research as well.
The Borgata Poker Open Blog has more.
Gulf Coast Poker
A little electrical outage won't stop a poker tournament. The Gulf Coast Poker Championship is down to its final table and some big-name pros came out for the event. Vanessa Rousso, Josh Arieh, Brian "Sn8wman" Hawkins, Ryan Welch, Alan "Chainsaw" Kessler, and Matt Graham, are just a few that came out and Mississippi definitely loves one of them.
Chad Brown is at the Final Table of the $5,200 Main Event in Biloxi, Miss., at the Beau Rivage. In August, Brown "final-tabled" the World Poker Open in Tunica, Miss. Because we know Brown is a health nut, we figure he will try to bust early to go find some nonfried Southern food but it looks like somebody runs good in Mississippi. Good luck Chad!
GulfCoastPoker.net has the details of the entire final table.
Just Dance
We're sure this isn't the only video that came from the insane parties that went on this summer in Las Vegas during the 2009 WSOP, but this one has been brought to our attention by one of the stars himself, Daniel Negreanu. According to his tweet on September 11: PokerStars party, alcohol, and Liv Boeree = embarrassing moments caught on youtube! *Sigh* Booze. If you weren't there to catch the "So You Think You Can Dance" moves, we've got the video.

If you're not following us on Twitter yet, you should be ashamed. Click this and then click the follow button. It's not that hard.