The Nightly Turbo: APPT Seoul Postponed, PKR Heads Up Draw Results, and Harrah's News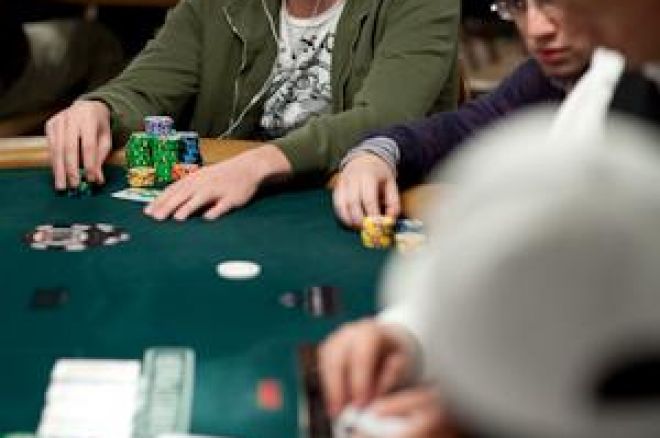 The Nightly Turbo is the best place to find the day's top poker news stories. If you're looking to save time by finding the news all in one place, then look no further. This is your daily read and when you're done you can get back to crushing your tables.
In Case You Missed It
ChipMeUp is making some poker players very profitable. If you don't know what it is or want to find out more read Financial Returns Continue for ChipMeUp Investors.
Ryan "g0lfa" D'Angelo won his second WCOOP bracelet of the year. Day 12 WCOOP results are in.
2009 WSOP Main Event coverage airs on ESPN tonight. The Aussies are taking over the coverage tonight.
Face the Ace returned to your television screens on Saturday. Did you miss it? Well we have a recap.
PKR Heads up Draw Results
From October 8 through 10 in London, PKR will hold its inaugural Heads-Up Grand Slam. They've completed the draw for the match-ups and there are sure to be some fireworks in the first round. The Grand Slam will be shown on Sky Sports in the UK. For those of us who can't make it, we'll have to find another way to get in on the action, probably somewhere on the Internet.
So Tom Dwan could face his arch nemesis Luke Schwartz in the semifinals if they both happen to make it that far. PokerNews head honcho Tony G could face Ilari Sahamies in the quarterfinals and that could be an enjoyable match to watch. And if the poker gods want us all to see a rematch of the 2007 WSOPE, Annette Obrestad could face off with John Tabatabai in the second round. The combinations are endless right now. We'll just have to wait until October to find out who ends up with all the chips.
Sign up for a PKR account with PokerNews and you can chose your first deposit bonus, and to learn more about the event check out MatchRoomSport.com
$1k Monday
The Full Tilt $1k Monday had 357 entrants. That means the $300,000 guarantee had $57,000 more added to it (check out our pretty sick math skills). PokerNews blogger Dave "Doc Sands" Sands took down the first place prize of $89,250. Not a bad Monday, if you ask us.
Buyin: $1000 + $60
Prize Pool: $357,000
Entrants: 357
1. Dave "Doc Sands" Sands - $89,250
2. Grayson "The_Dean221" Nichols - $57,120
3. makavelyces - $42,480
4. Ponga80 - $33,022.50
5. SalSant - $24,990
6. Pot Luck Poker - $17,850
7. JBlaze20 - $11,602.50
8. Davidp18 - $8,925
9. Jeremiah "Believer8219" Vinsant - $7,140
Notables: Corey "Comandr_Cool" Burbick (10th-$4,462.50), Tim "Tmay420" West (14th-$3,570), David "GhettoFabolous" Randall (15th-$3,570), Jamie "pokerjamers" Armstrong (18th-$2,677.50), Paul "ComeOnPhish1" Lieu (20th-$1,963.50), Matt "NoBadBeatsPlz" Kay (26th-$1,963.50), Billy "DurangoDan35" Kopp (29th-$1,606.50), Brent "Bhanks11" Hanks-30th ($1,606.50)
Asia Pacific Poker Tour Seoul Postponed
If you're headed to South Korea in the next few days for the PokerStars.net APPT, you should probably cancel your ticket. PokerStars.net has postponed the event that was scheduled for September 17 through 20 at the 7-Luck Casino.
Apparently, the casino was renovating the third floor specifically for hosting the tournament and those renovations aren't complete yet. Tournament planners thought about using milk crates and cardboard boxes for tables to get the show on the road but decided against it. The event will be rescheduled when the construction is complete.
The next APPT event is scheduled for October 14 through 18 in Auckland, New Zealand, and you can win your way there on PokerStars, so go sign up for an account.
Another Lawsuit for Full Tilt
Clonie Gowen's $40 million lawsuit still hasn't been resolved and already another lawsuit has been filed against Full Tilt Poker. This time, Jason Newitt has filed a suit against Tiltware, Full Tilt Poker, Pocket Kings, Pocket Kings Consulting, Raymond Bitar, and Howard Lederer claiming he was unfairly fired and his distribution payments were unfairly halted.
The firing may or may not be because Newitt forwarded an email from Lederer about Jimmy "Gobboboy" Fricke calling him a "freak and a very weird dude." Just a little tip for next time you hit "forward" or "reply" on an email: make sure only what's supposed to be in there is in there. Maybe this is why some companies have disabled the "reply all" function.
Pokerati has more.
A New Property for Harrah's
It has been reported that Harrah's is buying up the Planet Hollywood Resort's debt in what seems to be an attempt to take over the Strip property. Harrah's probably has a huge crush on Planet Hollywood Peepshow star, Holly Madison and wants to woo her by flexing Harrah's buying muscles. Harrah's purchased some of the $860 million debt from Planet Hollywood.
"(Harrah's) is buying a position on the cheap right now but with long-term ideas," said Mike Sullivan, a finance professor at the University of Nevada. "They've got their foot in the door right now... . They are picking up a position of influence so they must be interested in acquiring assets."
If Harrah's acquires the Planet Hollywood property, it would own ten casino properties on and near the Las Vegas Strip.
Read more at the Las Vegas Review Journal.
Have you visited our Facebook page and become a fan yet? You should.