The Nightly Turbo: Patrik on the Durrrr Challenge, Gus Wins Back His Name, and More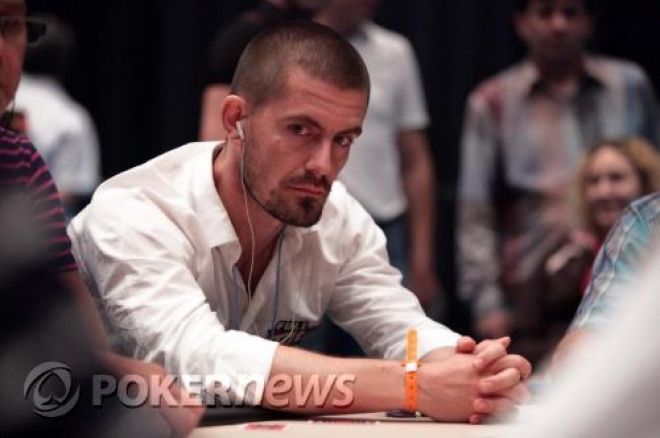 We bet you're sitting there exploiting the fish at your tables and wondering what has been going on in poker today. Well, we're on top of that for you and instead of having you look everywhere for it, we've put it all in one place so you can get back to triple-barrel bluffing sooner.
In Case You Missed It
It's been almost two months since the World Series of Poker went on its November Nine hiatus and one person who surely wishes he was prepping for it is new Ultimate Bet pro Billy Kopp. PokerNews caught up with Kopp to find out more about his bust-out hand versus Darvin Moon, his predictions for University of Kentucky sports, and his Kentucky bourbon drinking habits. Check out the full interview here.
It was two hours of Phil Hellmuth last night during ESPN's coverage of the WSOP. Sadly his attitude toward the very same players who have made him a gazillionaire has not improved much. Find out who our MVP was and the Hand of the Week in our recap of the episodes.
The World Championship of Online Poker is in full swing with three more bracelet winners crowned yesterday. Find out who they were and how much money they added to their bankrolls, which are now probably a lot bigger than any of ours.
The Morongo Band of Mission Indians have backed down in attempts to legalize online poker in California. Find out why by reading it all here.
Gus Hansen Wins... His Name Back?
According to a press release from Safenames Ltd., a company specializing in domain dispute services, working on behalf of Gus Hansen, has successfully recovered control of GusHansen.com.
Yevgen Kudashov took control of the domain GusHansen.com, and used "The Great Dane's" name, likeness and celebrity on the Web site and email address, going to great lengths to deceive the public into believing that he was, in fact, Gus Hansen. Although Hansen did not have a registered trademark on his name at the time of the filing, Safenames proved that the defendant registered GusHansen.com in bad faith and that the domain use infringed on Hansen's common law mark and personal name.
Safenames' Head Counsel, Prudence Malinki, said after the decision: "We
are very pleased that Safenames was able to win this dispute for Mr. Hansen.
I believe that that this ruling will pave the way for other famous
individuals and celebrities to recover domain names registered to third
parties who are profiting from registering domains that contain their famous
personal names."
With that out of the way, maybe Hansen can turn his attention to winning some cash. Our latest online railbird report shows him in the red to the tune of $2.2 million. You can read the full press release at Reuters.com.
Time to Face the Ace Again
Face the Ace is back this week and more than just its time slot has changed. A few weeks ago we discussed whether or not the show was going to survive prime time. Well, technically it hasn't. The show will air on Saturday, September 12 at 2:00 p.m. EST and will once again be hosted by the lovable (or hatable) Steve Schirripa, who played the character Bobby "Bacala" Baccalieri on the hit HBO series The Sopranos.
Subtle changes have been made to enhance the show's excitement. The television audience will now see the live studio audience, composed primarily of qualifiers and friends and family of qualifiers, rush the set during all-in confrontations.
Mori Eskandani, president of POKER PROductions, producers of the show for NBC, said "We are hoping that the combination of a slight shift in our marketing efforts, the Saturday afternoon time slot and some changes we have made to give the program more of a game show feeling will help us better achieve our objectives for this show in the future."
We'll wait until we watch it to pass judgment, but we're hopeful the new version of the show picks up some steam. Hey! Phil Ivey, don't you have enough money? Throw the little guys a bone by letting 'em take down the million.
Take a crack at qualifying for the show yourself by signing up for Full Tilt Poker.
Patrik Antonius Discusses the "durrrr" Challenge on TV.PokerNews.com
Lynn Gilmartin caught up with Patrik Antonius in Cyprus during the WPT Merit Cyprus Classic. According to Antonius, slow movement in the challenge is the result of conflicting sleep patterns between the American-grounded Tom "durrrr" Dwan and Antonius, who lives in Europe. Antonius mentioned that he expects to see the action pick up significantly when play takes place in London at the upcoming WSOP Europe and PokerStars EPT London. He said he is confident the challenge will end before the end of the year. We're not holding our breath and we wish the combatants would take some of our friendly advice to make the challenge entertaining again.
Watch the full video below.
Four Arrested in High-Stakes Poker Game Robbery In Cleveland Area
According to Cleveland's Chronicle-Telegram, four men have been arrested for robbing or conspiring to rob players at a high-stakes poker game in a Solon warehouse in April.
Police accused Dominic Berlingeri, Jose Arzola-Torres, Andres Arszola and Randall Barnes of busting into a poker game around midnight with an AK-47, an assault rifle with a bayonet, shotgun and pistol. The 12 men playing had about $50,000 in cash stolen along with another $25,000 in jewelry and other property.
These high-stakes robberies seem to be happening more and more frequently, which raises the question: "Why not regulate and tax the game so all those who would like to partake can do so in a safe, protected environment?"
Read more at the Chronicle.NorthCoastNow.com.
Let us know what you think of The Nightly Turbo below and be sure to follow us on Twitter for up to the minute news.