The WSOP on ESPN: The Phil Hellmuth Show
Let's not sugar coat anything. Last night's installment of the 2009 World Series of Poker Main Event on ESPN was a solid two hours worth of the Phil Hellmuth show. Kicking off with a clip of his Day 1 arrival dressed in a fur and leather Caesar costume and concluding with Hellmuth spewing verbal diarrhea toward an opponent who dared to call his pre-flop reraise with a substandard hand, this week's episodes gave viewers all the Hellmuth they could handle, whether they liked it or not. On the other side of the coin was another Phil, the ever-placid Phil Ivey, who picked up some key pots on Day 2 to position himself for his run at the final table.
Cast of Characters: Hellmuth ruled the feature table for both hours while Dennis Phillips, Michael "The Grinder" Mizrachi and Maria "Maridu" Mayrinck occupied the secondary feature table. Todd "Dan Druff" Witteles joined Hellmuth onstage during the first hour while out in the Amazon Room the cameras found Erick Lindgren, Ville Wahlbeck, Hevad Khan, Jeff Lisandro, Scotty Nguyen, Peter Eastgate, Joe Hachem, Tom "durrrr" Dwan, Jennifer Harman, Bill Gazes and Dan Harrington. As for the celeb contingent, L.A. Laker Jordan Farmar, Anthrax's Scott Ian and actor Lou Diamond Phillips all thrived on Day 2. Phil Ivey's superfans, Mel and Pat Humphries, were stationed behind his table holding "Go Phil Ivey!" signs while Frankie Gay continued playing in memory of his son Pruitt, who was killed in action in Afghanistan. ESPN also continued to follow the heartbreaking story of Kent Senter, a father of two diagnosed with terminal cancer, who was fulfilling a life-long dream by playing in this year's Main Event.
Interesting Tidbits: Jordan Farmar learned how to play no-limit hold'em the day before he flew to Las Vegas for the Main Event.
Norman Chad's New Schtick: "It's as if Phil's body and soul are now occupied by some idiot from Northern Europe!" (as Hellmuth flopped a straight after calling a raise with 4-8 offsuit)
Blink and You'll Miss it: After being drawn to the main feature table with Phil Hellmuth, Todd Witteles decided to use the opportunity to try and get a response from Hellmuth regarding the Ultimate Bet superuser scandal. Although Witteles got in a few jabs at Hellmuth, who did offer to debate him before a floor supervisor brought the discussion to an end, none of them made it on air. The UB scandal, however, was ever-so-briefly addressed in this bit of commentary from Norman Chad:
"Todd Witteles is not an old friend of Phil Hellmuth's. Witteles is one of the online players who helped uncover the Ultimate Bet cheating scandal. Phil is a paid representative of the company."
"The Nuts": While being peppered with interview questions, Howard Lederer schooled Norman Chad at chess. Seriously, it was ugly.
Fashion Highlight: Maria Mayrinck's fabulous tortoise-shell sunglasses.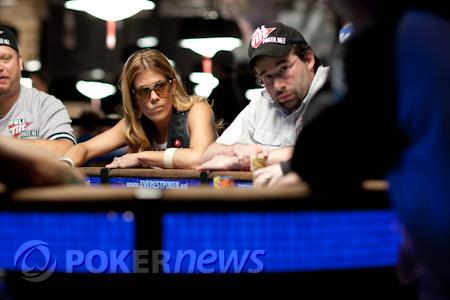 Fashion Lowlight: The garish, green, patterned hoodie Daniel Vorbeck donned at the featured table, which can be seen in the lead picture at the top of the article.
MVP - Phil Ivey:
While Phil Hellmuth was lapping up all the media attention he could on Day 2, Phil Ivey was quietly grinding away in the back of the Amazon Room while enjoying a massage that had to have lasted upward of eight hours. Ivey was truly on his A-game, patiently waiting for good spots, making key value bets, and winning a crucial pot with pocket kings against A-K for nearly all his chips to vault him to the top of the leaderboard by day's end. Although both Phils made some beautiful reads in this episode and Hellmuth was able to successfully adopt a looser style while playing at the featured table, Ivey's steely focus and quiet dignity earns him our highest marks.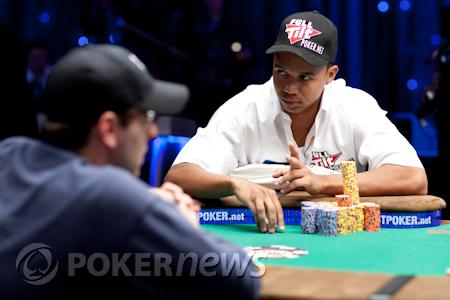 Hand of the Week - The Q-Q Six-Ball: Holding pocket queens, Phil Hellmuth opened for 1,800 from middle position and his young nemesis, Ben Sprengers (whom Hellmuth had tangled with in several previous hands), popped it to 5,600 from the button. Sensing he had the best hand, Hellmuth four-bet to 10,000 and Sprengers came at him again, making it 26,000 to go. Finally, Hellmuth six-bet all in for 89,750 and Sprengers' K-9 couldn't find the muck quickly enough.
"I don't need the nuts, kid," said Hellmuth, as he showed the queens.
Notable Eliminations: Erick Lindgren, Robert Williamson III, Scotty Nguyen, Frankie Gay, Michael Mizrachi, Howard Lederer, Tom "durrrr" Dwan.
Quote of the Week: "That's what we call TOP SET!" –- Phil Hellmuth, after flopping a set of kings and getting no action.
ESPN's coverage of the 2009 WSOP Main Event airs every Tuesday night at 8 p.m. EST. Check your local listings for showtimes and make sure to follow us on Twitter for up-to-the-minute news.